Epic list of all the different types of shoes and footwear options for women and men. We include unisex list and then separate lists for women and men.
When it comes to footwear, it is not just a necessity, but also a way to showcase your personal identity. Your choice in footwear tells a lot about your personality – are you fun or funky? Are you adventurous or safe? Whether you are a man or a woman, shoes are something that you can't live without. A good pair of shoes is not only comfortable but also durable. They make you feel confident and smart.
Are you planning to buy some new footwear? There are so many choices that it is easy to get confused and overwhelmed. Worry not, because we are here to solve that problem for you.
Explore the different types of footwear for both men and women to find which styles suit you best.
Related: Men and Women Shoe Size Conversion Charts
A. Types of Unisex Shoes and Footwear
There are some shoes that look perfect on both men and women. No matter what your gender is, these shoes don't pick any sides! These are the types of footwear that every woman and man should have in their closet.
Chart: Top 10 Unisex Shoes
All Types of Unisex Shoes
1. Sneakers
Sneakers for Men | Sneakers for Women
Sneakers are like the comfort food we all crave. This lightweight and simple sports shoe are a must-have for everyone. Sneakers are not only comfortable but also go with every look. There are so many colors and patterns available that you can find a match for your every outfit. If you are planning on exploring the city and looking for a comfortable shoe, then sneakers are the appropriate footwear.
Are you planning a lazy weekend? Sneakers will help you achieve that.
History
There are few footwear types that are as epic and iconic as sneakers. These shoes have pretty much been worn by everyone, from the most royal royals to athletes in all disciplines to the biggest A-list stars to politicians to the trendsetters across all walks of fashion. And while they look and feel super modern, sneakers were actually invented way back in the 1700s.
Plimsolls were the first sneakers. These rubber-soled shoes were invented in the late 18th century. The design was hardly refined. In this early version of sneakers, there was no difference in the right or left foot.
The U.S. Rubber Company invented more comfortable and functional sneakers in 1892. This design still had rubbers soles but now the uppers were made of canvas. These were the first modern sneakers. They were called Keds.
Sneakers were mass-produced in 1917 and soon evolved. It was in this same year that the first basketball shoes were invented, an offshoot of the sneaker. These were the now-famous Converse All-Stars. They became known as Chuck Taylor All-Stars in 1923.
To this day, Chuck Taylor All-Stars are the best-selling basketball shoes of all time. In 1924, a German man created his own sneaker. His name was Adi Dassler, so he named his shoes Adidas. The brand soon became the most popular athletic shoe in the entire world, according to FactMonster.
In the 1950s, sneakers went from the athletic scene to the fashion scene when people began wearing these shoes as everyday wear for the first time. Sneakers are now a fashion staple. You probably have more than one pair in your closet.
Style
There are many types of sneakers these days.
Sneakers are low-cut shoes with rubber soles. Within this basic design, sneakers can be anything. There are found in lace-up designs, Velcro closure designs, and may have all sorts of bells and whistles. They are made in any color or pattern you can imagine and with every material that shoes can be made with, everything from real leather to recycle plastic to every type of cloth and hide in-between.
Variations
Sneakers are also called athletic shoes, joggers, trainers, and tennis shoes.
=> High-top sneakers combine classic with comfort. These sneakers are often called athletic shoes as many professional players, especially basketball players, wear them.
=> Plimsoll sneakers happen to be the most common type of sneakers and the most famous ones, too. They can be easily teamed up with all sorts of outfits whether it is casual or party wear. To rock a retro style, always go for classic white plimsolls, as they will make your otherwise plain tee and jeans cooler.
=> Running shoes are a must-have for every athlete, runner, or sports enthusiast. These shoes provide lightweight support, shock absorption, and cushioning to allow runners to maintain stability. Running shoes are a great walking shoe choice, too.
History
Cross country running began as a game practiced by school children in England in the early 1800s. The game was known as paper chasing or hate and hounds. It was an imitation of the sport of hunting, with some children playing foxes and some hounds. The foxes, or hares, would run ahead of the others, leaving a trail of papers. The hounds would follow, chasing the other runners.
One of the oldest running shoe designs dates to 1865 in Northampton, England. They were oxford shoes with nails hammered through the soles to provide grip and traction.
When rubber roles were introduced in 1917, they were a game-changer for shoes. Nike came along in the 1960s, selling the first pairs out of the back of vans at races. The sponge rubber midsole made Nike running shoe impact-absorbing, which was then-cutting edge technology. Nike helped established the tech and style of running shoes, pacing the way for modern designs we wear today.
=> Slip-on sneakers are lace-less sneakers that are easy to wear, an ideal choice for those looking for utmost comfort and simplicity. Available in plenty of colors and styles, slip-on sneakers are minimalist yet extremely trendy.
=> Wedge sneakers debuted on the fashion scene in spring 2012. Designer Isabel Marant has been credited with creating a distinct style. They were certainly inspired by elevator shoes, a style originally invented for men.
2. Boots (Women and Men)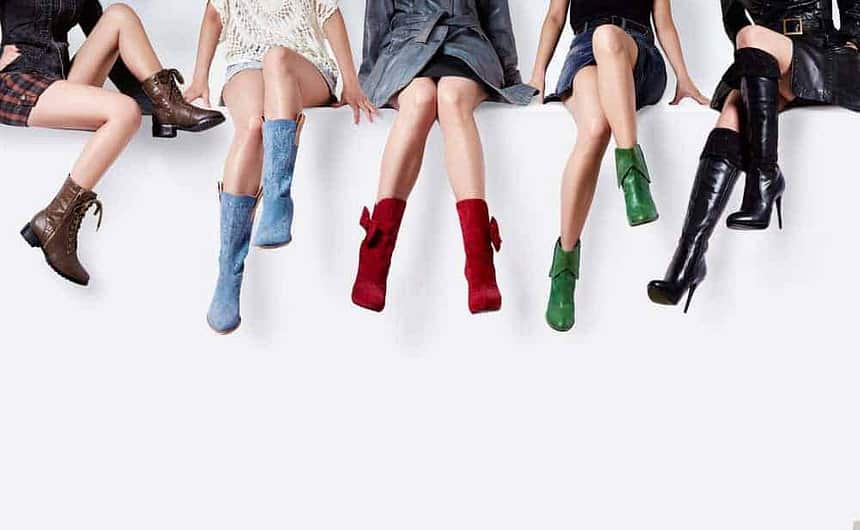 Discover 70 Types of Boots Here
Discover all the different types of boots for women and men. Casual, dress, functional, outdoor, rugged, stylish, heels, no heels and more.
Epic list!
Boots for women here | Boots for men here
3. Clogs
Clogs and Crocs are cousins of a sort. Just like its cousin, clogs are very comfortable to wear and are perfect for people who have demanding jobs that require a lot of standing and walking. Clogs are often worn among nurses and doctors, as they are easily removable.
Clogs come in many different colors and patterns.
History
Clog shoes are known for being made of wood. They traditionally served as protective footwear for mines, factories and agricultural activities. Even though they are considered as folkloric footwear, certain types of clogs have found huge popularity on the runway.
In simplest terms, traditional clothes are wooden shoes. Each shoe is carved from a single piece of wood. And yes, this is pretty uncomfortable footwear. But oddly enough, many cultures around the world have created their own style of clogs, which are also known as klompen.
The oldest clogs ever found in the Netherlands date to the year 1230. Dutch clogs are perhaps the most recognizable of all wooden clog styles. These shoes are distinctive for their simple shape. Usually, these clogs are made with rounded or pointed toes in a mule-like style with an open or partially open heel.
Variations
=> Cantabrian albarcas are traditional footwear in the northern region of Spain. These wooden shoes have tree thick pegs on the bottom that provide support and lift the wearer up to get them up and out of the mud and snow. Since these shoes are worn in rural areas, the elevated design also keeps you out of manure. Typically, these shoes are made from walnut, beech or birch wood.
=> Another type of clog shoe is the Japanese geta, which is a combination of clogs and flip-flops and is typically worn under the yukata dress. They have two blocks of elevated wood attached underneath them with a fabric strap on the toe.
=> Traskor, the Swedish clog, is either made from pine, alder or birch. The upper of the traskor is made of leather, while the soles are made from wood. They are usually vibrantly painted with floral designs.
And yet another type of clog are the synthetic clogs made famous by Crocs.
4. Crocs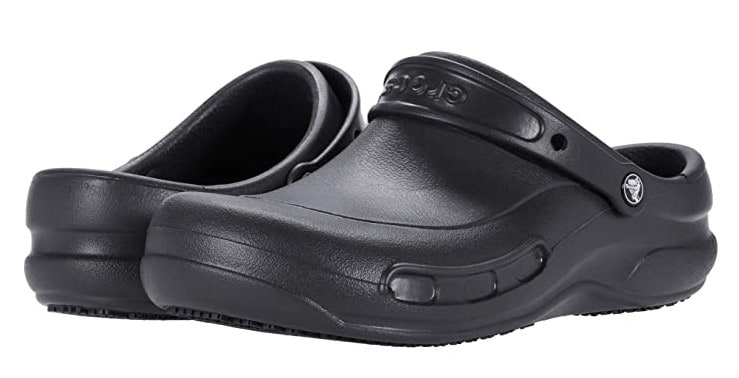 Crocs got famous with their "rubber" clogs. It's not really rubber, it's actually a proprietary synthetic material…but you get the point.
Style
A lot of people believe Crocs to be indoor shoes. The truth is, you can wear them outdoors, too. This footwear is very popular among travel enthusiasts, as they need comfy shoes during their hectic days.
Crocs come in different colors and patterns, making it easy for you to match them to your outfit. The Crocs brand is known for its amazing quality. And let's face it, crocs are a classic and deserve a space in everyone's closet.
5. Earth Shoes
Unless you were around back then or you have a ton of interest in vintage fashion, you've probably never heard of Earth shoes. These shoes were a strong fad in the 1970s and they have an extremely distinct sole profile that was designed to enhance posture, reduce back pain and even encourage deep breathing.
History
Eleanor Jacobs was on vacation in Copenhagen in 1969 when she found an early version of the Earth shoe design that would soon change her life. She was impressed with how comfortable the shoes were and how much her back pain improved. She shared the story of Earth shoes with the Wall Street Journal.
The shoes Elanor tried on that day had slanting heels with somewhat thicker and taller midsoles and sloping toes. This created an almost boat-like profile for the soles of the shoes. This design was created by a former yoga teacher who lived in Denmark. She felt that this design maintained the foot's natural position more than other, more standard shoe styles.
Eleanor and her husband called the shoe designer to ask her if they could sell the shoes in the U.S. In 1970, the couple opened up a Manhattan shoe store. The day was April 22, 1970, and Eleanor was a little disheartened to see lots of young people flocking through the streets but none stopping into her shop.
She flagged down one young man and asked him what was going on. He told her it was Earth Day. This is a commonplace event now, but 1970 was the first year that Earth Day was ever celebrated, amid a growing movement to honor and preserve the environment.
Eleanor grabbed a piece of white cardboard and wrote "Earth shoes" on it. For the rest of the day, the young environmentalists came in and out of the shop to take a better look.
A few years later, the shoes were on shelves and in display windows at more than 130 stores all across the U.S.
Like all fads, Earth shoes fell out of fashion. In 1977, the couple had to declare bankruptcy and liquidate their short-lived shoe empire. Eleanor saved enough Earth shoes to wear them for the rest of her life.
6. Flip-Flops
What's the first thing that comes to your mind when we say the beach? Yes, it's flip flops! They are the perfect beach accessory that you can ask for. Flip flops are comfy, stylish, and available in every color and pattern. Flip flops are also called thongs.
Style
Flip flops are the ultimate footwear for the summer season and a popular choice of footwear for men, women and children alike.
Flip flops are the ultimate summer footwear and are especially worn for pool parties, beaches and hot hangouts. They're generally made with an extremely comfortable foam sole and sturdy plastic toe support that helps keep your feet together. If you've recently gotten a pedicure, flip flops are the best footwear to flaunt your feet while also keeping them intact.
Heading to the beach or running a few errands, flip-flops make for an easy and comfortable shoe option. These are the most casual sandals out there, easy to slip on and slip off. Other than being casual and comfortable, flip flops happen to be cheap as well.
7. Galoshes
Galoshes, also called gumshoes, are technically boots that go over other footwear. A galosh boot is waterproof and it was designed for both men and women, so they could protect their feet and their footwear from rain and mud.
History
The word galosh dates to the medieval era, a style of boots worn in France called gallicae, or Gaulish shoes. Gaul is the ancient name for France. These shoes had leather uppers and wooden soles.
However, this style of boots is actually much older than even ancient France. Galoshes-style boots date to 13,000 B.C.E., when leggings were wrapped around the lower legs just above moccasins to extend the shoes and add more weather protection.
It was the Egyptians who were the first to make galoshes out of rubber, according to Encyclopedia.com. After the Egyptian empire fell, rubber technology largely faded from popular use. it wasn't until Charles Macintosh discovered a new way to waterproof materials using liquid rubber that the material became popular again.
Style
Traditional galoshes are still made with liquid rubber or sheet rubber. Sometimes, galoshes are lined with fabric.
8. Huaraches
There are two very different types of shoes that are called huaraches, which makes things pretty confusing. Either you're talking about truly historic footwear that's been worn through the centuries….or you're talking about a sort of strange shoe design from Nike. You might even be talking about a type of street food. Yeah, huaraches definitely have an interesting story.
History
Handmade, woven sandals were made in Mexico before Columbus ever sailed across the ocean in 1492. These shoes were widely worn by farmworkers in Mexico and became popular with the hippie culture of the 1960s.
The huarache shoes became even more popular throughout Mexico and the U.S. in the following decades. Now, they're part of mainstream fashion.
The Other Huarache Shoes
Nike created athletic shoes called huaraches that were distinct for their bright color combinations. This style evolved over time and now Nike huaraches are styled in all sorts of colors, including basic black.
Huarache is also a Mexican street food that's very popular. It's a large tortilla with beans, potato, meat, cilantro, cheese, onions, and salsa. Huaraches are named after the Mexican sandals because their shape somewhat resembles the footwear, according to Culture Trip.
9. Jika-tabi Shoes
Jika-tabi shoes, also known as jikatabi or just tabi shoes, are traditional Japanese footwear that is still worn today. These shoes are distinctive for the split design. Tabi shoes have a split between the big toe and the rest of the toes.
History
Tabi shoes started out as leather socks, footwear that caught on and became popular throughout Japan. Modern tabi shoes were created in 1919 with the use of rubber manufacturing.
10. Moccasins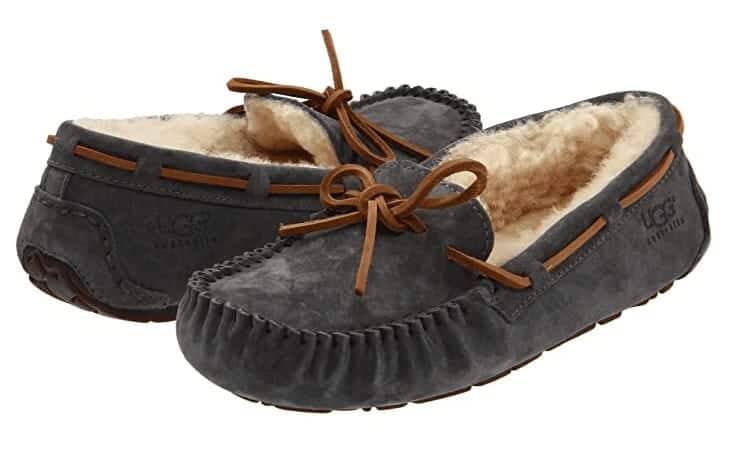 Made from soft leather, notably suede, moccasins are a soft, comfortable pair of shoes. They are often mistaken for loafers but they are entirely different from them. One of the main distinguishing factors is that moccasins have laces, while loafers don't. That being said, moccasins offer the same slip-on quality as loafers.
Moccasin shoes are one of the earliest shoe styles ever worn by humankind. They are strongly associated with Native American culture, but it's likely that these shoes came to the continent some 30,000 years ago with the very first settlers from Asia.
History
When early humans walked across the ice on the Bering Sea from Asia, they were likely wearing moccasins. The style was adapted and updated over the years. The word moccasin comes from the Algonquian language. Their word "makasin" means shoe.
The Algonquin tribes were the first Native Americans that European settlers met in North America in the early 1600s. The word and the shoe were brought back across the ocean, according to Gentleman's Gazette.
Style
Often embellished with beads, tassels, and artistic designs, moccasins are fit for runway fashion.  Besides soft-sole moccasins, you can also find these super fashionable shoes with hard, sturdy soles. The level of stiffness hard-soled moccasins provides is ideal for those looking for more character.
Moccasins are, by definition, shoes made with soft leather that have no heel. They are put together with a U-shaped piece of leather that is stitched to the soles, the sides of which rise up to meet the uppers.
These shoes are still worn today and they've now made in a huge variety of colors and designs. Moccasins are one of the most enduring footwear styles and they've been worn by humans since humans existed.
Variations
Driving moc shoes were created specifically because other types of shoes were too stiff-soled to comfortably drive a car for long periods of time and standard moccasins were too casual for a trip out to the country after a long drive.
Driving mocs became the perfect solution: a classic slip-on moccasin made of leather with rubber pads in the soles. The design kept feet flexible but still provided traction while driving, according to He Spoke Style. Driving mocs are also called Tod's after a brand that popularized the style.
11. Riding Boots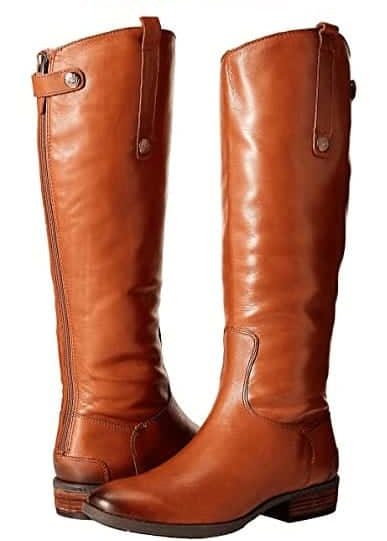 In a way, riding boots are the grandfather of many modern boot styles. Riding boot styles were probably developed even before the first military boots, which makes these a truly enduring icon of both men's and women's fashion.
History
The riding boot was created out of necessity. As people learned to tame and use horses, it became obvious that humans needed to protect their legs while riding. High boots made sense. A cave painting in Spain suggests that riding boots, a tall boot that wrapped around the lower leg, was worn sometime between 12,000 and 15,000 B.C.E., according to the Maryland Equestrian.
The look of tall riding boots certainly inspired the first military boots, as soldiers also rode horses into battle. In the 1700s, riding boots became more refined. They were made with softer leathers and designed to fit more closely around the leg. The more modern style became known as jockey style boots.
Style
Modern riding boots have all sorts of features that make them comfortable, practical and stylish. Modern riding boots are typically close-fitting around the legs and end just below the knee. They have short heels that are usually less than one inch in height. The heels help feet stay in the stirrups while riding.
Riding boots have stiff toes meant to provide protection should the rider's foot get stepped on by a horse. The tall shaft of the boot protects the legs from the saddle. But since riding boots are associated with equestrian activities and hunting, they have come to represent a distinct brand of luxury style that is also worn for the sake of fashion.
Variations
Riding boots are traditionally made with leather. Field boot styles have laces. These are more commonly seen in riding events that involve jumping. This gives the ankles more flexibility. Dress boots, which are more commonly used in dressage and formal foxhunts, do not have laces at the ankle. Hunt boots, also known as top boots, look like dress boot styles that have a cuff at the top. These are the traditional boots worn in fox hunting.
Paddock boots are also known as Jodhpur boots. These are shorter than standard riding boots, rising up just above the ankle. These are worn for everyday riding and they're commonly worn by children and juvenile riders who have not yet reached adulthood.
12. Russian Boots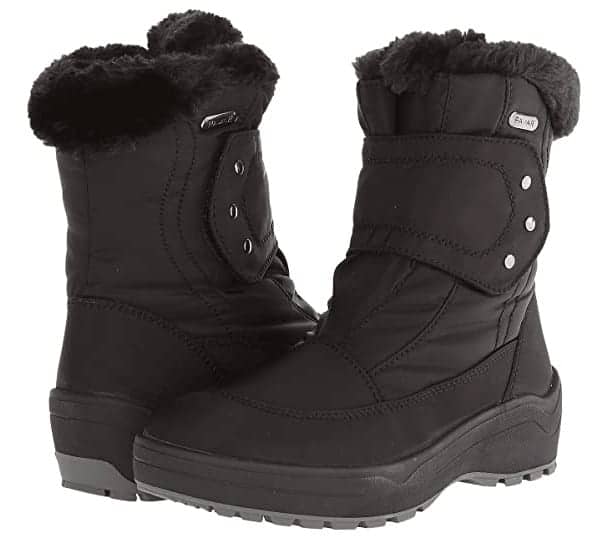 More properly known as valenki but usually called Russian boots, this style is a staple of Russian fashion and a perfect companion in cold weather.
Style
Valenki is traditional winter footwear in Russia that are made of wool in simple designs that keep the feet and lower legs warm. These boots are worn everywhere in Russia and they're seen in winter looks around the world.
History
These boots probably have ancient origins. They were most likely invented by nomads who used felt wool for their clothing and housing structures. They wore boots known as pimy that were mostly made of fur. The woolen boots are known as valenki probably adapted from this earlier style.
Valenki has no differentiation between the left and right feet when brand-new. Through wear, they will begin to conform to the shape of the owner's foot. This is because the wool shrinks slightly, but only slightly. Valenki boots will last 10 years or longer when well-made.
13. Slide Sandals
Known as slides or pool slides, slide sandals started out their life being called shower shoes. They were later rebranded as slides to make them sound a little bit more suitable for daily wear. But these shoes were specifically requested and designed for wear in the shower. Adidas just did so well with the design that soon, people started wearing them everywhere…and they still do.
History
A German football team, a soccer team to U.S. audiences, asked Adidas for a little help in the 160s. They needed a shoe they could wear in the locker room and in the showers. Adidas developed the Adilette, the world's first shower shoes.
Shower shoes exploded on the fashion scene in the 1990s. Soon, they could be seen everywhere. They were a necessity for college campus dorms, they were a favorite with athletes in all disciplines and they even made it into the corporate world as a favorite footwear choice for Facebook CEO Mark Zuckerberg, according to Stylecaster.
Style
Slides are so named because you can just slide your feet into them. They are a simple design that can be embellished with colors and patterns consisting of a single flat sole with a wide band attached to the sole horizontally that covers the top of the foot. The toes are left exposed. Sometimes, slides have a flip flop-style thong between the big toe and second toe. In some designs, the upper band is the only thing holding the shoe in place.
14. Sandals
Another popular form of footwear among both men and women in sandals. They are not only stylish but also very comfortable. Not to mention they go with just about everything casual. Whether you are wearing jeans or shorts, a maxi dress or tailored trousers, sandals look gorgeous on everything.
Sandals are perfect for the summer season, as they let your feet breathe. They also make great vacation footwear, as they are comfortable and easy to slip on and off. Sandals come in different colors and styles for both men and women.
Variations
=> Fisherman sandals are a distinct, open design with high sides, two upper straps, and a heel band that buckles in the back. The style is centuries old and was worn by numerous ancient cultures, according to Wisegeek.
=> Kolhapuri chappal is an ancient sandal design dating to the 1200s in India. These sandals are handcrafted and colored with vegetable dyes.
=> Geta shoes have a lot in common with clogs because they're made of wood, but the style more closely resembles sandals. These shoes are the traditional footwear of Japan and they are still worn today. Geta shoes are worn with Kimono. The bottom part of geta shoes is made of wood, with a flat platform for the foot to sit up. A supporting piece of wood lifts the platform up and provides additional support. Straps keep the shoes on the feet. According to the Kyoto Project, geta styles date to at least 300 B.C.E.
=> Peshawari Chappal Sandals
If you happen to keep up with fashion controversies and scandals, you may already be familiar with the peshawari chappal sandal. But many people, especially though in western society, are not familiar with this traditional Middle Eastern shoe design.
History
Peshawari chappel sandals are part of the traditional dress of people in the Pashtun culture, an indo-European group who live primarily in southeastern Afghanistan and northern and southwestern Pakistan.
Style
This traditional sandal has a distinct look that is created by two wide strips that are joined directly to the sole to create a semi-open sandal design. The style is suitable for both warm and cold weather.
Modern designers have drawn inspiration from this traditional footwear. Designer Paul Smith made headlines when he released a couture sandal strongly resembling the peshawari chappal that retailed for over $500 USD. The design drew a lot of criticism for cultural appropriation, sparking online protests, and public outcry.
Either way, the style has made its way into mainstream fashion. You can now shop for sandals in this design on Amazon.
15. Slippers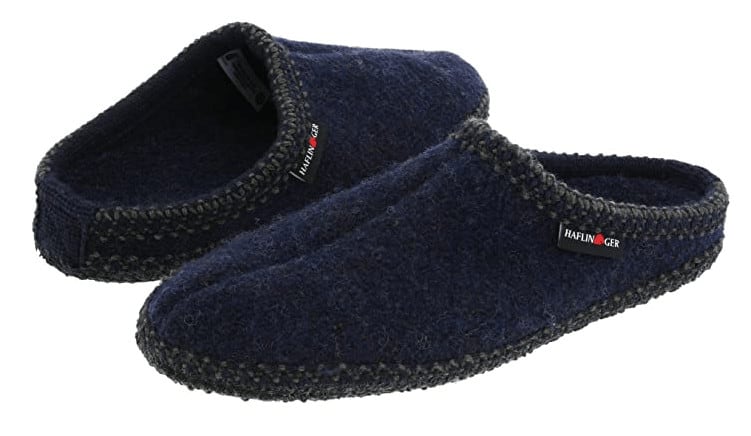 Everyone needs a pair of comfy slippers to roam around in when you are in the house. Actually, you need two pairs, one for the summer and one for winter.
The summer ones could be furry, adorable and comfy. While the winter one should have padding to keep your feet warm and cozy when you get out of your warm and comfy bed.
There are leather slippers available as well if you're looking for something more luxurious.
16. Snow Boots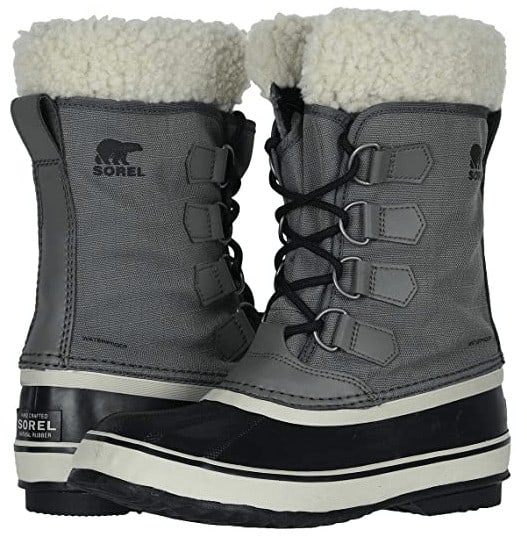 Snow boots, also called winter boots, are a necessity for winter activities of all types. These boots are heavier and thicker than rain boots and made with insulation to keep the feet and lower legs warm. Typically, snow boots are higher than the ankle and may go all the way up to the knee.
17. Ugg Boots
Ugg boots, also spelled ug, are really much older than people think. Ugg is a brand-name that has become synonymous with a specific type of boot but Ugg didn't invent the style. Warm, sheepskin boots have been popular since the late 1800s. They originated in Australia, where shepherds used leather straps to keep warm sheepskin around their legs and feet. Many manufacturers made sheepskin boots in the 1930s. There were worn by Australian pilots in WWI, who may have been the first to call them "ug" boots, short for "ugly."
Surfers in Australia in the 1970s often wore sheepskin boots on the chilly beaches between catching waves. One such surfer trademarked "ugh-boot" and then sold the rights to another surfer in California, who started selling Ugg boots. The rest, as they say, is fashion history.
18. Oxfords
Oxfords are traditional footwear that lends you an elegant academic look. They look neat because of their closed lacing under the vamp. Yes, these shoes are linked to the University of Oxford itself. However, there's more to their history.
Many records claim that the oxford shoes were originally made in Scotland and named balmorals. Nonetheless, oxfords are flat-heeled, foot-friendly, and look extremely sophisticated.
19. Saddle Shoes
When you see saddle shoes, you probably think of poodle skirts, classic cars, and Olivia Newton-John in "Grease." These black and white shoes are strongly linked to preppy 1950s fashion. But actually, saddle shoes have a much longer history. It took a long, long time for these shoes to become popular. And when they did, they really became popular.
History
Saddle shoes were actually invented in the 1920s, having evolved from a style of golf shoes that were fashionable in the 1910s. The style was originally made for men, but saddle shoes caught on with women who liked the sporty look of the two-tone design.
It was teenage girls in the 1940s who made saddle shoes the must-have style for youth of the day. By 1949, saddle shoes were the number one shoe worn by teen girls. Saddle shoes were extremely popular until styles changed drastically in the 1960s, though they were still a standard part of many school cheerleading uniforms well into the 1980s, according to History Daily.
Style
Saddle shoes haven't really made a comeback as a popular everyday shoe. They're typically only worn as part of a costume meant to resemble 1950s looks. This iconic shoe is clearly overdue for a new surge of fashion popularity.
20. Cleats
If you enjoy playing sports, especially soccer, then you need to invest in some cleats. A lot of people wear their sneakers or joggers, but that is not right. Sure, they provide your feet with comfort, but cleats go one step further than that. It not only gives your feet the comfort it needs, but it also provides you with stability and speed. There will be no missed goals when you are playing soccer wearing your brand-new cleats. Cleats give you the much-needed traction on the soccer ground and will help you get the MVP award.
There are different brands that offer different colors for cleats. You can go for something funky that will make you stand out in the pitch.
21. Calf Boots
Calf boots may actually be the oldest style of footwear. Like, ever. The oldest image ever discovered of footwear dates to a cave painting in Spain that was created sometime between 12,000 and 15,000 B.C.E. This image shows a man and a woman wearing calf boots.
History
Boots have been found in Egyptian tombs. The ancient Persians depicted boots on their funerary jars. And according to the Greeks, the Scythians wore boots in 1000 B.C.E. These were simple boots that were lashed to the leg with a leather thong.
Footwear played a major role in ancient style. Boots often represented military and ruling power. Kings, generals and emperors wore ornate boots, while the lower class population usually wore no shoes at all, according to LoveToKnow.
Style
Calf boots have never really gone out of style and there is ample evidence to suggest that they have pretty much always been worn by people since footwear began. They can be made in just about any style or heel height. Cowboy boot designs, Wellington boots and many other styles are all calf boot designs
Boots are not only classy but stylish as well. They portray a regal style that suits everyone. No matter what you are wearing (tailored trousers, a denim skirt or jeans), boots go with every look.
22. Barefoot Shoes
Mass-marketed barefoot shoes are a relatively new phenomenon. However, the concept of running barefoot is not. Many foot experts say that bare feet are already perfectly designed for all the running and walking humans need to do. Marathons and even Olympic medals have been won by barefoot runners. Barefoot shoes are also called toe shoes because of the articulated design.
Style
Barefoot shoes are designed to be as lightweight as possible. They are not padded. Barefoot shoes come in a huge range of styles in both men's and women's designs. Walking barefoot isn't always safe but you can get the same effect with these shoes.
B. Types of Shoes for Women
The variety of shoe styles, colors, materials, and textures for women is endless. There is no match for the instant confidence boost that you get when you slip into your favorite pair of shoes.
Every pair of shoes ever known has a history and identity in the world of fashion. But before we get into the magical world of shoes, let us first appreciate the incredible evolution they have gone through in the course of history.
Chart: Top 10 Shoes for Women
All Types of Women Shoes
1. Ankle Boots
Ankle boots are exactly what they claim to be: shoes that reach up to your ankles. You could wear heels or a different style of boots in their place, but they won't give you the funky, chic touch that only these boots can.
Style
Ankle boots are another classic choice of footwear that can smoothly transition from being formal office footwear to casual everyday foot fashion. They are stylish, versatile, and sturdy. Ankle boots are available in many different styles like Pixie boots or the famous Chelsea boots that look wonderful over leather clothes.
Variations
=> Originated in the Victorian era, Chelsea boots are prized for being the first-ever boots flaunted by Queen Victoria herself. It is believed that the Queen used to walk in these prominent boots every day.
Chelsea boot designs are ankle-high without laces, making them the ultimate choice for both formal and informal situations. Whether it is a sleek suit or blazer, or casual designer jeans, these boots work every time with everything.
=> With a two-inch platform and a five-inch heel, Lita boots are the sturdiest and thickest ankle boots you will find. These boots were named after Lita Ford, a member of the Runaways, back in the '70s. Even when they weren't as successful when they first came in 2010, Lita boot styles have now found a stronghold.
Ladies like to wear these boots in black; however, only recently, Lita boots have also emerged in cosmic prints and flag designs.
2. Ballerina Flats
Ballerina shoes, also called ballerina flats or ballet flats, are normally made out of soft leather or satin. It was in the 18th century where the female dancers decided that they should appear as if they're flying when performing ballet. And, this led to the famous pointe ballet shoes.
A pair of designer ballerina shoes can help you pull together an elegant princess-like look and quickly make you the attraction of the party.
3. Ballet Slippers
Ballet slippers, or ballet shoes, are worn only for the purpose of dancing. Ballerina flats are an adapted design of ballet slippers that can be worn as everyday shoes. Ballet slippers are made with soft materials, typically satin, canvas or leather. A dancer on the Paris Opera Ballet was the first to wear a non-heeled ballet shoe in the 1700s and ballet dancers all over the world followed her example.
Variations
=> In 1823, the concept of dancing on the toes was introduced to ballet by dancer Amalia Brugnoli 1823. It was late in the 1800s when Italian shoemakers created reinforced pointe shoes that gave ballerinas further toe support and further refined ballet as a dance art form.
=> Dori shoes are pointe shoes that have a heel on them, which allows the dancer to shift her weight and perform a wide range of dance steps.
4. Court Shoes
You probably know court shoes as pointed toe high heels. What you may not know is that these shoes were once the height of fashion in royal courts and they've been in style for hundreds of years. That's what you call a long-lasting trend.
Style
Court shoe designs are a closed toe high heel with a long, very pointed toe. The height of these shoes varies, but they typically have a medium heel height. The heel style may also vary from chunky to slim, according to Radley London.
History
Court shoes first became popular in the medieval era. They were fashionable throughout Italy, Spina, England, and France, where they were first worn by the wealthiest citizens and those who frequented the royal courts.
For a time, court shoes were a symbol of wealth and status. In fact, King Louis XIV of France decreed that no one could enter his court wearing red court shoes, as such shoes would be symbolic of power and therefore, they would be disrespectful to him.
In those days, court shoes were worn by both men and women. Heeled shoes were actually first worn by men, partially those in the upper class.
Variations
=> Pumps once made a splash in men's footwear as a type of athletic shoe that could be pumped with air. But this term has been used to describe high-heeled shoes since around the 1500s. Pumps are a variation of court shoes that can have varying toe styles. There are pointed toe and rounded toe pump styles. A pump can be any shoe that fits snugly around the heel and the toes of the foot that is supported by a high heel. Within this basic design, there's a lot of room for different styles and color options. Now, the word "pump" is exclusively used for women's shoes, and pumps are regal and glamorous footwear.
=> D'Orsay pumps are known for their cutaway style. Created by the Count d'Orsay, Alfred Gabriel, these pump heels were originally made for men. Now, they are one of the most enduring and stylish footwear for women.
D'Orsay heels show the curved arch of your foot, which is normally covered. Made by high-end shoe companies like Jimmy Choo and Manolo Blahnik, D'Orsay heels are both stretchable and comfortable.
5. Espadrilles
Espadrilles first appeared in history in a Catalan script that referred to them as "espardenyes." They are lightweight, canvas shoes with a fiber sole.
Style
Espadrilles have a humble yet rebellious origin. A famous fighter, Sabrino Arana, was found to be wearing espadrilles during the Cuban Revolution supporting the Basque nationalism.
Since then, espadrilles have long remained an attire for champions of justice. They went far and wide, across the sea, and gradually made it to Hollywood fashion. Espadrilles have always been a bohemian-crowd favorite as well. If you're looking for some rebellious footwear fashion, you know what to wear.
6. Flats
Flats can be any shoe type worn by women that don't have a heel, or that has a very low heel. This includes styles like loafers, oxfords, mules, and sandals that don't have heels. Many types of shoes for women are flat styles.
7. Gladiators
Gladiators were historically worn by men in the grand arena. In Ancient Rome, gladiator sandals were worn to soak up the blood as the men engaged in fight and game.
Style
Gladiator sandals are basically cavemen shoes that are strapped right up to the knees with a T-bar running down from the front. Even now, they are just as beautiful and regal.
They have a beautiful uniqueness and look lovely with dresses. These sandals work well for summers when you're more likely to wear shorts and skirts. Having recently made a huge comeback on the high streets and catwalks, these strappy sandals also go well with formal office wear and striped trousers.
8. Heelless Shoes
Heelless shoes are a relatively new footwear innovation to enter the fashion scene. It's an immediately eye-catching design that looks rather frightening. To achieve this seemingly physics-defying feat, the shoes are made with an angled shank that connects to a flat support. This keeps the foot lifted without the aid of heels, creating a truly stunning design.
9. High Heels
High-heeled shoes are made in a huge variety of styles and today, they're pretty much exclusively worn in women's fashion.
History
Originally, high heels were worn by men. High heels date to the 1400s Persian Empire, when soldiers wore heeled shoes to keep their feet in the stirrups of their saddles while riding. The style caught on in Europe, where the male Aristocracy wore them to appear taller, according to Teen Vogue.
Chopine shoes were really the first high heels worn by women.
Variations
=> Chunky heels are the latest and rather improved form of wedges. They are extremely versatile as they offer the cozy comfort of wedges along with the sultry and slimming elevation of stiletto heels. Chunky heels are edgy and can be paired with a number of looks.
Chunky heels are available in the form of ankle-boots, sandals, and even knee boots. It's just that they have a chunky block heel. They can quickly upgrade a minimalist shoe look and are styled with straps and bows.
=> A kitten heel, just like its name, is a petite, slender, and slightly shorter heel. Kitten heels were popularized by the likes of Audrey Hepburn, Hillary Clinton, and Michelle Obama. If you're looking for a small boost in height, then kitten heels will work well for you. They are typically made of heavy materials and have round toes in the front.
=> Here's a fun fact about stilettos: they weren't supposed to be for women. Yes, stilettos were created for aristocratic and military men back in the old days. Even when they're associated with feminine fashion now, stilettos primarily evolved from Persian riding boots that had small heels under them.
To increase the speed of running, and agility on the battleground, they were made to be sharper. It was only during the royal era of King Louis XIV, who introduced red heels in his court for women and simultaneously disallowed men from wearing them, that they became part of women's fashion.
And, here we are now. Stilettos, with their sharp heels, are one of the most popular footwear styles for women. They are typically made from leather.
=> Spool heels have a bit of an hourglass shape. It's curvy, thicker at the bottom and top than in the center. This curvy-heeled shoe was the look of choice among courtiers in Europe, where they were worn by both men and women, according to Bodmin Magazine.
10. Jelly Shoes
Jelly shoes, also known as jellys and jellies, feel like a staple of 1980s fashion. You may be surprised to learn that these unique shoes are actually older than that.
History
Jelly shoes were invented in the 1950s or 1960s when plastic became widely available to manufacturers. But in the 1980s, jellies really hit their stride. The colorful plastic shoes and the fashion of the '80s were a perfect marriage. Jellies soon became the go-to casual shoe of the decade.
As the story goes, jellies gained attention at the 1982 World's Fair in Knoxville, Tennessee, according to Bustle.
11. Knee Boots
What's not to like about knee boots? They can be paired with skin-tight jeans as they can quickly accentuate the slender shape of your legs or with a skirt or dress.
Variations
Knee boots can also be made in wide calf boot styles. This is when the opening of the boots is wide, which can be a good look for layered styles.
12. Mary Janes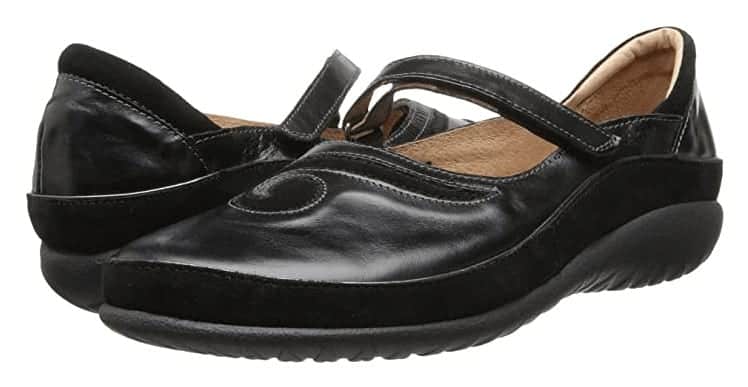 Mary Jane shoes are an enduring trend and a fashion classic that just about every woman has worn at least once. These shoes got their name and their popularity from a comic strip.
History
The shoes and the style come from the Buster Brown comic strip. The character Mary Jane wore shoes with a single, buttoned strap across the top of the foot. Almost as soon as the comic strip debuted, little girls everywhere clamored to have the same shoes, according to the Independent.
They were extremely popular for both girls and boys. If you don't own at least one pair of classic Mary Jane shoes, then your shoe collection is clearly incomplete.
Style
Modern Mary Janes play with the classic style. The shoes may have heels or no heels pointed or rounded toes. But to be true Mary Janes shoes, there is always a single strap across the top. Mary Janes are also called bar shoes because of the strap.
13. Mules
Mules are a newer trend in footwear. They are basically closed-off from the front and open from the back. Even when they're quite similar to slide-ins, they're elegantly sculpted from the front and are available in different textures.
Style
Velvet mules look especially regal and breathtaking on short blouse dresses. Mules can quickly beautify the curvy shape of your toes. For ladies who like easy-to-wear slip on and off shoes, mules are perfect because they're an extremely comfortable casual footwear.
They lend ample support to your toes and keep them together while showing off your pretty heels. Make sure to get a pedicure and scrub those heels before you wear these super-cool shoes.
14. Peep-Toe Shoes
Peep-toe shoes are just like pumps but with a small opening at the toe, which is why they're called "peep-toe." They may have a long history with the ancient Greeks but the 1940s saw them really become popular. Referred to as the "pin-up" shoe, they were admired by the likes of Betty Page and Marilyn Monroe.
Peep-toe styles are seen in flats, kitten heels, high heels and even ankle boots.
15. Platforms
Here's a fun fact: during the time of the Greeks, platform heels were donned by superior characters in a comic play. These heels signified their dignity in the ancient stage plays. Hence, there's no question why they are still stylish.
Platforms are heeled shoes that have thick soles and tall heels. This design can add several inches to your height. Non-heeled platform styles are called flatforms.
16. Slingback
What goes around comes around. And that's exactly how slingback heels are worn. They may resemble strap heels, but they're not the same. These heels have a strap that goes back around the heels and is fastened at the front of the foot.
17. Stocking Boots
Tall, over-the-knee boots are known more by their nickname than their proper name. You're probably more used to calling stocking boots or thigh-high boots. Compared to other types of footwear on the list, stocking boots are a relatively new design. According to Vogue, these tall boots have only been making waves on the fashion scene since the 1960s.
History
Tall, over-the-knee boots were introduced to fashion by Yves Saint Laurent. The boots were designed by Roger Vivier for the fall 1963 collection.
Style
The thigh-high boot trend has never totally gone away. This look is always stylish and it's been worn by everyone from true fashion luminaries to celebrities and politicians.
18. T-Strap Sandals
T-strap sandals, also known as T-bar sandals, became trendy in the 1920s. These sandals had a pointed toe with a strap stretching from the toes to the ankle, where it joined another strap that encircled the ankle. This design just covers the toes and heels of the foot. The first t-strap sandals had two-inch heels but as trends progressed, the heel heights and toe styles began to vary.
19. Wedges
If your feet hurt in high heels or you're tired of wearing sharp sandals all the time, wedges are an excellent alternative. Typically famous as a '90s fashion, wedge heels are finally making a much-deserved comeback in the footwear fashion.
Wedges are comfortable and stylish. There are many different kinds like strap wedge heels, cork wedges, denim wedges, and simple pearl wedges. From a huge variety to choose from, wedges lend your outfit an extremely elegant and polished look.
20. Worishofer Sandals
Somehow, fashion-forward celebrities discovered an obscure German sandal made to relieve foot pain and turned it into a high-fashion item. Worishofer sandals are incredibly comfortable and weirdly, totally trendy.
Style
These German sandals have short wedge heels. The leather uppers have a peep toe lace-up design. The uppers are perforated with small ventilation holes that add distinction.
History
Worishofers were designed by a German podiatrist in the 1950s to relieve foot problems and pains. It was five decades later that a shopping magazine called them "chic" and "comfortable." Suddenly, these orthopedic sandals were on their way in the fashion world.
21. Loafers for Women
If you like your toes closed-off from the front, then loafers are a good choice of footwear. Loafers are stretchable to accommodate your feet. They have elasticated panels on both sides that eliminate the need for any shoe fastenings or laces.
Loafers can quickly add a vintage and glamorous touch to your footwear style.
Variations
Venetian-style shoes, or Venetian loafers, are a very simple, elegant, and embellished loafer style.
Related: 42 types of shoe heels
C. Types of Shoes for Men
Shoes have always been an important aspect of men's fashion, as they speak volumes about the person wearing them. In media and literature, shoes have been representative of the wearer's status.
Chart: Top 10 Shoes for Men
All Types of Shoes for Men
Status Symbol
You might not know this, but shoes have served as an important status symbol in several cultures, including ancient Egypt. Egyptians used to wear woven papyrus sandals, while those they enslaved used to roam around barefoot.
Shoe Stylings
In addition to being indicative of one's status, good shoes show just how much you prioritize attention to detail. Men are often stereotyped for being less detail-oriented compared to women. By wearing stylish shoes, you break away from this stereotype. Shoes also help you bring your A-game forward, as you'll look stylish from head to toe.
1. Monks
The reason why they're known as monk shoes is that their history dates back to the time when monks were searching for an alternative to sandals. Monk shoes are less formal than oxfords and a jaunty alternative to lace-ups. Mostly available in suede, monk shoes are secured with a bold buckle and strap.
Single monk strap shoes, which are timeless and chic, are more common, whereas double monk strap shoes have a military touch to them. Monk shoes are a wonderful alternative for anyone who wants to wear something different.
2. Boat Shoes
Also known as deck shoes, docksiders, topsiders, and top-siders, boat shoes are a canvas or leather shoe style specifically designed for boat decking.
History
According to Business Insider, the first boat shoes were invented by a sailor. His leather shoes kept slipping while he was standing on the deck of the ship.
Paul Sperry developed his first pair of boat shoes in 1935. The only problem: the soles were black. This left marks all over the deck of the boat. He changed the soles to make them white and the modern boat shoe took on the look it has today.
It didn't take long before the shoes quickly grabbed attention from famous fashion giants. Docksiders have intricately hand-sewn uppers and non-slip rubber soles, which truly made them stand out.
Style
Boat shoes are low-cut, lace-up shoes with white soles. The upper part of the shoe has piping around the top outer edge in a design that is similar to moccasins.
First of all, boat shoes look best when worn without socks or no-show socks. Always pair them up with shorter length pants. If you are not comfortable doing so, you can slightly roll your pants. Remember that a little roll can go a long way.
What kind of a shirt will compliment your rolled-up or short-length pants, you may wonder? It is ideal to team them up with a pastel-colored polo shirt or chino. Don't forget to accessorize with an embroidered belt!
When it comes to choosing boat shoes, the safest is to stick with the classics. Go for boat shoes in neutral leather with a slip-proof rubber insole and outsole. Some other great options that you can choose from are color-blocked boat shoes, two-toned boat shoes, and suede boat shoes.
3. Blucher Shoes
It's easy to get confused about bluchers. In the U.S., bluchers and derby shoes are usually referred to as if they're the same shoes. However, they are two distinct styles, according to the Gentleman's Gazette. Both are lace-up shoes but the construction is just a little different.
Style
Bluchers are made with small pieces of leather that are sewn directly onto the vamp of the shoe. The vamp is the upper part of the shoe that covers the front of the foot.
History
Boots were the standard footwear for soldiers in Europe during the 1800s. They were difficult to remove and to put back on again. A Prussian army officer named Gebhard Leberecht von Blucher decided to have the boots redesigned during the Napoleonic wars.
First, he designed a half boot style with two leather flaps that could be laced together. The laces made the fit adjustable and therefore, more comfortable for different sizes and shapes of feet. The boots were named Bluchers.
Later, Blucher and his troops played a significant role in the Battle of Waterloo, which saw Napoleon defeated. That's a pretty big claim to fame for any footwear!
4. Brogue
Also known as wingtip oxfords, brogue shoes feature a pointed toe-cap with extensions, or wingtips. These wingtips extend from one side of the shoe to the other.
Style
Wingtip oxfords can be sported with a stylish pair of suit pants or trousers with a casual shirt and blazer. For a more sophisticated look, go for an elegant pair of brogues. The shoes are super versatile, as they go well with even a simple white T and blue jeans. These days, people opt for classic brogues to go with their business suits.
Brogue shoes sit comfortably between oxford and monk shoes. Available in metallic colors, pastels, and the classic black leather, brogues look elegant with dress pants.
Wingtip shoes are a variation of the brogue. They had small perforations in them, allowing for ventilation to keep feet dry. The difference is that wingtip shoes have curving toe cap, according to Fashion Beans.
5. Brogan Shoes
If you had lived during the 1700s or 1800s, you would have owned a pair of brogan shoes. They were wildly popular. In fact, they were so widely worn that the word brogan itself is thought to be derived from the Gaelic word "brog," which means shoe.
Style
Brogans are ankle-high and made to be durable. They're constructed out of leather and have an enclosed lacing system. They're usually simple in design and have a durable heel.
History
The brogan shoe was the style of choice during the American Revolution in the late 1700s. They were worn by British Army soldiers back then. But by the American Civil War, soldiers in the U.S. were wearing brogans, according to WiseGeek.
The real innovation of the brogan was that they could be worn on either foot interchangeably. The popular Moden 1859 Jefferson brogan had four eyelets for the laces and a squared toe.
Broghan shoes are still sold today, though they are no longer standard military wear.
6. Brothel Creeper Shoes
Brother creeper shoes, or simply creepers, actually started with a dance craze. The dance was inspired by the 1953 hit "The Creep" by Ken Mackintosh. It was a popular song with a group of youths known as the Teddy Boys, who enjoyed wearing fancy clothing from the early 1900s, rather like the steampunk trend of more modern times.
Style
The Teddy Boys were particularly known for their shoes, an oxford design with soles made of crepe. Typically, the uppers of brother creeper shoes were made with leather and the soles were rather thick and rigid, according to Smithsonian Magazine.
History
Brother creeper shoes caught on but like all trends, soon faded. The shoes became hot again briefly in the 1970s. Now, they're a classic.
7. Buck Shoes
Buck shoes, or bucks, are traditionally made with deer hide. This is what gives the shoes their name and this is just one of the interesting tidbits about these now-classic shoes.
History
The first buck shoes were put together in the 1870s, a soft shoe made with deerskin. Soon, this lightweight shoe was a popular choice on the tennis court and golf course. But it took a royal visit to really make these shoe mainstream.
It was in the 1920s when the Duke of Windsor made a trip to the U.S. and was photographed wearing white buck shoes during his various appearances. The shoe quickly became a trend in America. When popular singer Pat Boone famously wore bucks, the shoe was an absolute menswear must-have.
Style
Bucks are still around today and still a popular choice for smart casual wear, according to GQ. Bucks are simple, low-cut lace-up shoes with a slightly rounded toe and two flaps that meet over the uppers that join the laces together.
8. Buckled Shoes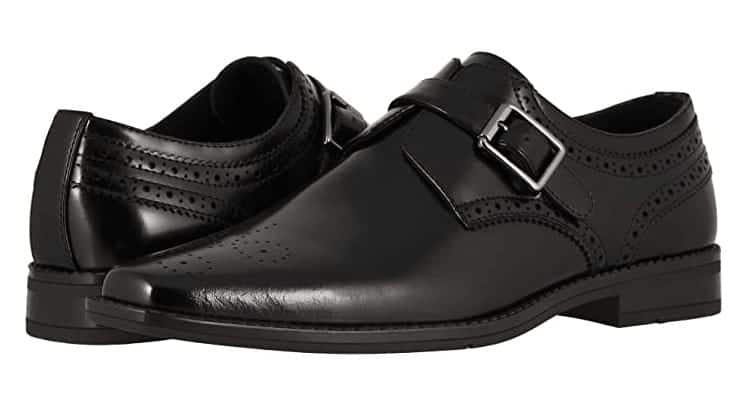 Buckled shoes, also known as buckle shoes, monk shoes, and monk strap shoes, have a long history. In fact, you've seen these shoes tons and tons of times…but probably never in person.
History
Buckled shoes have been around for centuries. They were first worn by monks. These shoes were a simple, closed-toe style with a strap and buckle holding them in place. The style quickly caught on with the public and became a staple of men's footwear that has always been around ever since.
You probably best know buckled shoes as the type of footwear worn by early settlers and colonists in North America. Buckled shoe styles are often seen in period pieces dating to the era. Today, simple buckled shoes are still a classic, standard shoe choice, according to He Spoke Style.
Style
While they have no laces, monk straps do come with a buckle and strap. A single monk shoe has a single strap and a buckle while a double monk boasts two straps and buckles. There also happen to be triple monks but they are not in fashion, as compared to other monk straps. Owing to their sophisticated buckle and strap, these shoes are a perfect pick for formal occasions.
Men in a tuxedo often opt for black monk straps to take their overall attire to a whole new level. In addition to formal looks, these shoes can be rocked in casual settings as well. For that, you will need to ensure that you choose a fun pair of monk straps, such as two-toned monk straps or leather brown monk straps.
9. Chukka Boots
It is widely believed that chukka boots became famous in India among British troops that used to wear them while playing polo. Although they originated in the late '40s, they are still considered to be a popular choice for casual and formal wear.
As compared to other boots, chukka boots are loose, light, and airy, making it easier to walk around in them.
Variation
First designed for the British Army during World War II, desert boots are the most eminent version of the chukka boots. This stylish pair of boots came with two or three pairs of eyelets and a rubber sole. These are a few notable features that make desert boots different from other kinds of boots.
10. Combat Boots
Combat boots, also known as army boots or military boots, have a pretty long history. After all, soldiers have been wearing boots since ancient times. Roman soldiers wore boots. But boots specifically designed for combat are a lot newer…at least, by contrast.
History
In the cold winter of 1777 and 1778, it looked like the American Revolutionary War was going to be lost not to the British, but to the weather. It was during this winter that George Washington and his men were at Valley Forge, struggling to survive against the harsh elements. It was this harsh winter that proved how important basic footwear really is during times of war.
In 1816, the first boot made strictly for the U.S. military was designed. It was called the Jefferson boot and it was special because it could be worn on either the left or right foot. One less thing to worry about for soldiers on the battle lines.
It's from this original boot that every single other boot worn by the U.S. Army was designed. So in this way, it seems that Jefferson was a Founding Father of fashion, too.
Boot, Boot Revolution
Soldiers were assigned the trench boot during WWI in 1917 and 1918. The trench boot was also called the Pershing boot. French and Belgium soldiers also started wearing the trench boot in 1914. The trench boot had an iron plate in the heel and soles made of tanned cowhide.
Combat boots became much more evolved in the next few years. A special boot for paratroopers was designed during WWII. Known as jump boots, these boots were a completely leather boot design. The official name was the M1943 Combat Boot. According to Filson, these boots were worn by soldiers throughout the Korean War as well.
The jungle boot was also designed just before WWII. It was first tested in Panama and put into service by the U.S. Army in 1942. The lightweight design was made of layered polyvinylidene chloride (PDVC) and had rubber soles. Officially, this was the M-1942 canvas and rubber jungle boot. The M-1945 tropical combat boot was designed three years later.
The early jungle boot designs were used by soldiers in Vietnam. Some improvements were made to the design to create the M-1966 jungle boot. This design used nylon mesh reinforcement and ventilating insoles that were removable in the new design.
Combat boots issued for cold weather wear in the 1960s became known as Mickey Mouse boots because they had such a large design.
Modern Style
Now, all U.S. soldiers are issued one temperate weather set of combat boots and one hot weather set of combat boots. U.S. military combat boots are made of genuine leather. Only cow or cattle hide leather qualify. All combat boots are 8 to 10 inches tall with a sole height of 2 inches or less. The sole is made from polyurethane or rubber.
Today, combat boots are worn by people as a fashion statement, not just by soldiers. Combat boots have become an eye-catching accessory that can be paired with anything. In the 1990s, it was fashionable for women to pair combat boots and combat lookalike boots with dresses.
11. Cowboy Boots
Cowboy boots were first created for practical reasons, not for fashion. American cattle-wranglers added a heel to their Wellington boots and their Hessian boots, creating the first cowboy boots sometime in the 1800s, according to Fashion Book.
History
Legend has it that an Italian immigrant living in Texas, Sam Lucchese, saw that ranchers needed simple, practical work boots. Lucchese's name has been attached to cowboy boots ever since. However, Kansas also claims to be the birthplace of cowboy boots.
Another legendary shoe story told by Sheplers says that a cowboy who got work doing cattle drives went to a shoemaker and asked for a boot with a pointy toe. This could go into stirrups more easily. He said the shaft of the boot should be higher and the heel needed to be thicker to keep the boot in the stirrup.
Style
Cowboy boots have a highly distinctive style that is immediately recognizable. These boots typically end somewhere below the knee but above the ankle and usually have a short heel. Cowboy boots have pointed toes and they are typically made of leather or a leather alternative.
Sometimes, the shaft portion of the boot is highly decorated with embroidery and other embellishments. Cowboy boots are also styled in different colors and they're worn by both men and women.
Cowboy boots are still a practical choice for those who ride on horseback but cowboy boots today are worn as much for fashion as they are for the purpose for which they were designed.
12. Derby Shoes
As compared to oxford shoes, derbies are more casual rather than formal. Unlike oxford shoes, derby shoes have open lacing, which means that there are no seams between the front and tongue of the shoe. The quarters are meticulously stitched above the vamp. The lack of tightened or fixed laces allows greater movement to the wearer.
Some of the other features of derby shoes include elaborate toes, multiple-paneled construction, and durable leather soles.
History
The derby shoe has been around for so long, its exact origins just aren't known. However, it's believed that they are named for the 14th Earl of Derby. The story is that the Earl had large feet that were hard for him to get into his boots. His bootmaker created a lace-up style that was easier for the Earl.
Derby shoes have existed since at least 1862 when they were noted in an account book. In 1872, Derby shoes were mentioned in a magazine.
13. Hiking Boots
The first hiking boots came along in the early 1900s, just as the U.S. began a love affair with the great outdoors. They were leather boots that laced up to the ankle, with some styles going up to the knee. The first hiking boot styles were developed by Red Wing, according to Heddels.
Style
Hiking boots are traditionally made with gripping rubber soles and tough uppers that give feet protection and traction across all different types of terrain. Hiking boots are typically made in lace-up designs that create a flexible, perfect fit around feet.
Some hiking boots or shoes may have insulated or waterproofing to provide protection in an even greater variety of outdoor environments. Hiking boots are available in a huge range of styles and colors, though natural colors and patterns are most common.
Variations
=> The Adidas kampung has set a whole new bar for hiking shoes. These shoes have gained national attention when a woman won a race up the side of a mountain wearing a pair of Adidas kampung hiking shoes in 2011, according to the travel website Monkey Rock World.
gyou'reThe shoes are made entirely of rubber, which makes them waterproof. They also have a cleat tread pattern to provide grip and traction on all types of terrain. These shoes are low cut and have a lace-up design. They are made in Malaysia because they're so perfect for hiking in jungle environments. If you're looking for a great trail shoe, this is it.
14. Loafers
When it comes to top-class appeal and aesthetics, loafers reign supreme. Loafers are one of those casual slip-ons that you can wear to any laid-back outing and still look dapper. They are designed as a low shoe, exposing the ankles.
Sometimes, they feature leather around the vamp, a design known as a saddle. They are the kind of shoes that can be perfectly paired with both casual wear (like shorts), office attire, or evening looks.
Variations
=> Laceless bit loafers come with a piece of horizontal metal across the vamp. Originated by Gucci in the 1960s, bit loafers are popularly known as "Gucci loafers."
=> Preferred mostly by businessmen, penny loafers boast a leather strap on the top. They come with a unique diamond shape which is the most attractive feature of the shoes.
The versatile style of the penny loafer has been popular in men's fashion for decades. During the loafer craze of the 1930s, a typical pay phone call cost two cents. The newest loafer design of the time allowed just enough room to hold two pennies. This made penny loafers not just stylish but highly practical, too.
The penny loafer was one of the most-seen shoes of the 1950s and '60s. Phone calls at the payphone cost five times more in this era than in the 1930s. Some switched the pennies for dimes, but the penny look by then was already a classic. The addition of a penny in each loafer has remained, though many now say that they use the pennies simply for a little extra good luck.
Penny loafers are low-cut, laceless shoes with a short tongue. The uppers are usually made of leather or a leather alternative, though newer loafer styles may be made from fabric or plastic. Penny loafer shoes continue to be an enduring look that remains popular, according to Brooks Brothers Magazine.
=> Worn best with casual and business suits, tassel loafers are the most desired loafers globally. They also give a smart appeal when paired with a blazer and chinos. Tassel loafers in brown and black leather are the most sought after.
15. Motorcycle Boots
Motorcycle boots were first known as engineer boots. The tall design of the boots protected the legs while riding. Films like "Rebel Without a Cause" and "The Wild One" popularized the look of wearing engineer boots while riding a motorcycle. Soon, the style came to be known as motorcycle boots. The design was refined with a higher heel and a pointed toe. This modern take on engineer boots came known as Chelsea boots and later, Beatle boots, according to Fashion History.
16. Oxford Shoes
Simply put, oxford shoes are lace-up shoes that are largely considered classic dress shoes. They are characterized by closed lacing with a low heel and a low cut, which exposes the ankle of the wearer.
The most common oxford shoes are the plain ones that do not boast any elaborate piecing. Their sheer simplicity and elegance make them the perfect choice for formal evening shoes. You can find these shoes mostly in black patent leather, ideal for a black-tie wedding or an evening ball.
Some plain oxford shoes also come in polished brown leather styles.
Variations
Sometimes referred to as balmoral oxfords, cap toe, or cap-toe, cap toe oxfords come with a toe cap, along with the vamp and quarters. A piece of leather is placed across the toe box. The design also has a heel cap.
Men often rock their business suits with classic black cap toe oxford shoes. They are also available in plenty of color shades, such as tan, oxblood, brown, and cognac.
17. Spectator Shoes
Unlike most shoes on this list, spectator shoes do not adhere to a single shoe design. Loafers, oxfords, derby shoes…just about anything can actually be spectator shoes as long as one criterion is met: a two-toe design. Any shoe that is made up of two colors on the upper is, by definition, spectator shoes, according to the Gentleman's Gazette.
18. Wellington Boots
Making their way from the mud puddle to the fashion ramp, wellington boots are so much more than footwear for the rain. Popularly referred to with funny names like billy-boots, gumboots, and poop-kickers, rain boots were first made by LeverettCandee, who used vulcanized rubber to create the prototype. This is the same type of rubber used for tires.
History
Wellington boots are a variation of Hessian boots. They are traditionally made with leather and date to the early 1800s, according to the Fashion History Timeline.
Style
Wellingtons are calf-length or below the knee. They have a seam below the ankle and seams down the side. Wellington boots have loops at the top to assist in pulling them on. They're waterproof boots and reportedly, named for the Duke of Wellington. He was a military hero who defeated Napoleon at the Battle of Waterloo in 1815.
A pair of rain wellington or rubber boots are the ideal footwear for regions where rain and snowfall are quite frequent. Nowadays rain boots are available in beautiful floral designs and patterns that look lovely on a pair of jeans and winter coat.
19. Winklepickers Shoes
If you were in Britain in the 1950s, then you owned a pair of winklepickers. These shoes are still a hot look among rock and rollers because that's the music that made this style famous.
History
Winklepicker shoes were the hottest look for young men in England during the rise of rock and roll. The style actually dates to shoes worn during the 15th century, the crakow shoe. However, these older shoes had very long, pointed toes.
Winklepicker hoses have pointed toes, but no longer than four inches in length. Newer styles are usually less than one inch long.
Style
These shoes are typically made with leather or a leather synthetic in an ankle-high style with slight heels, pointed toes and buckles, and zippers on the uppers. This is in keeping with the rock and roll history of winklepickers.
According to Shoe IQ, you can find winklepicker shoes on the feet of luminaries like Jack White, Kings of Leon, and The Kills.
20. Work Boots
There are many different types of work boots. Depending on the safety requirements for your job, work boots may mean safety toe boots or steel toe boots. Some workplaces require these protective boots, while others do not want you to wear safety boots with this feature.
History
Industrial safety mattered more than ever during WWII. It soon became obvious that it was cheaper to protect workers through safety measures than it was to replace them. German shoemakers developed steel toe boots, a trend that caught on and helped define future generations of work boots.
Style
Other tough materials, such as composite, are also used to make safety boots. Some styles have puncture-resistant plates and other features. Work boots may be insulated, cushioned, or have any number of features to make them comfortable and well-fitted to your feet.
Typically, work boots are a little taller than ankle-high and they're made with tough materials and lots of comfort and safety features.
21. Budapester Shoes
The Budapester is defined by its many features as much as it's defined by its country of origin.
Style
Budapester shoes are a low-cut, open lace shoe design. These shoes closely resemble derby shoes but they're made with double stitching, a wing cap and a heel cap. Budapesters have a double sole and a large heel.
These shoes are easy to confuse with derby shoes and brogue shoes because they are similar in style, according to Shoe Passion. Sometimes, these shoes may be sold as Budapester derby brogues.
History
Shoemakers in Budapest were making Budapesters regularly at the end of the 1800s. But in Budapest, these shoes are actually called karlsbaders!
Related: Formal dress shoes for men
The First Shoe in History
You'll be surprised to find out that the oldest shoe in the world was actually just deerskin glued together with a stuffing of hay.
Ancient Footwear
There are other historical pieces of evidence that have brought out another type of shoe. These are known as bast shoes and are stitched from tree barks. Incredible, isn't it? Bast shoes date back to the Neolithic period and were found to be worn by people from the Russian countryside.
The first prototype of modern sandals appeared during the time of the Egyptians. These sandals were made with raw leather and palm leaves. Although they looked extremely unrefined, the Egyptians were the true pioneers of modern-day shoes.
Moving into the Antiquity Age, the famous Grecian gladiator sandals remained the most famous footwear for the aristocrats. They were typically worn by Greek men when they walked and inspected the cities. Now they're a trending shoe style for women.
Changing Times
The Middle Ages emerged with a new wave of footwear that was entirely different from their previous prototypes. They were pointed and richly dark in color.
Fast forward to the Renaissance and the funkiest shoes you've ever seen came into existence. Typically made in bright, vibrant colors like sparkling purple, lime green, light blue and lemon yellow, the shoes of the Renaissance era truly stood out.
Shoes have evolved from simply stitching together animal skin to more elaborate, refined and beautifully jeweled footwear. Let us now break into the modern world of footwear. With this definitive list, we will take a closer look at the different styles and types of shoes for women these days.
Shoe FAQ
Do you still have questions about footwear? Get the answers to some of the most common questions about footwear and satisfy all your burning curiosity about the most important part of your wardrobe.
What shoes should a man own?
It's a common stereotype that women own a lot of shoes. Perhaps that's because there are so many different types of footwear for women. However, there are tons of options in men's shoes, too. So it's not unusual to feel overwhelmed and for men to have trouble knowing which basic pairs of shoes they should even own. After all, how many dress shoes does a man need?
According to Esquire, men's style magazine, an adult man should have a couple of pairs of sneakers, a pair of slide sandals, a comfortable pair of slippers, a pair of dress boots like chukkas, a pair of tough winter boots, a pair of work boots, a pair of oxfords and a comfortable loafer. You should have all your style bases covered with this!
What shoes should a woman own?
Do you have lots of pairs of shoes but never the right pair for what you want to wear? it's an age-old adage that you can have a closet full of options and never find anything to wear. According to Harper's Bazaar, women can rely on a few different shoe styles and be ready for every outfit and social occasion that life throws their way.
They suggest that every woman own a pair of black pumps, a pair of stylish flat sandals, a strappy heeled sandal, a pair of statement heels, a pair of sneakers, a pair of all-weather hiking boots, a pair of mules, a pair of loafers and a pair of knee-high boots. 
What are shoe soles made from?
The first shoe soles were made from natural materials, such as leather and bark. In the modern era, there's a much wider variety of materials available for shoe-making. Shoe and boot soles are most commonly made with rubber, polyurethane (PU), leather, thermoplastic rubber (TPR), plastic or fabric. Some soles are even made with straw or rope. 
What is the difference between a shoe and a boot?
The debate over whether a type of footwear is a shoe or a boot isn't a new one. The root of the word shoe comes from the word for a metal plate that was put on a horse's hoof. The root word for boot referred to a covering for the foot and lower leg. A distinction between the two words emerged as early as the 1400s, according to Etymology Online. 
The basic definition of a shoe is that it is not tall enough to cover the wearer's ankle. A footwear design that covers the ankle is a boot. However, even within these parameters, there are some distinctions. High-top sneakers, for example, cover the ankle but are still considered to be shoes. Hiking shoes in the same style as high-top sneakers, however, might be called hiking boots. In some modern designs, the two words are used interchangeably.
What types of shoes do nurses wear?
There are no specific shoe styles that are "nurse shoes." However, there are many types of shoes that are marketed to nurses, restaurant professionals and others who spend a lot of time working on their feet. Typically, nurses look for shoes that are slip-resistant, easy to clean, comfortable to wear and tough enough to protect feet from needles and other workplace hazards, according to Nurse.org.
Nurses often wear sneakers, sandals, clogs, loafers and orthopedic shoes, among other styles, as long as they fit the main criteria of keeping feet comfortable and safe. 
Which types of shoes are best for dancing?
The type of dancing shoes you wear has everything to do with the type of dancing you're going to perform, according to the Independent. If you're going to be doing energetic hip hop dancing, pop and lock or any type of street dancing, sneakers are going to give you the support you need. 
If you're doing ballroom dancing, including salsa, you don't want rubber-soled shoes. Ballroom dancing shoes have soft suede soles that allow your feet to move and flex. Ballerina flats are a good choice for ballroom dancing. 
Some women wear high heels while ballroom dancing for the aesthetics. If you choose heels, choose a low heel height and choose a pair of comfortable, supportive heels that firmly fit your feet. 
Which type of shoes are most comfortable for working women?
It can be tough for women to find the right work shoes. Obviously, sneakers are always comfortable but they aren't always appropriate for some work environments. 
When you need a shoe that looks professional but doesn't kill your feet, try simple flats like Mary Janes, mules or clogs. A pair of loafers looks great anywhere. Low-heeled pumps are always a perfect professional look, too.
What is considered a dress shoe?
What's considered to be a dress shoe differs on where you are in the world. In the U.S., a dress shoe is really any type of footwear that is not a sneaker or certain types of boots. Combat boots, hiking boots and work boots definitely aren't dress shoes, but there are boot styles that are considered to be dressy enough for anything. Chukkas, for example, are perfectly fine as formal boots. 
In Europe, however, a dress shoe is a strictly formal shoe that would be suited to a black-tie event. A shiny oxford shoe, for example, would be acceptable, according to Fashion Beans.
What types of shoes should men wear in an office?
They say that shoes make the man. And in office environments, that's true. You want to dress for success. So when you're in an office environment, slip into a pair of loafers, oxford shoes, derby shoes, chukka boots or monk strap shoes. According to the Trend Spotter, these are all stylish, smart choices for office wear.
Which shoes pair well with any outfit?
Travel + Leisure recommends a simple ankle boot for anything you wear. A sleek ankle boot in brown or black will look great with dresses, skirts, blue jeans, shorts or a pantsuit. You can't go wrong with a classic loafer, either. They can be casual or a little bit dressy, sensible and stylish all at the same time.
A pair of pretty flats in basic black can go anywhere and be worn with anything, from a sexy cocktail dress to a pair of khaki pants to some trendy skinny jeans. 
What are the highest quality shoes?
The cost of a shoe doesn't necessarily reflect the quality of the shoe. Neither does the brand name. Even the highly expensive, well-known brand names can be poor-quality footwear. Remember that shoemaking is such an art form, it was once all done completely by hand. 
Pay attention to the quality of the materials used to make the shoe and the way the shoe is made. Look carefully at the specifications of the shoe and how it's put together inside and out. Look for stitching around the sole, which can indicate how well the shoe is put together. Look at the sole of the sole and the uppers of the shoe. What are they made from? 
Look also at the features of the shoe. Are they waterproof? Insulated? Do they have arch support and insole padding? Look at all the little details and you'll know whether you're looking at something high quality and well made or something much poorer in quality, according to ShoePassion.
What are the most expensive shoes?
There are a great many expensive shoes in the world because some designers are so highly in-demand. The most expensive shoes ever bought, however, are all very specific shoes that have some special history. Among the most expensive shoes in the world are the actual ruby slippers from "The Wizard of Oz," the Air Jordans that Michael Jordan himself wore while sick with the flu when he played an amazing game, some diamond-encrusted high heels made by famous designers for fun and fortune and a pair of stiletto high heels made with gold and diamonds that cost $17 million. 
The most expensive shoes that people can actually own, however, aren't quite as famous as Dorothy's ruby slippers but they still have a lot to offer.
The most expensive pair of shoes that have been produced more than once are probably the Testoni shoes. They retail for about $40,000, according to Money Inc. They're made from alligator leather and have a gold and diamond buckle. These shoes are a lace-up oxford style and they definitely do look like money. 
The most expensive casual shoes in the world that were produced multiple times are probably the Nike Air Mag Back to the Future 2016 shoes. Yes, they are a replica of the shoes shown in "Back to the Future 2." Nike made only 89 pairs and raffled them off for $10 a ticket in 2016. Their estimated worth now is $26,000 a pair. 
If you want something a little more affordable but still ridiculously expensive, turn your gaze to Aubery Diamond shoes. These gorgeous loafers are made for luxury and they're available in multiple leather colors for a cool $4,500 per pair.
Which types of shoes are in style?
When you want to know which footwear types are in style right now, take a look around. See what actors are wearing on TV shows and talk shows. Get on social media sites like Instagram and search for shoes to see what people are posting. 
In menswear, white low-cut sneakers, chukka boots and loafers without socks are all current hot looks, according to Trend Spotter.
Harper's Bazaar points to heeled loafers, tall over-the-knee boots and platforms as some of the biggest current shoe trends for women.
What is the most popular shoe?
So what's the most popular shoe of all time? Moccasins have been worn the longest. Boots may have the most practical uses. High heels completely changed fashion for everyone. But when you get right down to it, one type of footwear is more epic, more iconic, more worn and certainly more purchased than any other: sneakers.
The humble sneaker is probably history's most popular type of footwear to date. People from all walks of life own a pair of sneakers, from the world's greatest billionaires to the starving artists who have given up money to focus on nature. 
They are worn by men, women and children of all ages and they are worn for every imaginable activity, from Olympic-worthy athletic training to casual grocery shopping. Sneakers are the most ubiquitous footwear out there, though other types of footwear have been worn for many, many more years. 
References: