Here's an in-depth sock guide for men including a detailed sock length chart, most popular sock lengths, socks by material and novelty socks.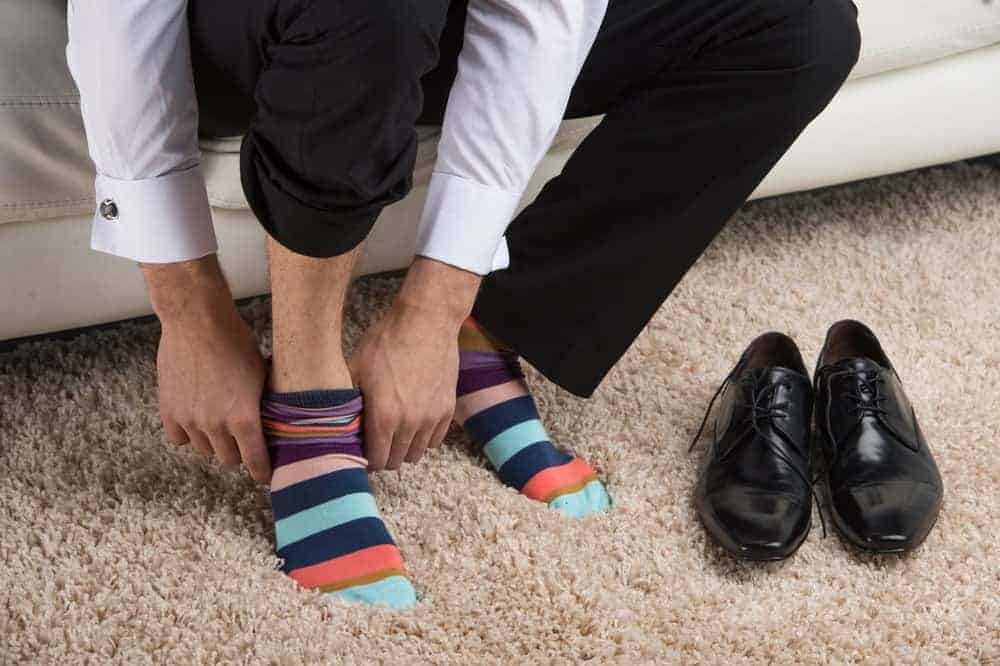 Do you know which go-to item helps men appear presentable on all occasions? It's something that men rely on as if their life depends on it. No idea? Well, that's a good pair of socks!
Whether going for a job interview, date or even a funeral, men with a good sense of style can't step out of their house without a good pair of socks. Yes, socks are that important.
The last thing that men would ever want to be caught wearing is a bad pair of socks, or worse, no socks at all!
If you're someone who absolutely can't do without socks, you have come to the right place. Here we have assembled different types of socks that every man should know about and must invest in at some point in their lives.
But before we jump on to discuss the best socks, let's discuss why a good pair of socks means the world to men.
A. Types of Socks for Men
Why Socks Are Important for Men?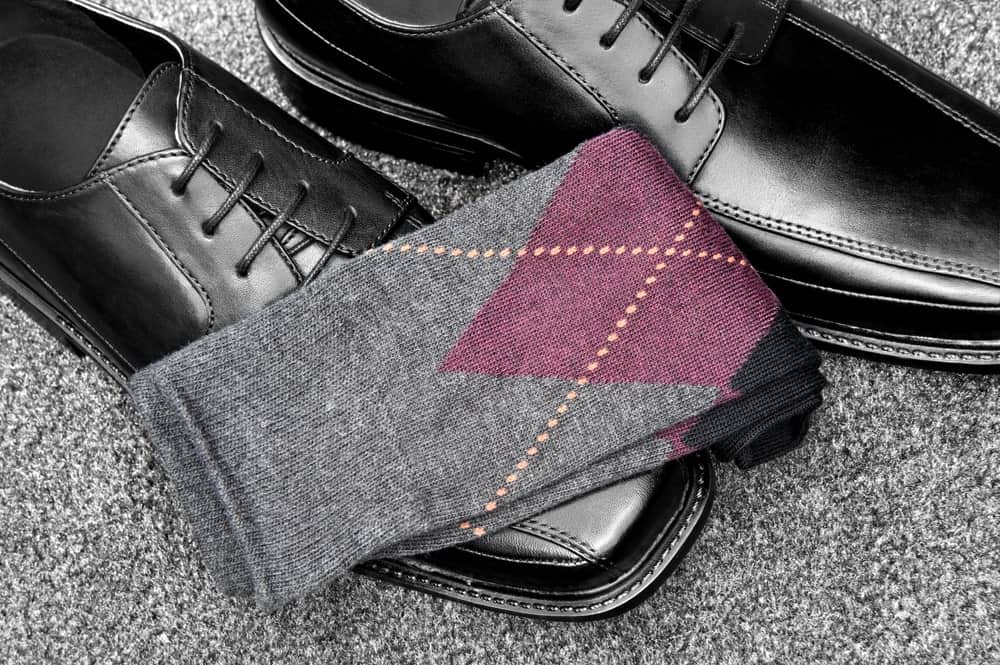 It may come as a surprise but a pair of socks can do wonders for making first impressions. This is one of the reasons for men to invest in good-quality socks. Normally, it is said that shoes tell a lot about one's personality. But as a matter of fact, a pair of socks can also give an insight into the wearer's personality.
Women can deduce so much about you with just a closer look at your socks. For instance, grey or brown socks are a universal choice for men who are conservative and reluctant to accept changes in their lives. Blue socks reflect the romantic nature of men while white socks are sported by those who are into sports such as football. Men usually prefer neat, black socks for job interviews. The dark-colored socks indicate sophistication and professionalism. Therefore, it is always the first choice among men.
Men also prefer socks to add more class or style to their overall dressing. For instance, if you are going to a formal event with an ordinary grey suit on, you can spice up your look by donning some colorful, funky, or printed socks.
Men's sock length chart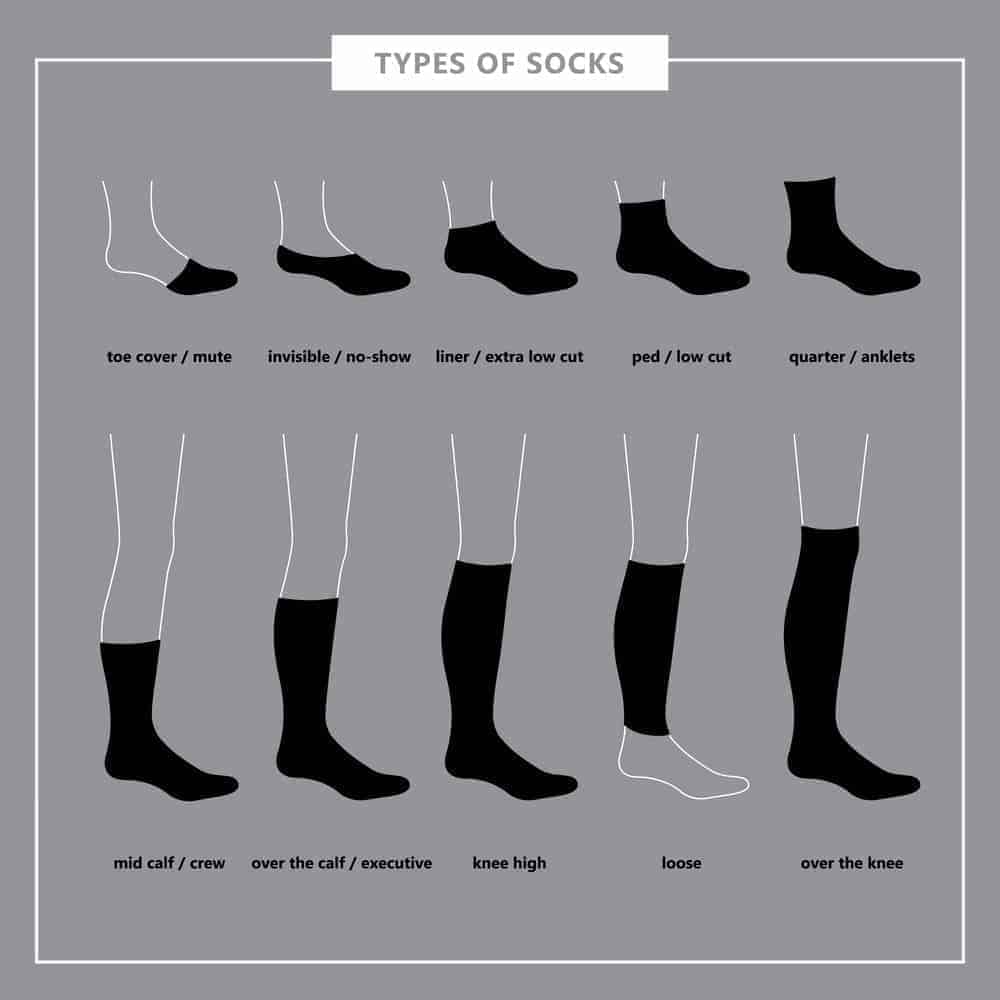 Athletic Socks
Also known as ankle socks, athletic socks are not, in the slightest, fashion accessories. Men mostly wear them during their workout sessions or when engaging in any other physical activity, be it trekking, running, walking, or cycling.
The best advantage of ankle-length socks is that they help prevent blisters and keep the sweat at bay. They, undoubtedly, are a must-have item for any sports-lover's wardrobe. Unfortunately, these socks come in a limited range of colors mainly in shades like white, navy, black, or grey. Avoid choosing them in white as they are more prone to get dirtier easily.
Calf Socks
A man's wardrobe is incomplete without classic shoes like penny loafers. These are essential items that every fashion-forward man possesses. But sporting these shoes without the right kind of socks can make their entire look a bit out of sorts. What type of socks will be appropriate for such shoes? None other than the calf socks!
But penny loafers aren't the only shoes designed for calf socks. Your everyday sneakers can do just fine as well. This must-have pair of socks is a perfect option for formal, semi-formal, and casual styles. The key is to find the right balance to pull off the dapper look. For example, men can throw on a monochromatic suit and pair it with classic loafers along with calf socks. This is the kind of look that they can opt for engagements, weddings, or corporate events. Someone who leans towards a more casual look can go for their favorite khaki shorts and pair them up with cool sneakers and of course, calf-socks.
They will also be the perfect match for your boots – be it Chelsea boot, chukka boot, or hiking boots. You can stock up as many calf socks as you want as their unique colors and materials will give a fresh appearance every time you wear them. Both mid-calf and over-the-calf socks are quite versatile – they are available in numerous patterns, colors, and sizes that can look amazing with most of the men's outfits.
Compression Socks
Crew-Length Socks
The most popular of the lot are crew socks that happen to be also a convenient choice among many men. They can literally go with any kind of outfit whether it is a suit or knee-length shorts. Unlike ankle socks, crew socks are quite prominent ones. Hence, it will be fun if men opt for the ones that are in the funky design and be the center of attention the entire time. The options for crew socks designs are multiple, ranging from multi-colors to stripe socks to geometric designs and many more.
Dress Socks
Other than athletic socks, dress socks are the most popular type of socks for men. Anyone working in an office setting needs appropriate footwear which includes dress socks and dress shoes.
Knee-High
Dress
Athletic
No-Show Socks
Wearing leather shoes or sneakers without socks can be the worst way to invite germs and blisters. And don't forget blood or sweat stains that may also appear on your good ol' shoes as a result. We know that socks give way too-formal look and it is likely that you may not want to flaunt that kind of a style every time you go out.
So, what can one do to boost a super cool look yet keep their feet safe and blister-free? Well, they can opt for no-show socks. By no-show socks, you needn't have to literally go for not wearing any socks. These are the kind of socks that go along with whatever you are wearing, whether it is dress pants, jeans, or shorts. Â These trendy socks also look good with all types of shoes except for high-tops, boots, and sandals.
Among a plethora of no-show socks on the market, it can be confusing which the best of the best ones are. To rock the sockless look, make sure that you go for the socks that are breathable. This will help keep your socks cool and dry. For fun's sake, you can have no-show socks that feature bright colors or prints. Also, while selecting the socks, try them first, and check that they don't slide off your feet as you walk.
Ski Socks
I get cold feet skiing so proper ski socks are critically important to me. If you ski regularly, try a good ski sock.
Check out all the different types of ski socks here.
Sock Designs and Patterns for Men
Gone are the days when men could only find plain black and white socks for sale. In this modern age, one can find a wide array of socks' designs in different colors and patterns. Hence, you can opt for the ones that suit your own personal style and taste.
Colorful Polkadot Socks
Geometric Socks
Another way to add zest to your overall outfit is by opting for geometric socks. From cool designs to crazy ones and everything in between, you will find different kinds of geometric socks.
Multi-Colored Socks
Socks can be a mind-blowing accessory if done right. If your overall outfit is simple and mono-color, you can jazz it up by adding a pop of color through bold/solid-colored socks.
Novelty Socks
Cool, funny socks aren't everyone's cup of tea. Only bold men can pull off novelty socks with confidence. These kinds of socks are best for casual appearances. There are a number of designs these novelty socks come in, so choose the ones that define your personality the best.
Plaid Style Socks
B. Types of Socks for Women
Sock-length Chart for Women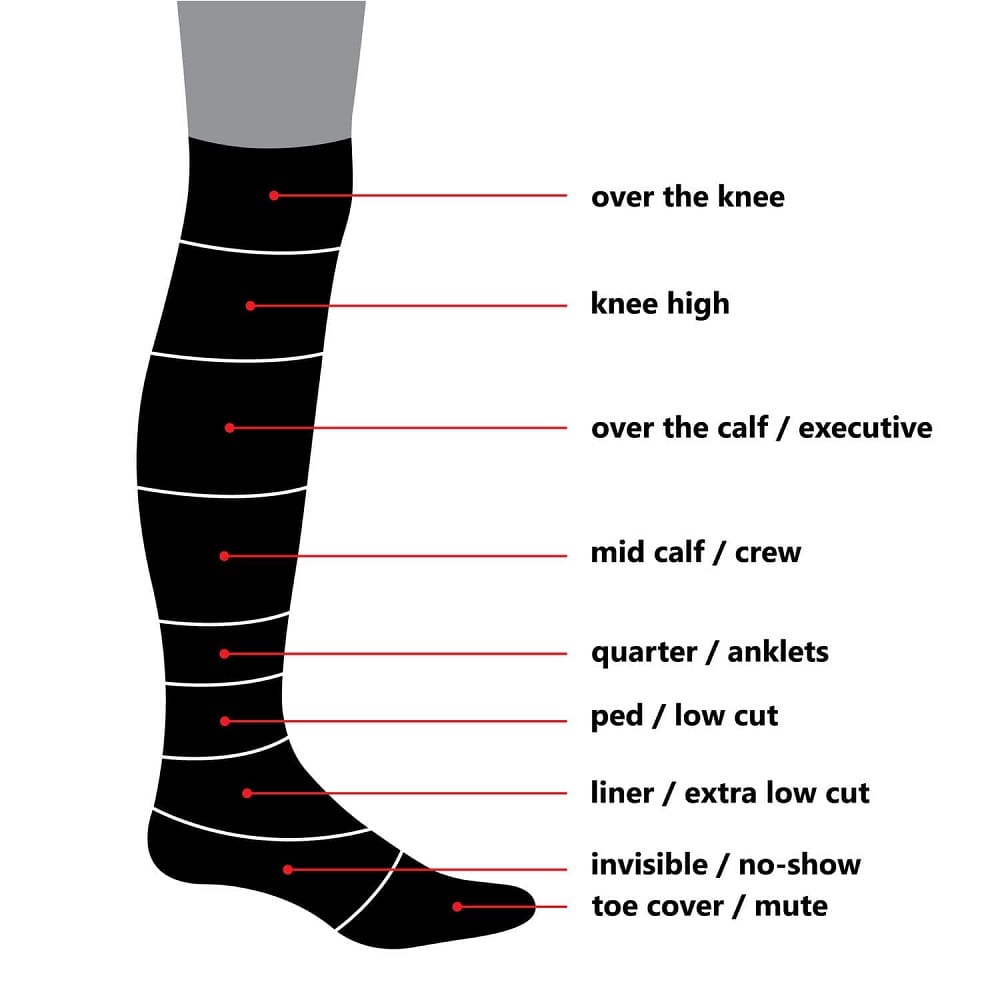 Ankle-length socks
As the name suggests, these socks cover your foot up to the ankle. They are also called "low cut socks" because they are perfect to wear with low cut shoes such as loafers or any other casual shoes. Ankle socks are the best choice if you want to protect your feet during gym sessions, running, and other sports.
When made with a lighter material, ankle socks can be worn with casual shoes to protect your feet from dirt and dust.
Calf-length muscles
These types of socks envelop your calf muscles. They reach just below your knee and are great for staying comfortable during winters. They are suitable for outdoor physical activities but are also often available in the net fabric so that they can also be worn with certain formal dresses.
Crew length socks
Women who love to hike or enjoy other outdoor physical activities love to wear crew length socks. These socks are longer than quarter length socks and can vary from 6 to 8 inches in total length.
Sportswomen, especially tennis players, wear crew length socks during their games.
You can wear crew length socks during winters to keep warm because they provide more coverage as they reach just beneath your calf muscles.
Mid-calf length socks
As apparent by their name, mid-calf length socks are quite similar to calf-length socks except that mid-calf length socks do not cover the calf muscles completely.
Fence net socks
Enlarge the gaps in fishnet socks a couple of times and you get fence net socks.
It goes without saying that these socks hardly provide any coverage. Rather, they are a part of exotic apparel and are normally worn by ladies to clubs, dance parties or to other entertainment events like a Saturday night out with friends.
Fence net socks come in one size that fits women of all heights and ages because they are manufactured from highly elastic yet durable materials – a mixture of spandex and acrylic.
Fishnet socks
Fishnet socks are so-called because they are formed from the net that looks similar to a fisher's net.
Unlike all other socks that usually come in various different colors and designs, the fishnet socks are only available in black and white colors.
The length of these socks and the wideness of holes in the net that is used can vary from one manufacturer to another. However, one thing is certain: the fishnet socks are a unique festival accessory that can pump up any simple outfit. Also, these socks are highly versatile by their very nature. Quarter length fishnet socks can be worn with most sandals, crew length fishnet socks can be worn with canvas shoes whereas thigh high fishnet socks can be worn with dresses to casual and semi-formal events.
Fishnet socks look great will all open-toes sandals.
Knee-length socks
Whether you love winters or not, you must have knee-length socks if you live in an area that experiences snowfall or harsh winters. Covering your feet all the way up to the shins, calf, and then the knees, these socks provide a lot of protection and comfort in the cold season.
These socks also go greatly under long boots.
Since they provide a lot of coverage and look sophisticated, knee-length socks are common in the dress codes for female workers in the aviation and healthcare industries. The length stays the same but the material for the socks used for such purposes might be thinner.
Stewardess and air hostesses of various airlines wear plain knee-length socks as a part of their uniform.
Knitted socks
Needless to say that knitted socks are made from wool.
Not only do they keep your feet warm but different types of knit coupled with crocheted designs make really traditional yet stylish socks.
Women who know or love to knit often make one for themselves while others are eager to buy some pairs off the shelf because knitted socks are a must-have in every woman's winter wardrobe.
Legwarmer socks
Legwarmer socks are usually made from natural cotton yarn but commercially available types can also use synthetic cotton.
These types of socks are commonly preferred by young girls of school-going ages because leg warmer socks always look trendy. Embellishing these socks with large buttons, laces, or any other accessories and wearing them with jeans or skirts gives a truly chic and fascinating look.
Pain reliever socks
These types of socks are specially designed for female athletes who often suffer from Arch Pain, Heel Spurs, Heel Pain, and other similar foot aches and problems associated with fast movement or wearing tight sports shoes.
Pain reliever socks use extra soft and comfortable material that provides compression zones to reduce the pain and prevent the pain from occurring again.
Antimicrobial fibers in these socks not only absorb sweat but they provide a clean, dry, and fresh feeling throughout the training sessions or the sports activities. As a result, not only is the foot odor reduced but skin infections such as fungal growth resulting from wet and sweaty socks are also avoided.
Quarter length socks
Slightly longer than ankle-length socks, the quarter length socks extend above the ankles up to your shins. They are ideal for wearing in cases where your sports shoes can cause blisters or shoe bites or if you already have sensitive spots from blisters caused by your previous shoes.
Most women wear these socks to protect their feet from getting rough.
Slip-on padding socks
These socks are quite similar to ankle socks. The only difference is that slip-on padding socks are slightly shorter than ankle-length socks. Plus, slip-on padding socks are made from a much lighter material than any other type of socks.
Not wearing socks leads to foul-smelling feet and even cracked heels over time. Therefore, no matter how thin the socks are, there must be some layer between your foot and the shoe. These socks are the go-to for all women who don't want to wear socks except when its winter.
It is always handy to keep a pair or two of slip-on socks handy because they are barely noticeable and therefore, go well with all formal and even fancy shoes.
Ballerina dancers especially wear slip-on padding socks because their light and elastic material complement their thin, almost cloth-like ballerina shoes and also because these socks do not hinder the ballerinas' swift movements.
Furthermore, these socks are the first choice of all women who want to wear socks to protect their feet but don't want the socks to be visible.
Split-toe socks
It is said that the trend for split-toe socks originated from Asia or to be more specific, India. But whatever the case might be, women all over the world are really grateful for this genius invention.
Split toe socks have a self-explanatory name. Instead of one continuous stitch like in all conventional socks, split-toe socks have a separate compartment for the big toe thumb and another compartment for the remaining toes. Quite similar to the mittens worn in hands.
Designed or colorful split-toe socks can be worn casually with toe sandals or slippers while plain and decent split-toe socks are now increasingly being worn by women even with fancy slippers.
Thigh-high socks
Thigh-high socks are the ultimate types of socks to pair with skirts.
Like all other socks, they come in a variety of different colors and different materials.
Plain thigh high socks with medium-sized checkered or even plain skirts are often a part of school uniforms for girls. Girls who love funky outfits combine colored thigh high socks with short skirts or miniskirts for an eccentric style. Besides being brightly colored such thigh high socks are also usually printed with different designs and patterns.
Transparent socks
Made from a combination of polyester, spandex, and cotton, transparent socks have become the latest summer trend.
They are almost completely transparent and function a lot like a pantyhose – except that these only cover your feet. Do you know a lady who doesn't want to wear the long net tights in summer but wants her feet to look smooth and fairer?
Then the transparent socks are the perfect fit for them.
These socks also come decorated with different designs and patterns at the toes, feet, and ankles. Also, the designs are printed in various colors to match different outfits.
Sock Materials
Cashmere
Cashmere is similar to wool as they help keep the feet warm and comfortable. These socks need to be gently hand-washed. Avoid putting them in a washing machine or a dryer as the harshness of the machine may damage the quality of the socks.
If you have a special or an important event to attend (reception, office meeting, and interview) in winters, men can go for cashmere no-show socks or knee-length socks.
Cotton
As compared to other fibers, cotton is cooler and lightweight – perfect option for summers. Athletes looking for calf socks or ankle socks for their sports sessions can opt for socks in cotton fabric. The best part is that they are durable. Finding cotton socks isn't difficult as they are easily available on the market at an affordable price.
Silk
Silk socks are mostly reserved for formal occasions. Unlike cotton and wool socks, silk socks aren't durable. It means that men can't consider them for everyday wear.
It is better to use them only during special affairs to make your feet feel fancy. Silk socks look best in a simple black hue. Avoid getting light-colored silk socks as they may turn dirty quickly.
Synthetics
All the athletes out there should consider getting your socks in synthetic material. Synthetic socks are super lightweight. When they are combined with a natural fiber such as cotton or wool, they become more durable and easy-to-wear.
But the downside of these socks is that they are slightly uncomfortable. Hence, they are ideal for athletes only. For everyday use, men should consider cotton or wool socks.
So, now that you are aware of all the different types of socks available for women, make sure that you select the right ones to compliment your outfit.
After all, an outfit coupled with spot-on socks can knock the socks off others.
Wool
Wool socks are ideal for the winter season when the wearer wants to feel warm and content. Unlike other materials, they do not absorb much moisture, making them the perfect option for outdoor activities and occasions.
When you are shopping for socks, make sure that you choose rayon socks. Pure wool socks can be thick and abrasive. Once they are synthesized, they become soft and wearable. By being soft, it doesn't mean that the socks are delicate. In fact, wool socks are solid and long-lasting. The only drawback of wool socks is that they are costlier than other types of materials.