Pants will never go out of style. Check out how many different types you've got in your closet. We feature the many variations of pants.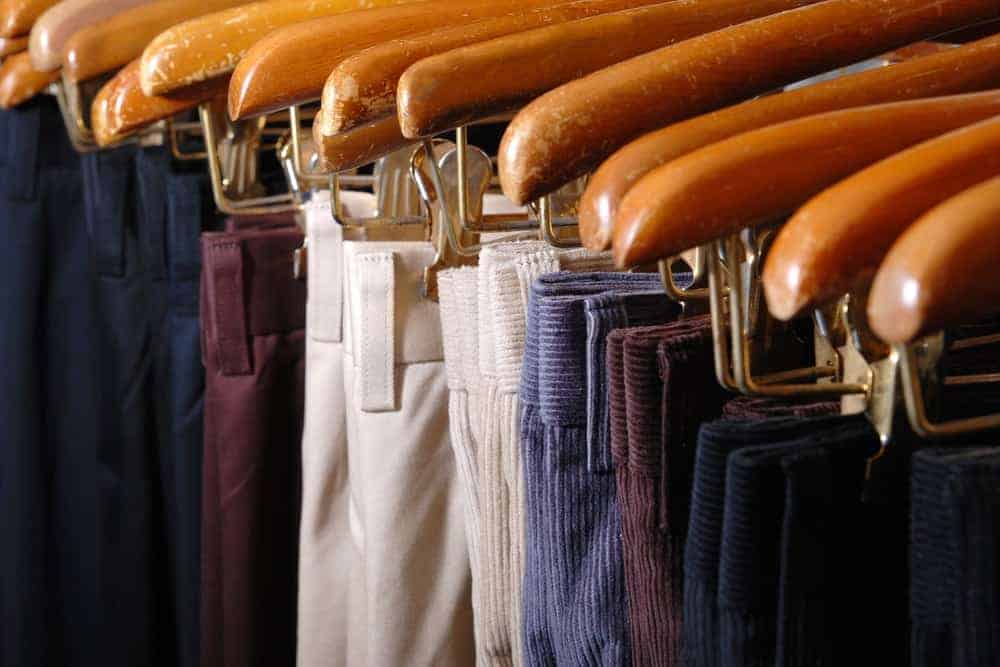 Pants can tell the world what type of style you have, what kind of job you do, whether or not you've gained a little weight lately. They've been a part of fashion for centuries and they've always been a part of your wardrobe. But you probably have a lot of pants that you can't identify by name. After you see this list of types of pants, you'll be an expert on the subject.
Interesting Pants History
The oldest pair of pants is 3,000 years old and was discovered in China. One of the early proponents of pants was Joan of Arc. She preferred the traditionally male garment because they were comfortable for combat and horseback riding. Also, it protected her from being groped by soldiers.
In 1701, Russian Czar Peter the Great mandated that all Russians should wear pants. In 1873, Levi Strauss introduced jeans for the first time. This style of pants eventually became the classic Levi's jeans we know today.
Types of Pants
Unisex Pants
Pants have historically been linked with men and male fashion, and it's pretty known that women came to the look late in many Western societies. But there are some types of pants that were made for either sex so that all could enjoy the style. 
Chart: Top 10 Unisex Pants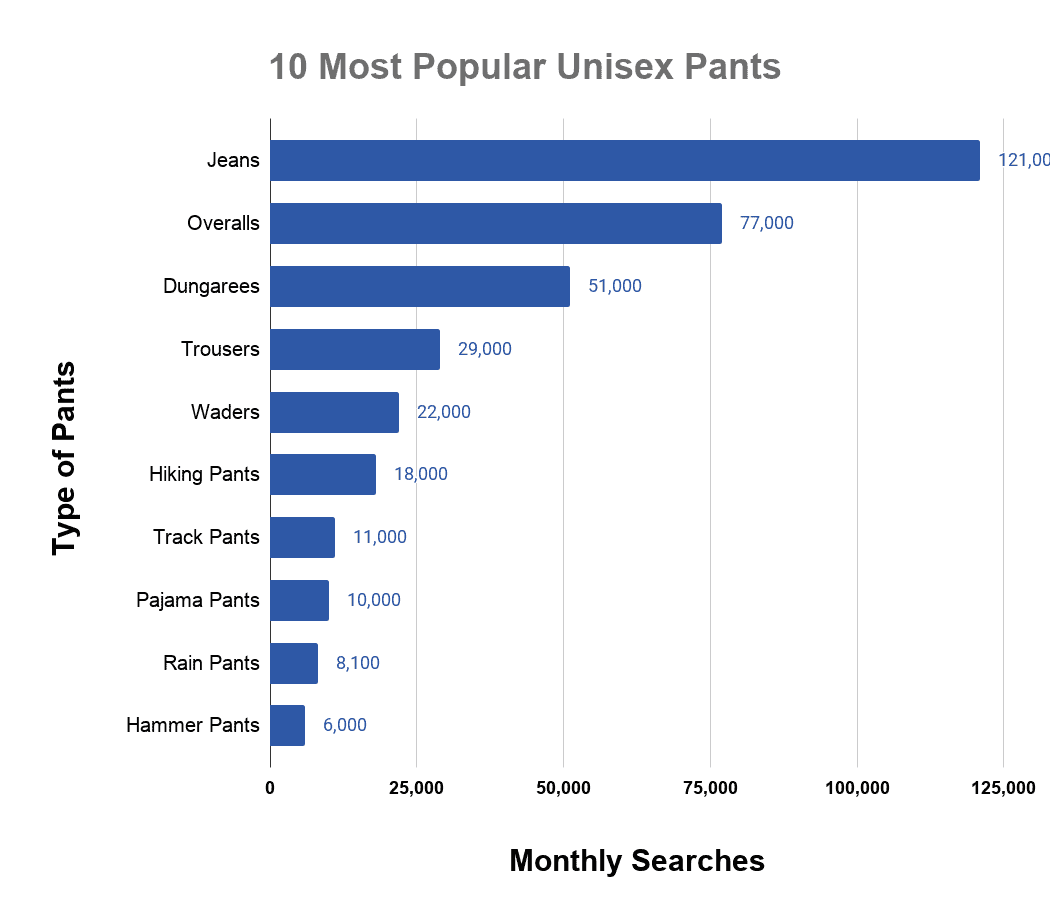 All Types of Unisex Pants
1. Bondage Pants
Bondage pants were the result of a fashion collaboration in the 1970s by Vivienne Westwood and Malcolm McLaren, who were inspired by Army-issue cotton pants. They recreated the pants with a different fabric and added straps between the knees. Bondage pants became a popular item in punk fashion and continue to be worn today. That's why bondage pants may also be called punk pants.
Variations
Tripp pants are a variation of bondage pants that are loose-fitting and often have chains and studs attached to them, rather than straps. These pants were popularized by dancers in the techno music scene, according to Urban Dictionary.
2. Dungarees
Dungarees, or dungaree pants, aren't always what they seem. The word itself really refers to a specific type of fabric. However, "dungarees" has come to be used for blue jeans and also for bib overalls. In the Encyclopedia Britannica, dungarees also mean jeans, denim, or Levi's.
The term can be applied to any type of pants that are made with dungaree fabric, which is a thick type of cotton that is usually dark blue in color. The fabric was originally known as "dungri" cloth, named for the Dongri village in India. The word "dungri" became "dungaree" when the fabric became popular in England, according to History of Jeans.
3. Fisherman Pants
Fisherman pants are a traditional Thai garment worn by indigenous people. But through the magic of fashion, this has become a popular style all over the world. In fact, you may already own fisherman pants and not even know it.
Style
Fisherman pants can be worn by both men and women and they are all a one-size-fits-all design. They're usually made with lightweight cotton and the style is very simple. Basically, fisherman pants are two wide, straight legs connected to a wide waistband. They come with their own matching belt that is attached to the waist of the pants.
The pants are very large so they can fit a multitude of body types. They are worn wrapped around the body, which makes the attached belt a must. These pants are lightweight, comfortable, and fashionable.
4. Hammer Pants
If you were alive in the 1990s, then you know about Hammer pants. And when it comes to style, you can't touch this one.
History
Hammer pants are also called parachute pants because of the way they're designed. Rapper Stanley Kirk Burrell, better known as MC Hammer, hates that nickname. He asserted in an interview that the pants should be called Hammer pants.
These pants fit around the waist but they're extremely baggy and billowy in the hips and thighs. They have a low crotch and they're very tapered at the lower leg, just above or just covering the ankle.
However, Hammer didn't exactly design this pants style. Maybe you can't touch MC's dope raps. but for this look, he borrowed from history.
The Other History of Hammer Pants
Baggy pants with lots of extra fabric actually originate in ancient Persia, India, and Turkey, appearing thousands of years ago. These pants, known as harem pants, definitely inspired the 1800s look that ultimately found its place in fashion history as Hammer pants.
Victorian-era harem pants were an early foray into feminist fashion and became extremely popular in the late 1800s and early 1900s. Harem pants are sometimes also called Eastern pants.
Modern Style
In the 1960s, a young boy who would become MC Hammer found that loose pants made it easier to dance. He started wearing triple-pleated zoot suit pants, and Hammer pants were born.
Hammer pants are a classic but they are no longer part of the fashion scene. But like all trends, this look is always out there and always ready for a comeback.
5. Hiking Pants
Hiking pants aren't really a specific style of pants. Retailers tend to group lots of different types of pants together and call them hiking pants. Usually, these are just durable, lightweight pants with plenty of pockets that are made for easy mobility.
6. Jeans
Check Latest Price | Learn More
Popular with both men and women, jeans are among the most widely worn pants anywhere in the world. They are available in a wide range of washes, colors, and styles. One of the biggest advantages of wearing jeans is that you can wear them with nice shirts and blouses or simple T-shirts, as well as all types of vests and sweaters, shoes and sandals and all other clothing items. They are the quintessential casual pants.
Women's jeans also come in a wide variety of styles, including high-rise jeans, low-rise jeans, and jeans made for a particular body type. Regardless of the shape of your body, you can find jeans that look great and feel great.
7. Overalls
Overalls are a type of pants, though there's a little bit more to them than other pants styles. Overalls are loose-fitting pants that also have an attached bib. And while you may think of denim overalls when you picture this garment, they can actually be made from any material.
History
The word "overalls" used to describe all sorts of different clothing items. Eventually, the modern overalls we think of today were named "bib overalls" and then dungarees, though "dungarees" can be many different types of pants.
The overall design that people wear today was first created in the late 1800s. Overalls became especially popular during WWII but not as a man's garment. Women who were joining the workforce in droves to aid in the war effort took to overalls quickly and they caught on as a huge trend.
Overalls have since become a big part of fashion. They were extremely popular with hip hop artists of the 1980s and they're still popular with blue-collar workers and farmworkers, who first popularized the look.
8. Painter's Pants
The bright white color makes painter's pants immediately recognizable. But painter's pants are more than just white pants. This is a specific style that was developed for working painters. More recently, they've gone high fashion.
Style
Painter's pants are made out of white canvas and have heavily stitched seams. This makes them incredibly durable, something that's necessary because they're work pants. Painter's pants are also made with many large pockets to provide space to hold tools, clothes, and other items used by painters.
The style became fashionable in the 1970s. The bright white became a canvas for designers, who sold fashion painter's pants decorated with bright splashes of color. Fashion painter's pants are still a hot look and it's one designer look that's relatively easy for even casual fashionistas to fake.
9. Pajama Pants
When you want comfort, you reach for your pajama pants. This style is so ubiquitous, you probably never think about where it came from. But if you had to guess, you might think pajama pants are a relatively modern invention. After all, the movies always show people living back in the day wearing long nightgowns, even the men. The truth is, pajama pants have been around for centuries.
History
Pajama pants date to the days of the Ottoman Empire. The word itself comes from the Hindi pae jama or pai jama, which translates to "leg clothing." Pajama pants may also be spelled paejamas, paijamas, pyjamas and, of course, pjs.
It's believed that pajama pants were introduced to the West in the 1870s when British colonists started wearing them instead of the long nightshirts that are so frequently seen in the film. In the 1920s, pajama pants became popular in women's styles as well.
Style
Pajama pants are loose pants that are tied at the waist with a drawstring, though elastic waistbands are also common in modern pj designs. Pajama pants can be tight or close-fitting but they're usually loose and comfortable.
10. Rain Pants
Designed to fit like pajama pants or sweatpants, rain pants are made with PVC (polyvinyl chloride) or other waterproof fabrics to keep your skin dry. Rain pants typically have an elastic or drawstring waistband and may have elastic at the cuffs to keep water out.
11. Stirrup Pants
Check Latest Price | Learn More
Stirrup pants have a long association with sports. These pants are characterized by a strap at the bottom of each pant leg, which goes around the bottom of the foot to hold the pants in place and keep them from riding up.
History
The pants were first worn by equestrians. Stirrup pants stayed in place and didn't ride up on the legs while they put on their tall riding boots. Skiers soon discovered the style and the pants were popular for athletes in the 1930s Olympic Games.
Stirrup pants were hot on the fashion scene again in the 1980s, when many different athletic wear styles became trendy. Today, stirrup pants still make an occasional appearance on the fashion scene but now they're mostly linked to football players.
12. Straight Pants
Straight pants, straight leg pants or straight leg jeans are simply that: pants that fall in a straight line from the hips to the hem. They do not taper at the bottom but remain consistent throughout, according to Heddels.
13. Track Pants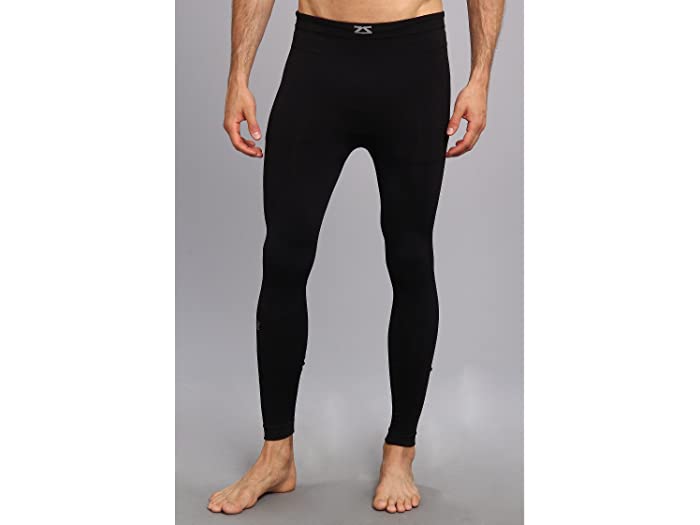 An integral part of the tracksuit, track pants has somewhat murky origins. Some give the credit to designer Emile Camuset, who is said to have invented the tracksuit in 1939. It was called the "Sunday uniform," according to GQ.
Other sources say the tracksuit wasn't invented until the 1960s thanks to synthetic fabrics like nylon, which were used to create the design. They say the tracksuit was created by Adidas in collaboration with Franz Beckenbauer, a German soccer star.
Style
Track suits became a mainstream fashion in the 1980s when Run-DMC made them the coolest look in hip hop. Since then, tracksuits have always been big in casual style. Top designers have created their own tracksuits and they've been worn by the most stylish celebs.
14. Trousers
Check Latest Price | Learn More
Trousers is just another word for pants. Any type of pants is also a type of trousers. The term is more commonly used in UK English than U.S. English, but both words mean the same thing and can be used interchangeably. The word slacks can also be used to generically refer to any pair of pants, though the word trousers is more commonly applied to men's pants and slacks are more often used to describe women's pants.
15. Waders
Waders are unlike any other pants on the list because in many designs, the boots and the pants are one. You might say that waders are really a type of boots but since they also completely cover the legs, they're also a type of pants.
Types
There are three main types of waders based on their height. Hip waders are more like chaps. They are made in two pieces, with separate legs that strap to a belt to keep them in place. These are designed to keep anglers dry in shallow depths of water.
Waist-high waders are also called wading pants. They look like large, baggy pants and stay up with a belt or suspenders. This design is made for water that is two to three feet deep.
Chest waders have suspenders built in so you can step into them, pull them over your shoulders, and wade into deeper water.
Style
Waders are made with waterproof materials and are usually somewhat thick and heavy. Waders are commonly made with rubber or even more commonly, neoprene (synthetic rubber), according to Dick's Sporting Goods.
Pants for Women
In western culture, pants are a relatively new part of the female wardrobe. It wasn't so long ago that a woman could get a great deal of negative attention just for daring to wear pants. But today, women have a huge variety of styles to choose from. That's thanks in part to some of the women who broke barriers by wearing pants and the designers who created them in the first place.
Chart: Top 10 Pants for Women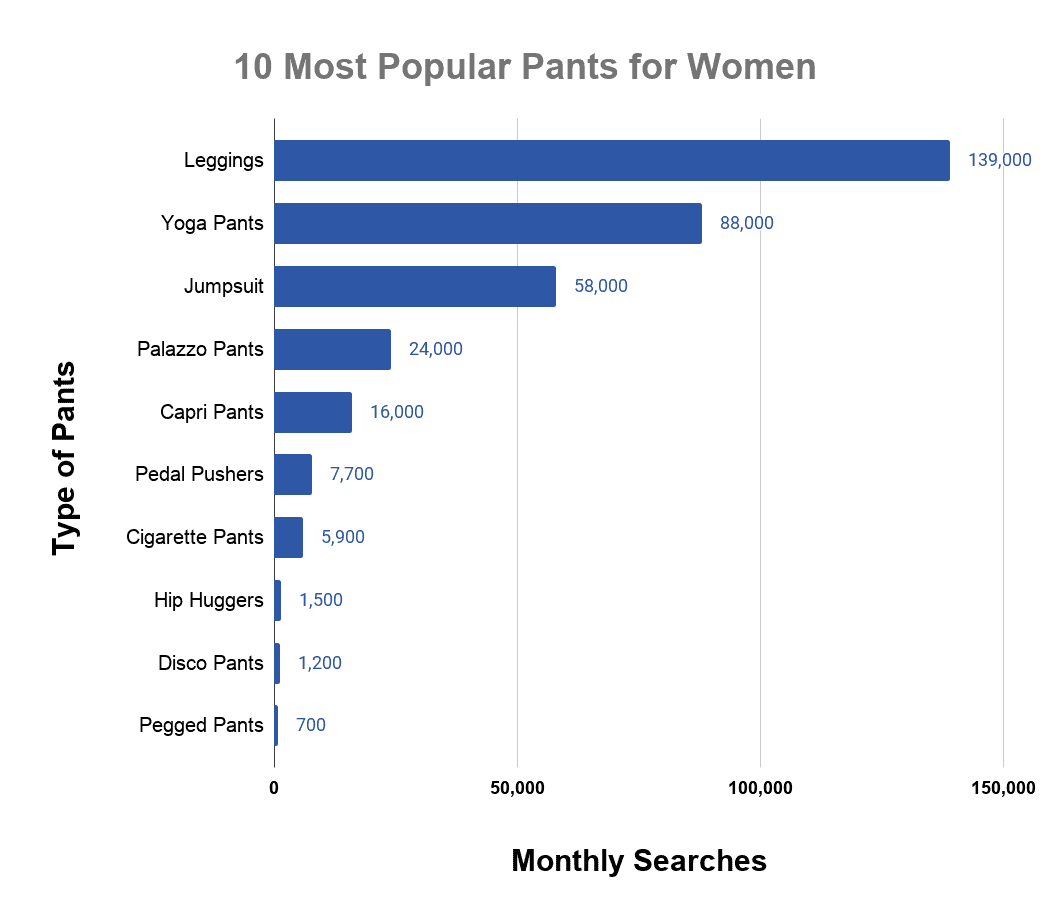 All Types of Pants for Women
1. Bush Pants
Bush pants are loose-fitting and have a straight leg style. These pants have two large pockets, one on the front of each thigh, though in some designs they may also have additional pockets elsewhere.
According to StyleCheer, bush pants are also called safari pants.
2. Capri Pants
Also known as cropped pants, capri pants are always in style. You can find them everywhere and you may own a pair right now. Since these pants emerged on the fashion scene, they've never left.
History
Sonja de Lennart designed the first pair of capri pants in 1948. According to High Heels Society, she named them after her favorite vacation spot: Capri, Italy.
Capri pants became mainstream in the 1950s thanks to stars like Mary Tyler Moore, Grace Kelly, and Audrey Hepburn, among others.
Style
Capri pants, also called clam diggers, are close-fitting from the waist to the mid-calf. This means that they are great for warmer weather and because they come in different designs and styles, you can easily choose a pair that goes great with your curves.
Capris can also be made out of several different materials, including denim, nylon, cotton, and polyester, but since they are almost always worn in a more casual environment, they are rarely made out of a dressy material.
Variations
Cropped pants, also known as cropped trousers, are slightly shorter capri pants that end just below the knee or slightly lower, at the upper calf, according to WiseGeek.
Toreador pants, worn by matadors, are a variation of capri pants that are very close-fitting. Toreador pants are typically made of silk or satin and highly embellished with embroidery and decoration.
3. Cigarette Pants
Cigarette pants, also known as narrow pants, became one of the looks to have during the 1950s. Famous stars like Audrey Hepburn and Mary Tyler Moore wore them with style. Soon, every woman wanted to do the same.
Style
Cigarette pants, which may also be called tobacco pants or smoke pants, have a high waist. They're slim-fitting all the way down to the ankles. The popular color then and now for cigarette pant styles is black, though they are made in all different colors.
Variations
You probably know the cigarette pants style a little better by its more modern version: skinny jeans. Also called slim-fit pants, drainpipes, stovepipes, tight pants, pencil pants, and skinnies, skinny jeans are cigarette pants that are made with somewhat stretchy denim. They're designed to be pretty much skin-tight. The skinny pants style dates to France in the 1600s, according to History of Jeans. If you've ever worn a skinny jean style, then you're worn cigarette pants.
4. Disco Pants
Disco pants is a bit of a confusing term. You probably immediately think of polyester bell-bottoms, a look that was popular in the 1970s, when you hear "disco pants." Polyester bell bottoms are sometimes called "disco pants" because the look so defines the disco era of the 1970s. But in fashion terms, true disco pants are something else entirely….and confusingly, they were invented in the 2010s, not the 1970s.
Style
True disco pants sprang onto the fashion scene in the 2000s, though they weren't exactly a new pants style. Disco pants are really a variation of leggings. They're skin-tight pants with a high waist that closely hug the body all the way down past the ankles.
Also…they're usually made with shiny fabric. Black is seen often but disco pants are also available in a wide range of bright and metallic shades. Presumably, this style is called disco pants because they look like something that should have been worn a lot in the 1970s…though polyester bell bottoms were still much more popular on both men and women at that time.
5. High-Rise Pants
Also called high-waisted pants, high-rise pants have another name that's been used to be not-so-appealing: mom jeans. Yes, pants and jeans made in high-rise styles have been associated with a look that's not considered sexy. However, high rise styles are a hot look in the modern fashion scene, according to the New Yorker. It's a look that cinches the waist, helps flatten the lower tummy, and puts the rear on loving display. What's not to like about that?
6. Hip Huggers
Hip hugger pants, also called low-rise pants or just hip huggers, have been a hot look for decades and all indicators suggest that they aren't going away anytime soon. So yes, you have to keep on doing your ab exercises!
History
Hip huggers became a hot look for women in the 1960s when fashion was becoming more liberated. They've never faded from popular style and they're always a hot look in pants of all types.
Style
Often, hip hugger pants are styled with a wide or flared leg opening. They're made to fit around the hips, not the waist, and generally sit several inches below the navel, according to the Fashion Encyclopedia.
7. Jumpsuit
Jumpsuits, as the name indicates, were once worn by parachuters. Today, they refer to any one piece, neck-to-ankle garment. They are also a bit tricky to pull off.
Casual jumpsuits usually come with a relaxed fit that you can give some shape to with a nice belt. Women should avoid wearing jumpsuits that are too baggy, as they can give a very dumpy and shapeless look. They should also be wary of wearing jumpsuits where the waist is completely loose and the backside, hips, and legs look like one long rectangular block.
If you are attending a wedding or a gala, only wear tailored and fitted jumpsuits that hug you in all the right places, like a gown. If you want to wear a shorter version of a jumpsuit that ends mid-calf, choose a flared-leg style. Petite women should be extra careful wearing short jumpsuits, as they tend to stump height. Also, don't wear jumpsuits that are very tight, as they look unappealing.
8. Leggings
Leggings have only been a major player in the fashion scene in the last few decades but the roots of this style go back a long, long way.
History
Leggings got their start in the 14th century when very close-fitting pants were popular in men's fashion of the day. Fast forward about 600 years to the 1960s, and leggings became a trendy garment in women's fashion.
Leggings hit their stride, pun intended, in the 1980s. The rise of aerobics in the 1980s made leggings the must-have women's fashion garment. Leggings made their way out of gyms and into the popular fashion scene.
Style
Leggings are very tight-fitting and are usually made of fabrics such as cotton, denim or Lycra. Most of the time, leggings look best with a large flowing blouse and they are definitely an item to wear to more casual occasions. They also come in a wide selection of colors, although most women tend to prefer dark-colored leggings because they look great and match any blouse.
Typically, anything that fits close to the skin can be called leggings and most are made out of cotton and spandex. The cotton part helps keep you warm in cooler weather and the spandex helps the leggings fit better. As mentioned above, some leggings are made out of cotton denim material and these are extremely comfortable and fashionable.
Variations
Churidar leggings are an Indian version of leggings. Traditionally, this style is a little more loose-fitting than modern leggings.
Jeggings is a combination word rooted in "jeans" and "leggings." As patrons started to realize the miracle that was the combination of figure-hugging jeans and stretch denim, the denim started to become stretchier and stretchier until there became practically no difference between the more dramatically Lycra-spandex pants we wear for workouts and yoga and our "street clothes."
It was a prime invention because women everywhere increasingly want to showcase their figures without sacrificing the comfort and freedom of movement.
9. Palazzo Pants
A staple in women's wear, palazzo pants played a role in feminism. Once cutting-edge and rather eyebrow-raising, these pants are now considered a classic look.
History
Early fashionistas first wore palazzo pants in the 1930s. Women like Coco Chanel induced gasps by strutting around in pants, a practice that was met with much resistance. Some restaurants and places of business banned women who wore pants.
But no one could stop the trend from catching on in the 1960s when feminism skyrocketed to public consciousness and women began to change everything about fashion…and the status quo.
Style
Also known as wide leg pants, palazzo pants fit around the waist and then flair out at the legs. Early palazzo styles flared out from the knee downward. In modern styles, palazzo pants may flare from the hip down and the wide legs may be extremely wide. After all, fashion is all about playing with style and challenging the norms. Palazzo pants have been doing that for decades.
These pants are usually very loose-fitting. Usually made out of wrinkle-free fabric, palazzos go great with both trendy blouses and tank tops, making them a great go-to clothing item that every woman should have in her closet. The main characteristic that makes palazzo pants different is the fact that the legs are very wide and the pants themselves are very loose.
If you go to a professional fashion show, you will likely see a lot of these types of pants on the runway, in part because they come in such a wide selection of fabrics, prints, designs, and of course, colors. When it comes to finding the right pair of palazzos, the sky is the limit so regardless of your personal preferences and tastes, you are all but guaranteed to find something you love.
10. Pedal Pushers
Like many iconic fashions, pedal pushers began as a practical garment. But these pants were embraced by style mavens and soon became an iconic look that's still worn today.
History
Pedal pushers became popular in the 1950s, around the same time as capri pants. Like capris, pedal pushers end at mid-calf but they have a much looser fit. They were originally invented to make it easier for women to ride a bicycle. Hence the name, pedal pusher.
11. Pegged Pants
Pegged pants were a signature style of 1980s fashion but like all trends, they've made a comeback in more recent times. It's a great way to show off your shoes and a fun throwback to fashion history.
Style
Pegged pants are loose-fitting pants that are "pegged." That means you take the bottom of the pants, fold them over and roll them up to about mid-calf. It's that easy to get a pegged pants look, according to the Los Angeles Times.
12. Yoga Pants
Contrary to their name, yoga pants are not only worn during a yoga or exercise class. They are some of the most comfortable pants you can wear because they allow you to stretch and move into all sorts of positions and still remain comfortable. Although they are skin-tight, they allow you to move well because they are usually made out of soft fabrics, such as cotton. Yoga pants also come in a wide selection of shades and colors so you can purchase several pairs and wear them whenever you wish.
Some people believe that leggings and yoga pants are the same but there are several differences between the two. Yoga pants, although made to fit you tightly, are not as skin-tight as leggings; in fact, they can be quite loose in certain areas. They also tend to be a lot more colorful than leggings and can be very decorative and eye-catching.
The fabric between these two pant types is also somewhat different as yoga pants are made to be worn alone and therefore their material is a lot thicker and opaque. Of course, both of these pants are made for comfort and fashion.
Pants for Men
Pants have been a staple of men's fashion basically since men's fashion was a thing. There have been all sorts of different styles over the years, from the weird tights that medieval kings used to wear to the creased pants that every guy in every 1950s movie ever wore to the skinny jeans that dudes are wearing today. How many of the different types of pants for men do you own?
Chart: Top 10 Pants for Men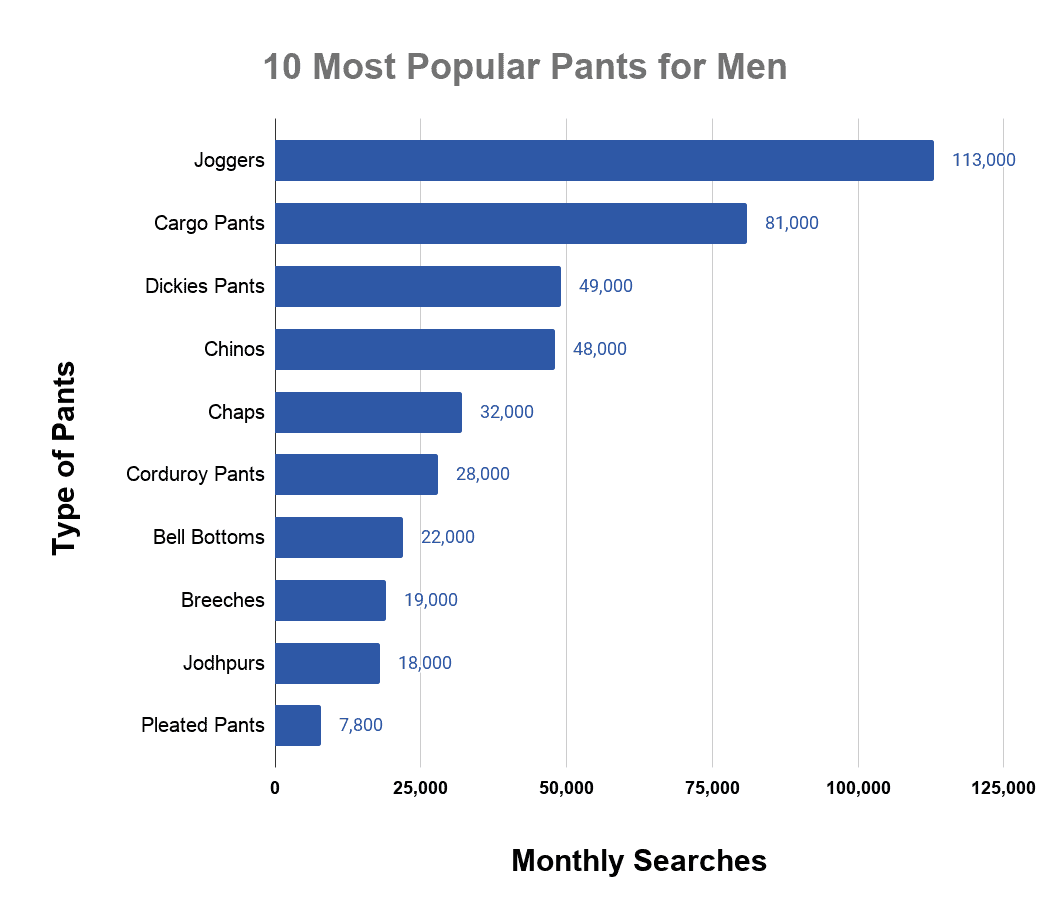 All Types of Pants for Men
1. Bell Bottoms
Also known as sailor pants, flares, or flared pants, bell bottoms are strongly associated with 1960s counterculture, especially the counterculture in the U.S. The look is so linked to the decade, you probably think these pants were invented by teenagers in the 1960s. And you'd probably be shocked to learn that actually, these famously rebellious pants were created for the military.
History
Flared pant styles began in the late 1800s. They were created by sailors in the U.S. Navy. It seems unbelievable now, but there were no strict uniform standards for the Navy at this time and sailors could experiment with different styles, according to the European Fashion Heritage Association.
The flared pants caught on and soon enough, the British Royal Navy was also wearing flared pants. They made the pants an official part of the uniform. The pants were popular because the wide, flared leg bottoms were easy to roll up. This was a needed feature for sailors, who were often getting wet while onboard a ship. They could roll their pants up to keep them dry and be more comfortable when they went below deck.
The pants continued to be in use by sailors into the 1960s when they caught on in popular fashion and soon became the iconic look of the decade.
Style
Bell bottom pants fit closely around the waist, rear end, and thighs, flaring out from the knee down to ankle length. As the style became more popular, variations and changes were made to bell bottoms.
Pants trends have changed over the succeeding decades as new styles have been introduced, but flared pants are still seen. They've now reached classic status, which means they're never actually out of style because they're cool and retro. In other words, wear at will! Bell bottoms will always be a cool look.
Variations
Loon pants were bell bottoms with extremely flared bottoms.
Elephant bells were flared pants that were extra long at the bottom. Platform shoes were popular in the 1970s and the long elegant bell pants style was made to provide extra coverage for those who wore tall shoes. Usually, elephant bells were made of denim.
2. Bootcut Pants
Though the boot cut is most associated with bootcut jeans because it was used in jeans first, all types of pants now use this design. When and how this cut was invented is a little uncertain but one thing is not: this is one of the most popular types of pants and it's likely you own at least one pair of this style.
History
Fashion experts give credit to Lee's, the well-known jeansmaker, for inventing bootcut jeans. it's agreed that the boot cut was created for cowboys, who needed the fit so they could continue wearing their famous footwear: cowboy boots. However, the date on when the bootcut was invented varies depending on who you ask.
History of Jeans says that boot-cut styles date back to the 1850s, while Heddel's says Lee's introduced the style, their 101 jeans, in 1924.
But if you ask Levi's, the bootcut jean was invented in the 1960s by young people who split the seams of their straight-leg jeans and inserted fabric to make the leg openings wider.
Style
Bootcut pants fit well around the waist down to the knees. From here, they widen slightly all the way to the hems. No matter how they were invented, bootcut pants are here to stay as a standard style choice that is still widely worn today.
3. Breeches
Breeches have undergone a style evolution unlike any other type of pants. Today, breeches are popular equestrian attire. However, it took a long time for them to get there.
History
Breeches date to the 1500s, when they were worn as an undergarment. Eventually, the word "breeches" was used to refer to any type of outer garment worn on the lower half of the body. Sometime after that, breeches became a set of knee-length pants.
Style
Today, breeches are close-fitting, stretchy pants that cover the body from the waist to the ankles. There are some variations of breeches: knee-patch, full seat, and Kentucky. These different types of breeches have padding around the knees and sometimes, elsewhere in the design. This fabric is used to improve saddle grip, according to the Maryland Equestrian.
4. Cargo Pants
They started as military pants but now, cargo pants are pretty much everything pants. You can get them in long versions, short versions, every color and pattern you might want. But it was only through sheer luck that cargo pants made it into popular fashion.
History
The British military needed to make their British dress uniforms (BDUs) more practical. They added a single patch pocket to the design but they didn't do it well. The pocket was the wrong size and couldn't be easily used anyway.
Even so, the U.S. military saw something they liked. The design was adopted and adapted into paratrooper pants, which are more like standard cargo pant styles we all know and wear.
Style 
After WWII, cargo pants became a standard issue for almost all military branches, according to GQ. Now, they're a classic style that remains popular today.
Cargo pants, which are also called tactical pants, have two large storage pockets, one on each leg, and often have additional extra pockets as well.
Cargo pants are great when you want to go hiking or trekking, in part because they are made with sturdy fabrics and are loose and baggy to make them more comfortable. You can move freely in a pair of cargo pants, which is perfect when you're involved in any type of outdoor activity. In addition, the pockets are great for holding the extra equipment that you often have with you when you're participating in these types of outdoor activities.
Cargo pants are sometimes called combat pants and their large side pockets set them apart from other types of pants. They are casual, very loose-fitting pants that are popular both with men who participate in a lot of outdoor activities and for those who wish to be both comfortable and fashionable at the same time. They offer many advantages besides comfort and they are made in a variety of colors as well in addition to a range of shorts lengths that are made for warmer weather.
5. Carpenter Pants
Carpenter pants are designed for durability and practicality. They are loose and flexible, so you can squat and bend easily while wearing them. Carpenter pants also have tabs, loops and pockets made to hold various tools and pieces of gear that carpenters and other professionals need.
Style
Usually, carpenter pants are also boot cut pants. Since these are work pants, it's likely you'll wear them with work boots. Carpenter pants are made for durability, so they are often reinforced with extra stitching and may even have extra materials in the knees and other high-wear areas, according to WiseGeek.This style can always be worn as men's casual pants.
6. Chaps
Chaps aren't so much a type of pants but a type of pants covering. Chaps are really any piece of leather used to cover up a pair of jeans. And while chaps today are made from all sorts of materials and worn in all kinds of ways, they didn't begin as a fashion accessory.
History
Chaps were used by cowboys for completely practical reasons. The leather provides protection for legs while riding on horseback. Bushes, trees, tall grasses, and other vegetation can cause rips and tears in jeans and in the legs underneath. Heavy chaps add safety.
The leather pant coverings also worked well for wranglers and ranchers who routinely managed animals. Kicking calves and horses, for instance, pose a little less threatening when you've got an extra layer of protection.
Style
There's another benefit to wearing chaps: dirt. Chaps help keep jeans cleaner, protecting them from dirt, mud, and debris, according to Pioneer Woman.
Variations
Batwing chaps have an open lower leg design that inspired the name of this variation. This allows more air to get to the legs and makes it easier to stay flexible and move around.
Shotgun chaps were very popular in the late 1800s, particularly among working cowboys, according to American Cowboy. Shotgun chaps have a closed leg design with a zipper. This protects the pants and legs under the chaps from snow, rain, and pests.
Woolies are woolen chaps that are usually made with fleece. They're lined with canvas for durability and moisture-resistance. Woolly chaps are used for warmth and insulation in cold, wet climates.
7. Chinos
Chinos have been a style staple in men's fashion for more than a century and it doesn't look like they're going to stop being trendy anytime soon. Chinos are available in a huge range of colors and patterns. That's why it may surprise you to learn that actually, chinos were the original khakis.
History
Sir Harry Lumsden is credited with creating the color khaki. He was stationed in India at the time and didn't like his white uniform pants. He mixed together several materials that were readily available in India in 1848: coffee, mulberries and curry. He mixed them together and created a new shade of brown that he dubbed khaki. This is the Hindi word for "dust."
The color was a perfect camouflage in the arid landscape and, as it turns out, highly fashionable besides.
From Khaki to Chino
The khaki color was soon adopted by the U.S. military. Soldiers wore the color while stationed in the Philippines during the Spanish-American war of 1898. They started calling the khaki-colored pants "chinos" because they were made from Chinese twill cotton. The word came from the Spanish for "China," according to Brooks Brothers.
The pants were still part of the uniform at the end of WWII four decades later. Men returning from war wore the pants, which became a common sight in men's fashion. The look quickly gained popularity with civilians as well. Soon, chinos were a common sight on men all over the U.S.
Style
After reaching their heyday in the 1960s, chinos faded from popularity as bolder fashions and brighter colors took over the fashion scene in the 1970s and 1980s.
Chinos made a comeback in the 1990s but with a whole new look. The new generation of chinos exploded in an array of colors with a slim fit design. Chinos have remained popular ever since and now they're a classic fashion choice for any well-dressed man.
Made mostly from synthetic fiber and cotton, these pants offer both a stylish look and great comfort. Although they can be worn in a casual atmosphere, they are most often associated with dressier occasions and are usually worn with a nice dressy shirt or T-shirt. They make a great men's dress pant style when paired with the right shoes and shirt.
They are similar to khaki pants except that chinos have hidden stitches for a more finished look. They also tend to have a much slimmer cut than khakis, giving them a much dressier and formal look in the end.
Variation
Khaki pants are usually made of cotton or cotton twill and are extremely comfortable. One of the biggest advantages of wearing khakis is that they are not only very stylish but they also look great with any type of shirt you wear with them. They can be worn in both casual and more formal settings. Khakis are made in chino styles as well as other pant styles, including pleated trousers.
In fact, many men wear khakis on "casual Friday" at their workplace because they go great with collared shirts and those with company logos on them.
8. Corduroy Pants
Corduroy is a durable fabric made of woven yarns and vertical ribs or wales. It may be piece-dyed or patterned and named according to its number of wales per inch.
Everyone has mixed feelings about corduroy. Some fashionistas say it's tacky, while others say it's an absolute must. But the truth is, corduroy has a soft feel and a recognizable look that makes it a style staple everyone hates to love and loves to hate.
History
Corduroy is one of the oldest styles on this list in some ways. The direct fabric ancestor of corduroy was a material called fustian, which was created in the ancient Egyptian city of Fustat in 200 B.C.E.
The soft fabric became incredibly trendy during the medieval period when Italian merchants brought the fabric to European nobles. They loved the soft, warm fabric. Corduroy quickly became a favorite of King Henry VIII. However, the reputation of the fabric changed when it became associated with British factory workers in the 1700s, who wore it to stay warm on chilly England days.
Style
It wasn't until academics and beatniks of the 1960s rediscovered corduroy that the material became hot again. They loved corduroy pants as an alternative to denim jeans and chinos, according to Brooks Brothers Magazine.
9. Dickies Pants
Dickies is a brand name, but they have become so synonymous with a certain style of pants it's impossible not to include them on this list. In fact, the very word "Dickies" can be used to substitute for the word "pants!"
History
The Dickies company was formed in 1918 as the U.S. Overall Company. Soon, Dickies became the largest manufacturer of workwear in the world. Dickies makes many items of clothing, but the pants are still the most recognizable.
Style
Dickies are recognizable for their straight-leg, pleated style. Dickies pants, sometimes also called work pants, have belt loops, back pockets, and hip pockets. You'll most frequently see Dickies pants in khaki and navy blue.
10. Fatigues
Fatigue pants, or simply fatigues, are one of the most recognizable pant styles in fashion. That's because, for a long time, the U.S. Army used these pants to outfit all their soldiers. So when the look caught on, it really caught on.
History
The best-known type of fatigue pants in history is probably the OG-107. The "OG" stands for olive green. This style was first created in 1952 and worn by active servicemembers until 1981.
Style
These famous fatigues were lightweight but tough, made in 8.5-ounce cotton material. The design has two large front patch pockets, two rear patch pockets with button flap closures, and adjustment tabs for sizing.
11. Flat Front Pants
Flat-front pants go very well with people who are slim. They work best if you try them on before buying them so that you get the perfect fit and they look good for both casual and more formal occasions. If the pair of pants you purchase has no pleats in them, this is an indication that they are flat-front pants and they come in a wide variety of colors and materials to suit everyone's preferences and tastes.
Look back at styles from the 1930s, those cool guys with the hats and the swagger, and you'll see that they're wearing pleated pants. But in modern times, flat front pants are much more stylish. Pleated looks are now considered old-fashioned.
Any type of pants without pleats is a flat front pant, according to Modern Gentleman Magazine.
12. Jodhpurs
Jodhpurs are the classic equestrian pants that everyone imagines when they think of horse riding and other horseback activities. These pants are somewhat baggy around the thighs and more fitted on the legs. This is because they're often paired with knee-high boots, which is a classic choice for horseback riding.
History
Jodhpurs were invented in western India. In fact, the pants are named after the city of Jodhpur. The sport of polo, which is played on horseback, originates in India. Equestrian activities are popular here and they were particularly popular in the 1800s, when the pants were invented by the Maharaja of Idar and the Regent of Jodhpur, Sir Pratup Singh, according to the Gentleman's Gazette.
He traveled to England to celebrate Queen Victoria's Diamond Jubilee celebration, bringing his Jodhpur polo team with him. The team was of course wearing his new equestrian breeches design and the British loved the new style. Jodhpurs quickly caught on with equestrians around the globe.
13. Joggers
Check Latest Price | Learn More
Joggers are also known as jogger pants. However, you probably know them by their more popular name: sweatpants. For a long time, these pants were only for hanging out at home or going to the gym. But more recently, sweatpants have become incredibly chic.
Style
Sweatpants are typically made with soft fabric in a somewhat baggy design with an elastic waistband and elastic at the ankles. In modern men's fashion, sweatpants are the perfect way to show off another huge style element: basketball shoes, according to Business Insider.
14. Pleated Pants
If you want a classic fit and sophisticated look, pleated pants are the way to go. These pants are very popular with men of all ages and worn for any occasion. So whether you're just hanging out with a few friends or attending a meeting at your office, pleated pants will help you look good and feel good. The pleats in these pants are only visible at the top part of the pants in the front and the pants can have a single pleat, three pleats, or more.
More often than not, there are two popular types of pleats: forward pleats, which come from an English tailoring background and consist of pleats that open inwards towards the fly seam of the pants; and reverse pleats, which open outwards towards the pants' pockets and are more associated with an Italian style of tailoring.
If you are heavier than usual or extra stocky, pleated pants can make you look smaller and they tend to be more comfortable when you're sitting down, which is a big advantage. Because of their flexibility, comfort, and roominess, pleated pants are not likely to lose popularity anytime soon.
Pleated pants were once the stylish pants type that every well-dressed man owned. Pleats are not the same as creases. Pleats are created when the fabric is folded over, while a crease is a sharp line put in clothing with an iron.
Pleated pants were the go-to look in men's fashion from the 1930s through the 1950s. The look faded from popularity in the 1960s but has since regained some of its fashion creds.
15. Plus Fours
Plus fours started as a variation on knickers but became a popular look on their own and soon, became an iconic style for golfers around the world.
History
Plus fours are knickers that had four extra inches added to them. The style first appeared in the 1920s and quickly became a hot look. Like knickers, plus fours were fastened with a band at the knee. The extra four inches of fabric created a distinct silhouette. The look quickly caught on with sportsmen, golfers in particular.
After Edward VIII wore plus fours during his trip to the U.S. in 1924, plus fours replaced knickers as the popular style. Golfers embraced the style and soon, plus fours were part of fashion. You'll still see golfers wearing this distinct style on the fairways and greens of the course.
16. Suit Pants
According to the Gentleman's Gazette, the man's suit can trace its origins to Beau Brummell. He lived in England in the 1800s and was, reportedly, the first to wear long pants and a matching coat that had very little ornamentation. The two items were made with the same fabric to create a matched set.
Throughout fashion history, it's the coat that has been the main style element of the suit. Usually, suit pants are straight-legged and have a crease. Sometimes, they have a cuff at the bottom. They may also be pleated or flat-front. The height of the waistline and the width of the legs of suit pants has changed over time, in keeping with the popular trends of the day. For example, suit pants in the 1930s sat much higher on the waist than suit pants worn by men today. Suit pants may also be called dress pants or dress trousers.
17. Tobi Pants
Tobi pants are traditional in Japan, where they're extremely popular. These pants have an interesting cultural place in Japan and a unique look that immediately stands out.
History
Tobi pants are commonly worn by construction workers in Japan. The pants have become popular with Japanese subcultures and they are frequently seen in Tokyo, according to Esquire.
Style
A variation of knickerbockers, Tobi pants are very loose pants that are billowy in the legs and then cinched at the ankle. All the fabric makes it easy to move in them and provides protection from flying sparks and other hazards, which is why they are popular with those in construction fields.
Other Types of Pants
Fashion history is full of different types of pants in all sorts of styles. Some pants have made such a mark on history and style, even if only for a brief time, they deserve to be remembered.
Sports Pants
If you're a fan of hockey, then you know that the players wear short pants. These pants are easy to skate in and they look pretty good. However, the NHL learned that there's another really great reason for wearing short pants when playing: long pants slide on ice.
This became apparent in 1981 when hockey went wild for a brand-new type of pants: Cooperalls. These were long hockey pants. The thinking was that the design gave players more protection. Unfortunately, they were wrong. The long pants made it easier for players to slide across the ice. Players were sliding all over the place, increasing their risk of injury. To make matters worse, the pants were hot!
The NHL banned Cooperalls the very next year and hockey returned to the short pants that we all know today, ending hockey's brief flirtation with pants over shorts.
Historic Pants
Baji pants are loose, baggy, lightweight pants that are part of the hanbok. This is a traditional Korean outfit made up of two pieces. The upper garment, the jeogon, is worn by both men and women. Only men wear baji pants, however, while women wear a skirt called chima. The hanbok clothing has been worn since around 57 B.C.E., according to National Clothing.
Braccae pants are some of the oldest ever worn. In the days of ancient Rome, no one wore pants. You've definitely seen images of them wearing their long togas, attire that was worn by both men and women. But Roman soldiers who left their warm, Mediterranean climate and went into France and Britain soon found out why the people there wore pants. These were braccae, loose-fitting pants made with wool and lashed at the waist and ankles with leather straps. 
The most recognizable historic pants of all time may just be knickerbockers, also known as knickers. These pants were worn for over a century by men of all ages and walks of life. Knickerbockers are distinct for the band at the bottom of each leg, which makes it possible to fasten these pants tightly at the knee. These were some of the most widely-worn pants in men's fashion until the 1930s, according to the Encyclopedia of Fashion.
Open crotch pants, also called split-crotch pants, are exactly what you think they are. These pants are properly named kai dong ku and they are a traditional garment in China. Here, babies wear these pants instead of diapers. This makes it very easy for them to relieve themselves whenever the need strikes, which many say leads to quicker potty training. It also greatly reduces waste, as parents use these pants as an alternative to diapers. Though these pants were the preferred garment for Chinese children for centuries, kai dong ku are slowly being replaced by ordinary pants and modern diapers, particularly in larger cities, according to Atlas Obscura.
Sharovary pants are traditional in Russia and instantly recognizable as a cultural dress. These are wide, blousy pants that are belted at the waist and gathered at the ankles, where they are typically tucked into tall boots. Shavorary is made with a lightweight fabric like silk and typically, they're bright red or blue in color, according to National Clothing.
14. Pleated Pants
Materials
The materials that pants are made from matter a great deal. After all, jeans can't be jeans if they aren't made from denim. Get familiar with some of the most common types of pants materials so you can be a true pants expert.
Blends
Pants are often made with blends that combine two different fabrics, for example, synthetic fiber and cotton or polyester and cotton. Most blends are designed for comfort as well as to make the pants themselves look more stylish.
When it comes to blends, you can find dozens of combinations available for pants of all styles and colors. Taking into consideration the area of the country you live in and your own personal tastes and preferences are the best way to decide which fabric blend is right for you.
Corduroy
Corduroy is technically a blend of fabrics that are twined together, not just one type of fabric, and corduroy pants are perfect when it's cool outside but not cold enough to make you want to wear something wool. If you think of corduroy as a hybrid, you'll understand why wearing corduroy pants is much the same as the various fabrics included in it, because it is a versatile type of material that can be worn during various seasons.
A lot of corduroys are breathable and warm but not stiff, which means that you can stay warm in corduroy pants without feeling overheated. Put simply, corduroy is definitely one material that you want to consider when purchasing pants for your closet.
Cotton and Polyester Blends
Cotton blends are great for warmer weather and there are many reasons why cotton is often combined with polyester when making pants. Both materials are breathable, light, and very comfortable and they both do a great job of whisking away moisture. Pants that are not 100 percent cotton are also able to go for longer periods of time without needing to be ironed.
Calvary twill is a tough, durable fabric that was designed to be worn by cavalry soldiers. It is usually made from wool but it can also be made in a variety of different blends.Calvary twill is distinct for its double twill line. In the U.S., calvary twill was named elastique because of its somewhat stretchy quality.  
Gabardine is a woven twill fabric that has a diagonal cord, which gives it a distinct feel and a visible sheen. This is a tough, rain-resistant fabric that was originally used to make cloaks worn by Spanish people in the Middle Ages. The cloaks were called "garbardinas." Gabardine fabric is not the same as a gaberdine, which is a type of long tunic. 
Denim
Jeans are always made of denim material but there are also many types of denim, including blue and black denim, dark or light denim, and denim used for jeans, skirts, and even vests and jackets. Denim jeans can even include those with holes in them, faded denim, and dark denim that gives the pants a very formal and dressy look, making them appropriate for the workplace.
The fabric itself also varies and includes different types, such as natural denim, open-end denim, pinto wash denim, poly-core denim, ring or ring-spun denim, and over-twisted denim, to name a few.
Until the 1970s, most denim was made out of ring-spun yarn that produced the vintage look and surface unevenness that most people today still recognize. In that decade, the open-end type of denim was introduced, which lowered the cost of denim and therefore of jeans because it omitted part of the spinning process.
If you want a softer, textured look and feel today, choose a premium label because most of these companies use a dual-ring-spun type of yarn for their denim.
If you want a faded look, choose a pinto-wash look with its mottled appearance that both consumers and designers love. The more you shop for denim, the more varieties you'll find. Since the comfort level and price vary greatly among each of these materials, it is all but guaranteed that you will find something you love when you shop for your jeans next time.
Flannel
Flannel is cotton that has a loosely spun weave. This is what gives the flannel a slightly fuzzy feel on one or both sides of the fabric. This makes flannel a warm, insulating fabric that is popular for suit pants. Flannel is a traditional suit material in men's and women's fashion.
Linen
Linen is made of flax and is considered one of the oldest woven fabrics. The fabric has been used as early as 30,000 B.C.E. in Georgia for everything from rope-making to clothing. Linen may be easily wrinkled but it's undeniably one of the most comfortable fabrics for clothing. It's breathable, water-absorbent, easy-to-wash, and beautiful.
Moleskin
Moleskin is a very popular fabric choice in Europe, particularly in France. And no, this material is not actually a mole's skin. It's actually heavy cotton material that has been brushed to give it softness. The material is so soft, it feels like a mole's skin. It's also a durable fabric that is popular for work pants because it's both comfortable and tough. 
Stretch Knit
Stretch knit fabric is not necessarily form fitting like the thicker technological blends used in athletic pants. Stretch knit is usually a predominantly rayon blend (with polyester, cotton, or nylon) intended to drape and flow in unique ways. It is elastic with four-way stretch and so very comfortable. Usually, this fabric is considered very informal and casual. It's inexpensive and a lot of mass-produced fashion relies heavily on it.
Wool
When people think of wool, they think of a fabric that is good for winter wear, and with good reason. A few pairs of wool pants can keep you both warm and comfortable during the winter months but they do much more than that.
Wool pants, also called wool trousers, also resist wetness and water and they can trap in heat, fight off the cold and keep your legs insulated even if it is raining or snowing outside. They are perfect when it's bitter cold outside but they also do great in the fall when the weather starts to get crisp and cool. High-quality wool is also very soft, adding a lot of comforts, as well as protection from the elements.
Chart: The Different Parts of a Pair of Pants
In some parts of the discussion on the different types of pants, various parts of the pants come up so we created a custom illustration charting the anatomy of a pair of pants.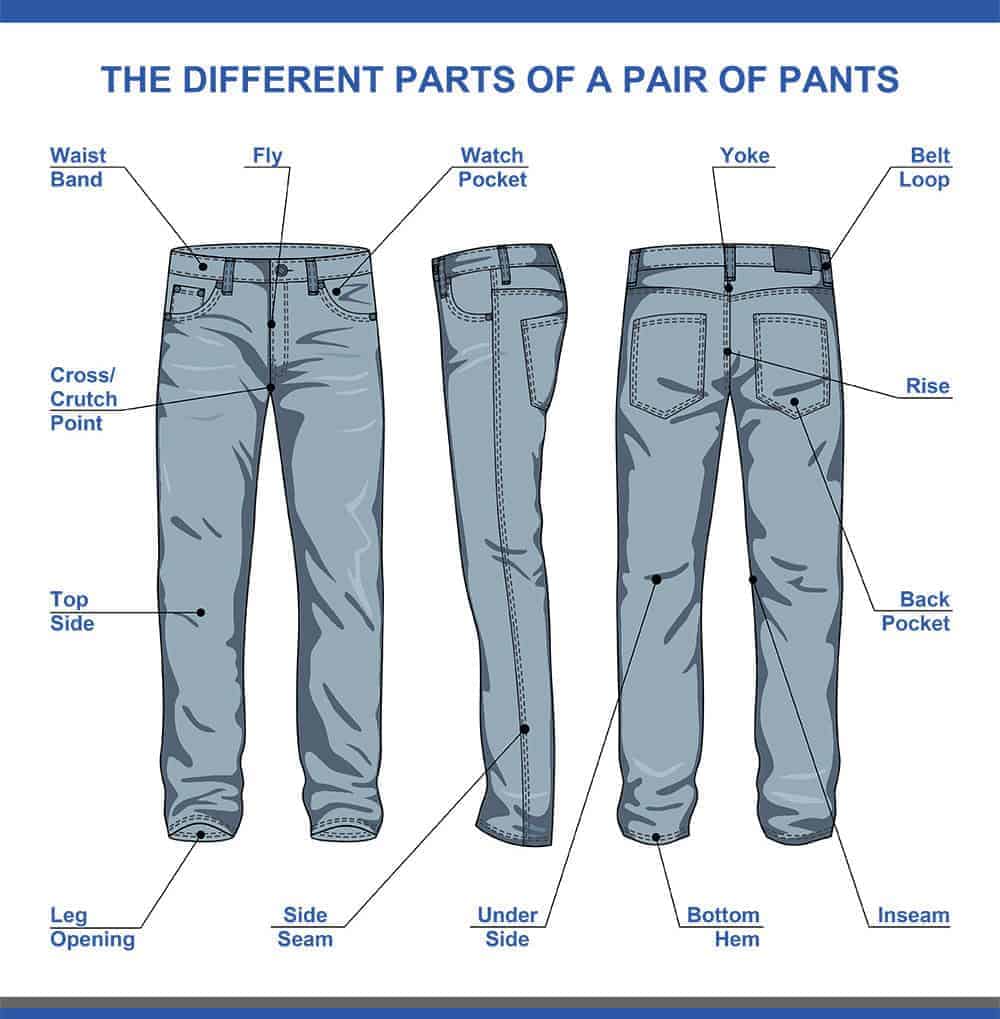 Men's Sizes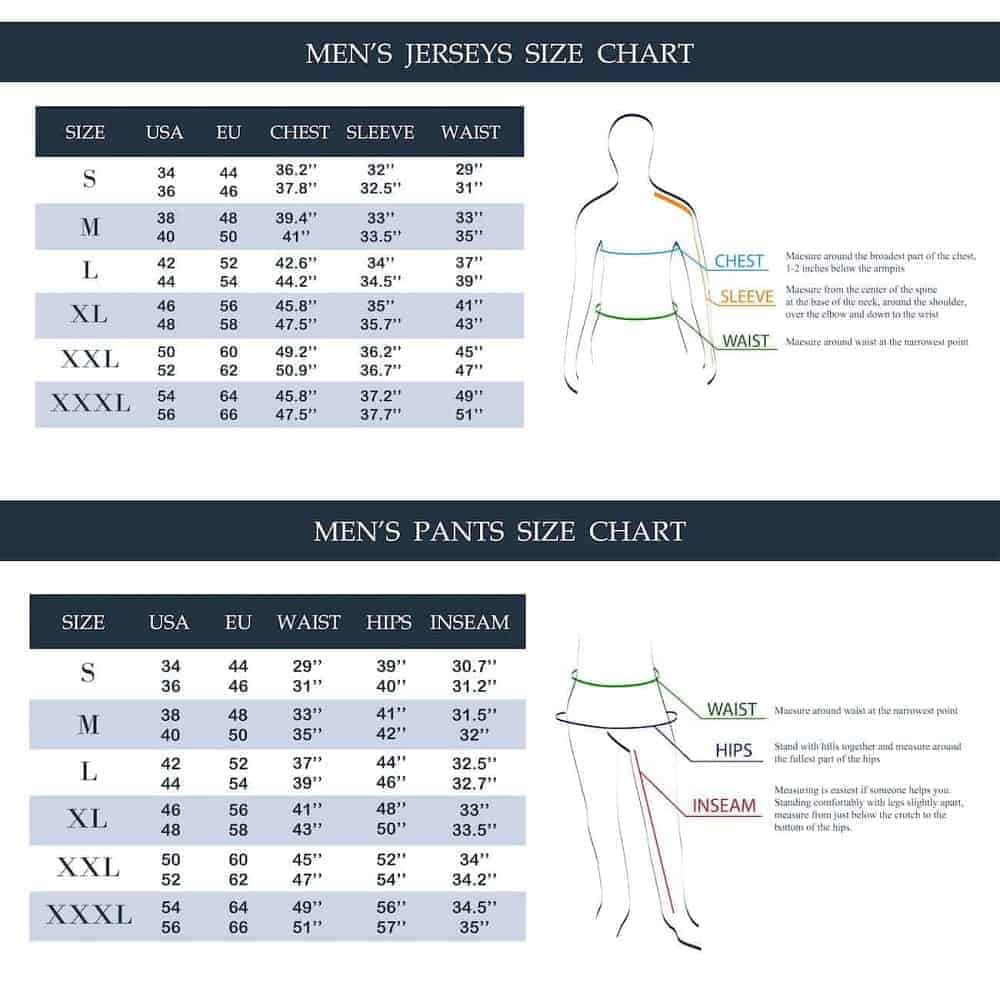 The great part about pants for men is that they come in sizes that fit anyone out there. If you're a short or slim man, you can find something to fit you. If you're extra tall or heavy, you can find those types of pants as well because there are now complete stores that cater to men of all sizes. Men's pants are normally sized by the waist size and the size of the inseam so you need to know these numbers before shopping for pants.
Waist sizes are generally available in increments of two and range from 26 inches to 40 inches. Inseams usually range from 30 to 34 inches; however, many of the more reputable men's clothing shops can take your exact measurements and custom-make a pair of pants just for the client, meaning that you are always guaranteed to get a perfect fit.
In addition, another aspect to watch for is the sizes available in relation to where the pants were made because sizes in the U.K. and Europe do not mean the same thing as sizes in the U.S. Most stores have conversion charts for pants made in other countries, which makes finding the right size a lot easier, but, again, taking your measurements first is crucial when you're getting ready to shop for pants.
Women's Sizes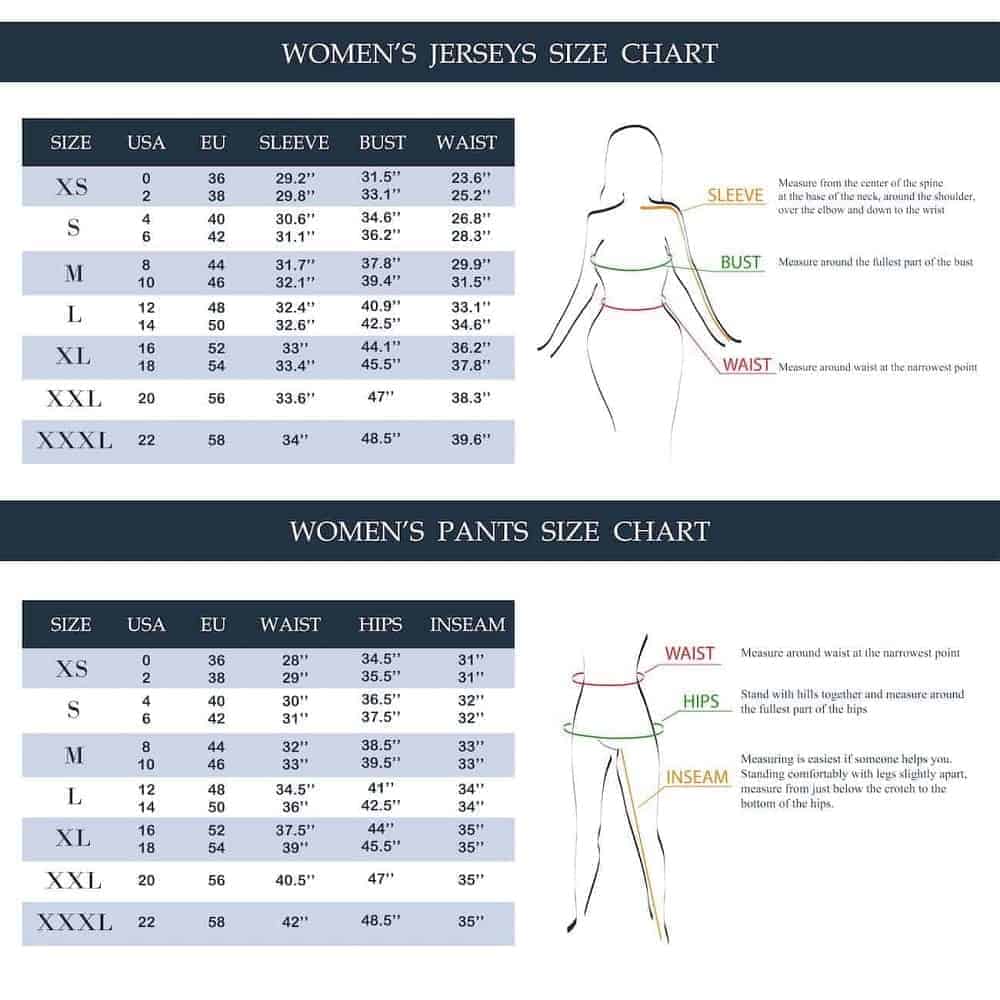 In order to find the perfect pair of women's pants, the hips, waist, and inseam are usually measured and women's pants come in regular sizes as well as petite sizes and plus sizes. Regular sizes range from 0 to 18 in most cases and plus sizes usually start at 12 and can go up to 24 or even higher in some instances.
Petite pants come in these same sizes but the only difference is their length. Made specifically for shorter women, petite pants save these women the task of hemming the pants to make them a convenient length. Inseams range from 30 to 34 inches and just the same as men's pants, once you know what your exact measurements are, it is much easier to find the perfect size of women's pants.
Also as with men's pants, women's pants can be manufactured in nearly any part of the world so it is recommended to check on this aspect and use a conversion chart when necessary, especially if you are researching or ordering your pants online.
FAQ
You probably still have lots of questions about pants, like which ones you should own, how you should wear them, and how to get the right fit, just to start. Get the answers to all the common pants questions and you'll always be super stylish.
What's the difference between pants and trousers?
There is no difference between pants and trousers. The two words can be used interchangeably. Pants might also be called dungarees or slacks, which can be applied to any pants style.
How many types of pants are there?
Counting all the variations, there are hundreds of different types of pants, ranging from historical pants to cultural costumes to everyday pants that are commonly worn. 
What tops to wear with baggy pants?
If you're wearing baggy pants, pair them with a fitted top. If your top is too baggy, you could end up looking sloppy. To keep the look from being too cluttered, try a monochromatic or two-tone color palette. 
What pants should a man own?
It's harder than ever before to be a well-dressed man. Once, styles for men were fairly basic. Now, there are all sorts of different types of pants, shirts, coats, and shoes. Give your wardrobe a strong foundation by investing in some standard types of men's pants.
According to Fashion Beans, every man needs a pair of corduroy pants, a pair of wool pants, at least one pair of chinos, a pair of linen pants, at least one pair of sweatpants, a pair of cargo pants, a pair of pleated pants and a pair of tracksuit pants. Of course, you'll want to have a couple of pairs of jeans as well. 
What kind of pants are in style?
You can't go wrong with wide-leg pants, cargo pants, and yoga pants right now, according to Glamour. Everyone is wearing these super-trendy types of pants. If you want to look super stylish, get at least one of these hot looks and you'll be right on-trend.
Why are baggy pants popular?
Baggy pants and sagging pants are a distinct trend and popular look in hip hop culture. According to fashion legend, the look began in the prison system more or less by accident. Prisoners were often assigned ill-fitting pants and were not allowed to wear belts. As such, they often walked around with oversized, drooping drawers. 
The look came out of the jails and became big in urban fashion. It soon swept the U.S. and beyond. The sagging trend reached its peak in the 1990s but hasn't totally faded from popular style since.
What are pants sagging and should you do it?
The sagging trend is not hard to copy if you want to get the look. All it takes to create sagging pants look is a pair of pants that are too big for your body. Next, you use a belt to secure the pants very low around the hips, instead of up around the waist. This will create the sagging look that has made its way into trendy fashion. 
At what age should you stop wearing ripped jeans?
How old is too old to be wearing ripped jeans? Some style experts would say you shouldn't touch super trendy jeans looks after age 25, but most people can get away with cool denim well into their 30s.
The truth is, you can pull off any look you like when you're confident. Anyone who has confidence can wear whatever fashions they want. After all, great style isn't only for the young!
What's your pant size?
If you want your pants to look good, they must fit your body well. Men should start by measuring their natural waist. The natural waist is the measurement straight around your body at your belly button. The tape measure should not be tight or loose, but right against the skin. If your waist doesn't exactly hit the mark, round up to the nearest inch.
For the inseam, men should measure from the groin to the lower part of the ankle down the inside of the leg. Men's pants are measured at the waist and inseam, with the waist measurement first, according to WikiHow.
Women should also get the measurement for their natural waistline. This is usually right above the belly button. You should be measuring at the thinning part of your midsection. This is the waist measurement. You'll also want to take an inseam measurement. These two measurements can be converted into women's sizes using a standard size conversion chart.
Which pants are good for the gym?
You can't work out in a pair of suit pants. If you're going to the gym, slip into a pair of track pants or sweatpants. Women can also wear yoga pants, which are specifically designed for exercise.
How should pants fit your body?
How do you know your pants fit your body properly? Check several main points on your body and test the fit overall. First, your pants should not feel too tight but they also should not feel too big and baggy around your body. 
The inseam of the pants should go past your knee and in most styles, should reach at least to your ankles. If the inseam falls short of your ankle and you are not wearing capris, your pants are too short. If the inseam is well below your ankle, your pants are too long.
Pants should fit your hips, rear end, and waist without being too tight or too loose in these areas. You should be able to squat, bend, and sit naturally, without the fabric cutting into your skin and without it gapping around your body. 
Why is the word pants plural?
A pair of pants is just one garment. You put a pair of pants on just one hanger. So why are pants plural and not singular? Why is it called a pair of pants, after all?
According to the Encyclopedia Britannica, there are a couple of different explanations for why pants are considered to be a pair instead of a singular item. Some linguists believe that the phrase stems from a time when pants were made in two separate pieces, one for each leg. Others believe that pants are considered a "plural only" word, which means it doesn't have a singular version. 
The simplest explanation is that pants are a pair because they go on two legs. 
Can pants shrink?
Pants can shrink in the washing machine and/or the dryer, just like any other piece of clothing. Whether or not an item of clothing shrinks depends entirely upon what the garment is made from. Cotton is known for shrinking, especially in hot water or a hot dryer.
Will pants stretch?
Over time, just about any pair of pants will stretch out. This happens due to repeated wear and repeated washing and it happens to all types of clothing eventually. 
Can pants be taken in or let out?
Most pants can be taken in if they are too loose or let out a little if they are too tight, though there often isn't a lot of room to work with because pants are made to specific sizes. Pants that are meant to be tailored, like suit pants, are much easier to alter than pants that are made in specific sizes, like jeans. 
What is the difference between shorts and pants?
It's hard to know the difference between pants and shorts. Some men's shorts styles are very long, while some pants styles can look pretty short. As a general rule, any bottoms that are shorter than mid-calf are shorts if they don't fit into any other type of pants style (such as knickerbockers). 
Why are denim pants called jeans?
It's well-known that Levi Strauss ultimately invented blue jeans. But since they're made with denim fabric, why call these types of pants jeans? Denim fabric was first created in Nimes, France. It was called "serge de Nimes," which sounds like "serge denim." 
Ironically, the weavers who created the first denim were attempting to reproduce a type of corduroy that was made in Genoa, Italy. They failed to reproduce corduroy but came up with a durable fabric that was destined to become famous. 
Should you wear your pants over or under your belly?
Most of us don't have time to do crunches. So if you have a belly, no worries. Most people have one. However, there are times when you will have to ask yourself where your pants should sit: over or under your tummy. So where do they go?
According to GQ, pants should sit right on the hips or just above the hips. This means that they should also be under your belly.
How many dress pants should a man own?
The number of dress pants and suits a man needs to own depends on what he does for a living. A man who wears a suit every day for work will obviously need more suits than a man who works in a totally different setting. But the short answer is that most men should own one to five suits.
It's also a good idea to keep at least two nice pairs of pants on standby, maybe a couple of pairs of chinos, along with a standard pair of business casual khakis. 
Do pants need to be broken in?
Jeans do need to be broken in before they will truly fit your body. The best and only way to really do this is simply by wearing your jeans. You shouldn't wash jeans unless you have to. If your jeans are dirty or stained, they should be washed. Otherwise, you can hang them in the bathroom while you shower. The steam will freshen up the jeans. 
After you wear your jeans regularly, they will begin to conform to your body and fit perfectly. You will lose this when you wash your jeans.
Sources: