Double-breasted suits and blazers can be worn by men or women in today's world of fashion. From cuffed trousers to pink suit jackets and skirts, there is an array of different types of suits for both men and women to choose from to wear to work or for play.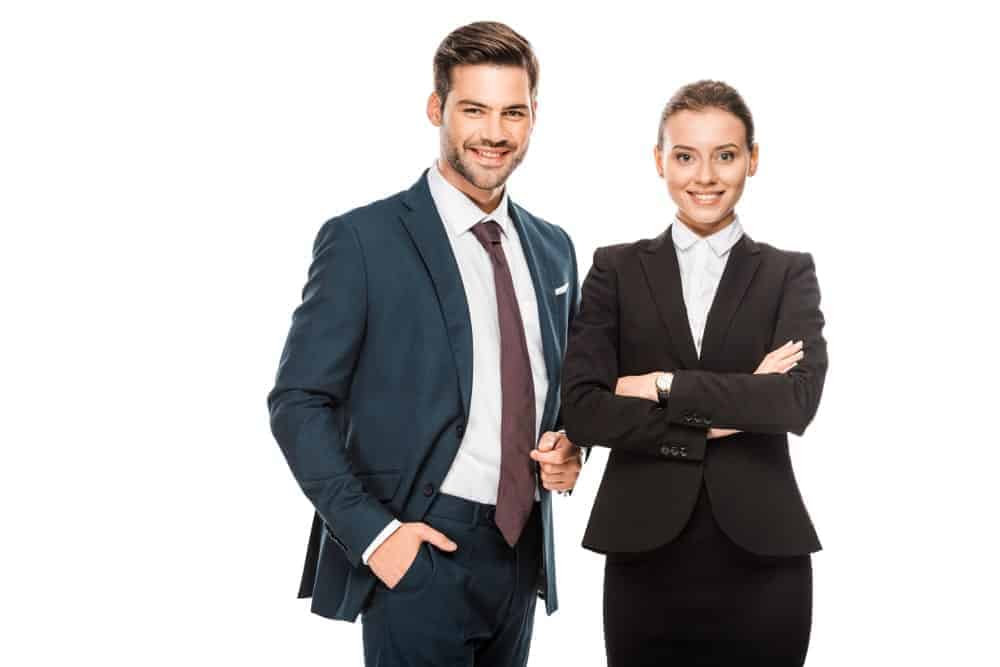 Suits made their way into the world of fashion during the Industrial Revolution. This happened during the eighteenth century and they evolved from there. The emergence of the suit facilitated the change from the formal clothing that had been lined with jewels and heavily embroidered. The modern suit was born in the late nineteenth century out of the quest of people who wanted a more comfortable version, hence the modern lounge suit.
The company called the Brooks Brothers is often credited with creating the first "ready-to-wear" suit that was already sized and ready for tailoring if needed. In more recent years, Haggar Clothing made popular the creative concept of purchasing suit pants and jackets separately and that is the style of suit that is popular today for both men and women.
A suit consists of the jacket and trousers or it can now include pairing a coat with a pair of suit pants.  A three-piece suit adds to the ensemble a vest underneath the jacket and on top of some type of dressy shirt.
When it comes to suits for the ladies, many women and the fashion industry have borrowed the designs but with their own twists on the old faithful originals. Here is an array of different men's and women's suits for all styles and preferences.
Related: Types of Ties | Types of Collared Shirts | Types of Shirt Collars
Men's Suits
The Slim Fit Suit For Men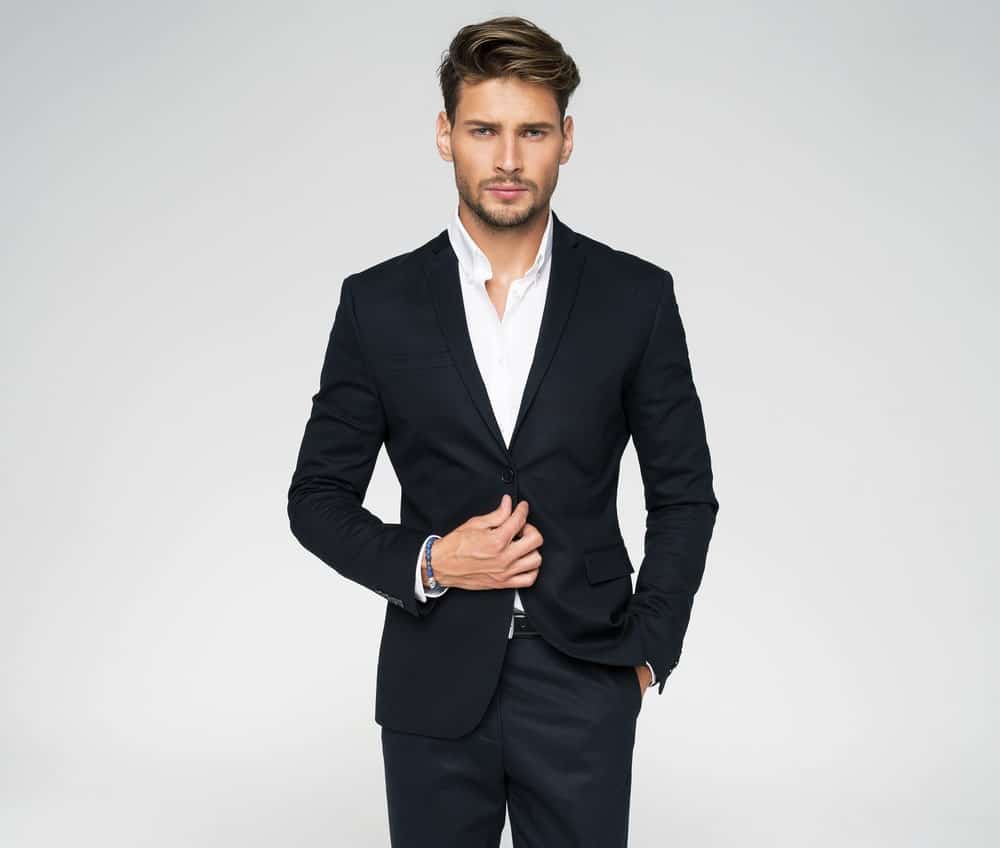 This form-fitting men's suit is sure to draw attention in can be worn by men of all body times for a more slim and sleek look. Is the type of suit that can be worn to hang with the guys for a night on the town or to a wedding because it is very versatile.
The Modern Fit Suit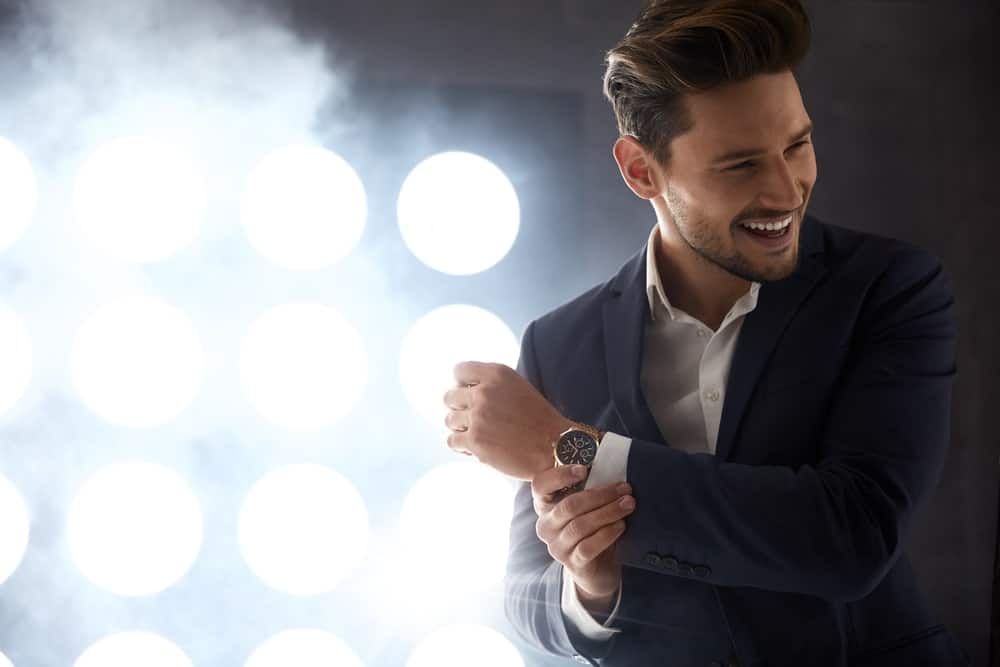 Delivering a tight look but with plenty of movement ability and breathability, the modern fit suit is a great choice for men who don't think they can pull off a slim fit suit or simply don't want to opt for that style. This suit can be worn to the office or out to dinner with the right accessories depending on the occasion.
The Notch Lapel Suit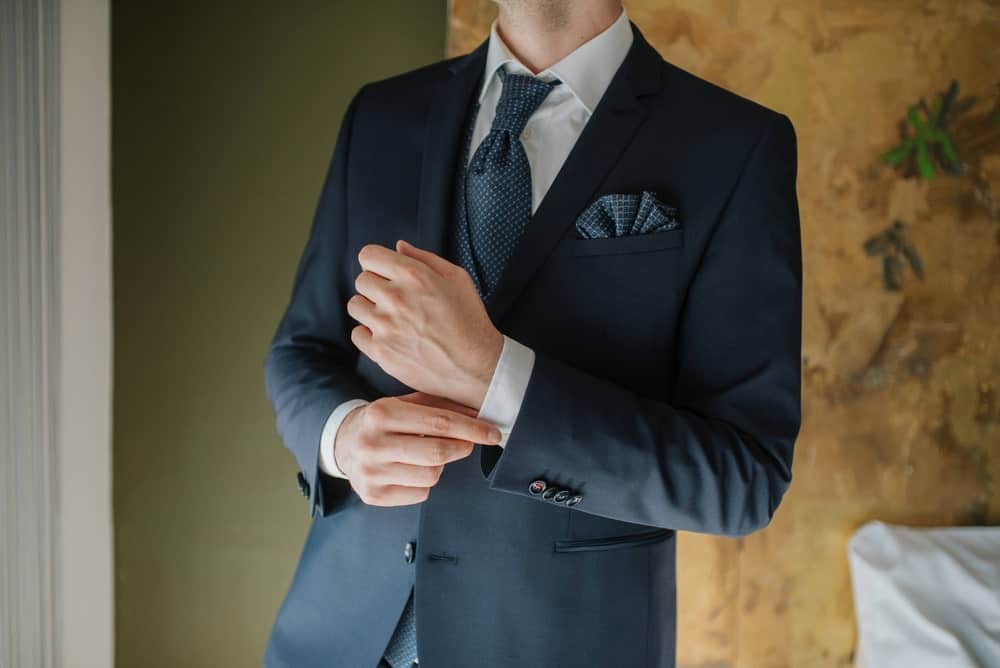 If you are searching for suit jackets and find one that has an obvious indentation in the area the collar and the lapel meet, you are checking out a notch lapel suit. It is the most versatile of all the lapel styles which means you can wear it to a casual wedding or a fancy one.
Shawl Lapel Suit for Men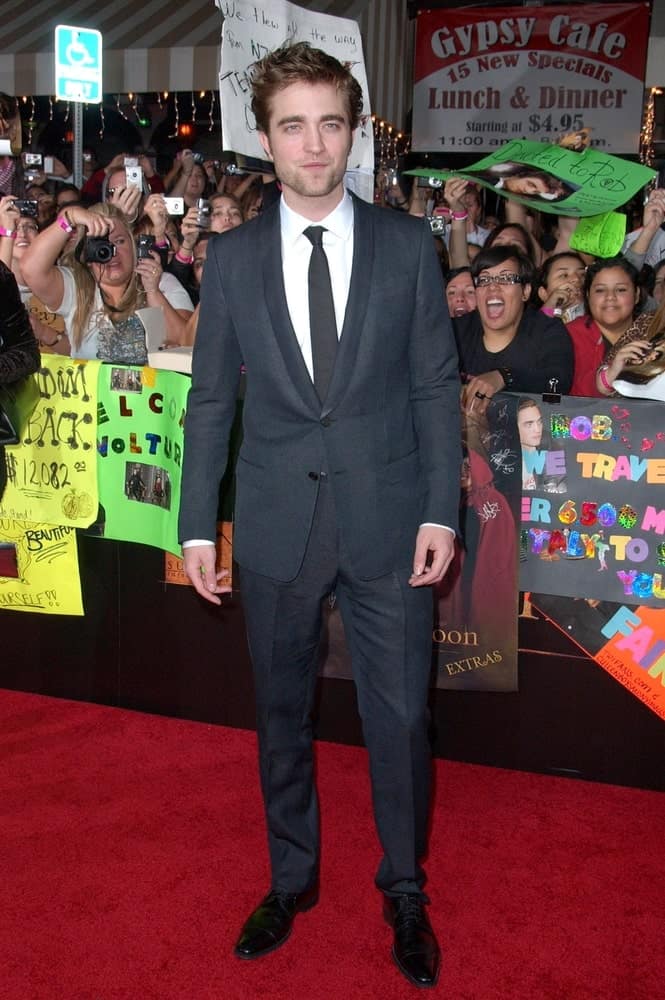 The shawl lapel suit will put you in the mind of a star-studded awards ceremony. This type of suit is perfect for a black-tie event since the shawl lapel is only found on more formal suit jackets, such as a tuxedo. This is a great style for a prom or a very important charity event.
A Peak Lapel Suit
A stylish play on the notch lapel suit jackets, the peak lapel's top edges are facing upward at very distinct angles right below the collar. Most of the time, the peak lapel is used on double-breasted suits so it makes its appearance most often at dressy, formal events and very special occasions. It puts off an err of sophistication but not as classy as the shawl lapel. It looks high-end without the higher price tag.
The Classic Fit Suit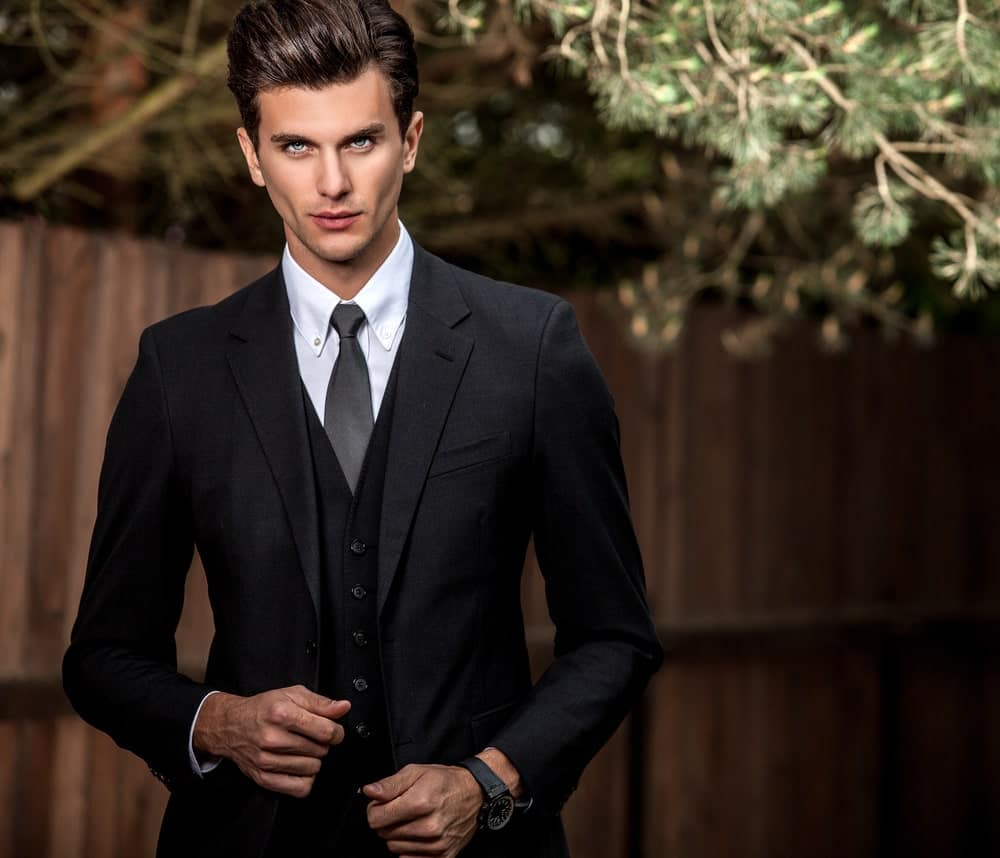 The classic fit suit is just that, a classic. It is the all-occasion suit that can be worn for a special occasion or to a business meeting. It is characterized by the three pieces of the suit, including the vest, jacket, and pants.
From black ones you can wear to a wedding or funeral to pinstripes that you can wear for a charity event, this suit is very versatile and appealing to many men. It allows for breathability but does not look unkempt. It offers a clean, sleek, and stylish look that is flattering for men of all body types. The best thing about this style of a men's suit is that it will never go out of style.
Single-Breasted Suit
The single-breasted suit is defined by its single row of buttons down the front of the suit jacket and a notch lapel. It is the most popular suit for men who work in professional fields, including business and education, wear to their jobs. Because of the row of two or three buttons along the seam, this versatile suit jacket boasts a narrower and slimming appearance. It is a great option for men with any body type or shape and can be worn from the office to a night out with friends.
Double-Breasted Suit
Sort of the opposite of the double-breasted men's suit, the double-breasted version usually boasts four to eight buttons on either side of the jacket for a different type of aesthetic but the average number of buttons normally hovers at six. The jacket gives off an illusion of a wider look since the focus from the extra buttons takes the eye toward the sides of the jacket.
If you are a stocky man, you may want to stick with a single-breasted due to the wider, boxier look of this type of jacket. This jacket comes in a variety of colors and many times features peak lapels. It is great for formal events but because it is gaining in popularity among men who enjoy fashion, it is being worn for all types of occasions and events.
Whether you are standing or sitting, the bottom button should always be left unfastened while the top button or buttons, depending on the total number of them, should stay fastened all the time.
The Unstructured Blazer
Created with a single layer of material, the unstructured blazer changes up the suit jacket altogether. This jacket offers a softer style and fits that is very attractive to the fun-loving, free-spirited guy who does not want to feel stifled by the traditional suit jacket.
Patch Pocket Blazer
Similar to the unstructured blazer, the patch pocket jacket is more for the free-spirited type of man. Instead of being built into the jacket, the patch pocket suit jacket features pockets that are sewn on as a separate piece of material. When shopping for one, you need to ensure that the pockets match each other and the color of the jacket itself.
Flat Front Pants
Flat front suit pants are the most common for men and deliver a tight-fitting slim look and style. These pants are more popular among men who are slim versus those with a belly.
Cuffed Pants
Suit pants that are called cuffed pants got their name honestly since they are hemmed or cuffed at the bottom. If they are hemmed, it is because the bottom of the pants are folded and hemmed up on the inside while cuffed means the pants are turned up on the outside of the pants. Generally, pleated pants are cuffed at the bottom by the ankles while pants that feature a flat-front are hemmed.
Pleated Pants
A pleat is basically a crease that is put into pants on purpose in the way the pants are sewn. Pleated pants feature creases on both sides of the pants. These pants have a looser fit and are more comfortable to wear.
The Side Vent Suit
The side vent suit jacket features, well, just that, side vents. This stops the jacket from bunching up when you put your hands in your pockets or sit down.
Centre Vent Suit
For this jacket, a vent, or slit, is cut up the middle so it will part slightly when you put your hands in your pockets and expose your back.
No Vent at All 
No vent suit jacket is very popular in Italy and offers a custom fit. They are very stylish and elegant but is more prone to creasing.
Women's Suits
Women's suits are very much like men's suits with the same types of styles. The female version of the suit may date all the way back to the 1600s like men's suits do, but once women began to adopt them, there was no stopping the trend.
The appearance of actress Sarah Bernhardt in 1870 wearing what she dubbed her "boy's clothes," was the first notable sighting of a woman wearing a suit. By 1910, the suffragette movement was in full force and women everywhere became more empowered, hence the invention of the Suffragette Suit which included a tight-fitting "hobble" skirt that actually made it impossible to walk properly so they hobbled. This then led to the Chanel Suit by the famous designer, Coco Chanel.
In 1933, then-Frist Lady Eleanor Roosevelt wore a pair of trousers during the White House egg roll. She forgot to change her clothes so it was an accident but she embraced it. In today's world, women wear power suits for business or simple suits for an event. They pair suit jackets similar to men's with trousers that are also made in a similar manner or with a skirt. There are many different takes on the women's suit and here are a few of them.
Slim Fit Suit for Women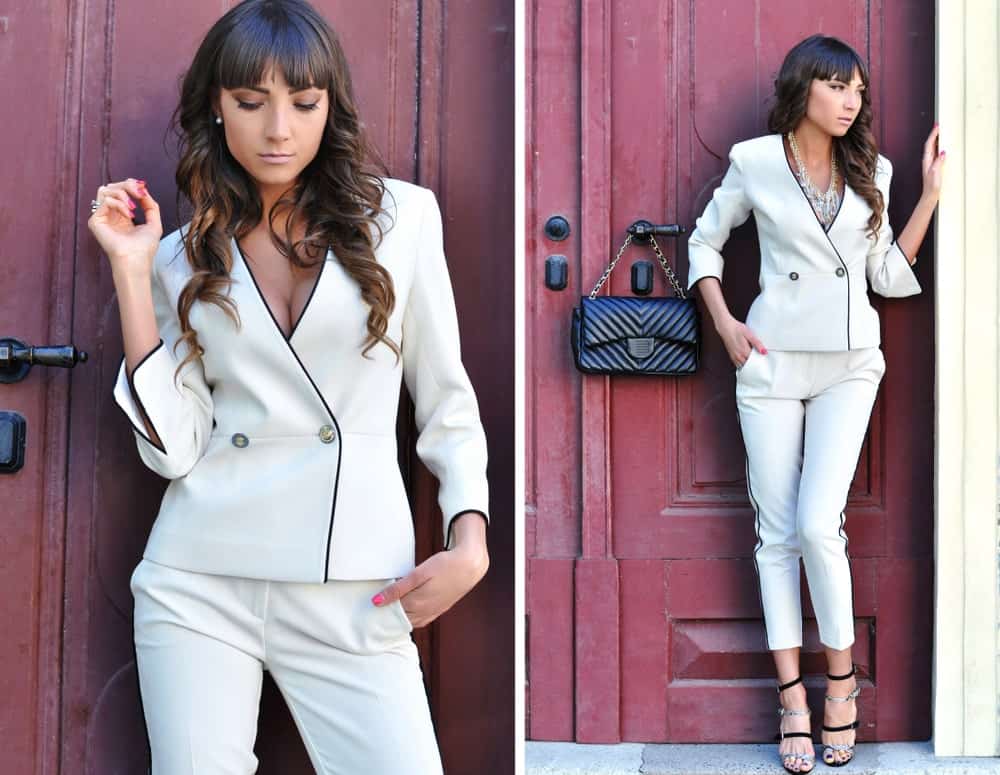 Characterized by a very defined narrow cut, the women's version of the slim fit suit boasts its most narrow fit at the top and goes all the way down the legs. It is closely fitted to each body type and can be featured as a pantsuit or a slim skirt with the jacket. You can wear a slim fit suit to the office then out for drinks afterward because it is so versatile.
Marycrafts Women's Formal Office Business Work Jacket Skirt Suit Set
A pencil skirt paired with a suit jacket makes a great ensemble for women at work or at play.
Women's Business Blazer Pant Suit Set for Work
This take on the blazer worn by men in several different styles if the perfect outfit for women at work.
Women's Double Breasted Pinstripe Blazer with Patch Pockets
This is the women's version of the double-breasted suit that works great for a business meeting or dinner and drinks.
Women's Casual High Waist Pencil Pants with Bow-Knot Pockets for Work
These pants can be paired with a suit jacket for a business meeting or simply a cute top for a more casual appearance.
Women's Classic Fit Straight Leg Suit Pant
These trousers look great with a suit jacket or worn more casually. You can rock them for work or a night out with the girls.
Women 3/4 Sleeve Blazer Open Front Cardigan Jacket Work Office Blazer
A great style to wear at the office for a business meeting with others or as the boss lady herself.
Women's Blazer Suits Two Piece Solid Work Pant Suit for Women Business Office Lady Suits Sets
This double-breasted suit offers high-quality class and sophistication. The white women's pantsuit was made even more popular by former First Lady Hillary Clinton when she ran for President in 2016, spurring the creation of Pantsuit Nation and encouraging women of all ages to rock this type of women's suit.
Women's 1 Button Peak Lapel Novelty Pant Suit
This novelty pantsuit boasts the same style of peak lapel as the men's version but is best worn on more vibrant colors.
Related: Mens' Suit Stores Online | History of Mens' Suits
FAQs
What is the best suit for a wedding?
A suit for a wedding should be formal if the wedding is a formal one and you can add a splash of color. A  more casual wedding allows for a more relaxed suit, such as a blazer and pleated trousers.
What is the best suit for a funeral?
Back in the day, the only acceptable color for a suit for a funeral was black. In today's world of fashion, you can wear a dark color, such as navy blue or brown, and it is acceptable. If the funeral is for someone who had more of a free spirit, you may not even have to wear a suit.
How does a woman's suit differ from a man's suit?
The cut of a men's suit jacket will be different than the cut, or silhouette of a women's suit jacket. A woman's suit jacket will sport smaller lapels and the darts will be designed for a more snug fit than the men's version. The sleeves may be of different lengths also and women can opt for a skirt instead of trousers to pair with a suit jacket.
What is the difference between men's and women's blazers?
Men's suit jackets tend to be boxier and you pair them with men's suit pants while women's suit jackets are more fitted to the body, more tailored, and cinched in places. When it comes to women's blazers, there are more details such as the stitching. It is usually curled, more floral, or quilted which sets them apart from the men's blazers. Many times, men's suits will feature gold or silver buttons while women's do not.
How many types of suits are there?
There are three main types of suits for men and women. The most basic and the cornerstone of all suits are the two-piece suit which features a suit jacket and trousers to match. The two-piece suit is great to wear to job interviews and most people lean towards darker colors for this type of suit.
The three-piece suit features a suit jacket, trousers, and a vest. This suit is chosen most often to wear to more formal events, such as weddings and special events.
The tuxedo also referred to as a dinner suit, is considered to be a special-occasion suit that features a black or midnight blue dinner jacket with only one button and matching pants with a matching bowtie. Tuxedos are an excellent choice to wear to any black-tie affair.
What color of suits should a man have in his closet?
While women can sport a dark blue suit or a pink one, men seem to stick more dark colors, such as black, dark brown, and navy blue. If a man is heading to a funeral, he may want to stick to the darker colors but if it is a wedding or other special event, there is a variety of colors to choose from in today's world of fashion that is acceptable, including light grey, tan, and even white suits. Basically, anything goes in today's fashion world so a man can wear any color he feels the most comfortable in wearing.