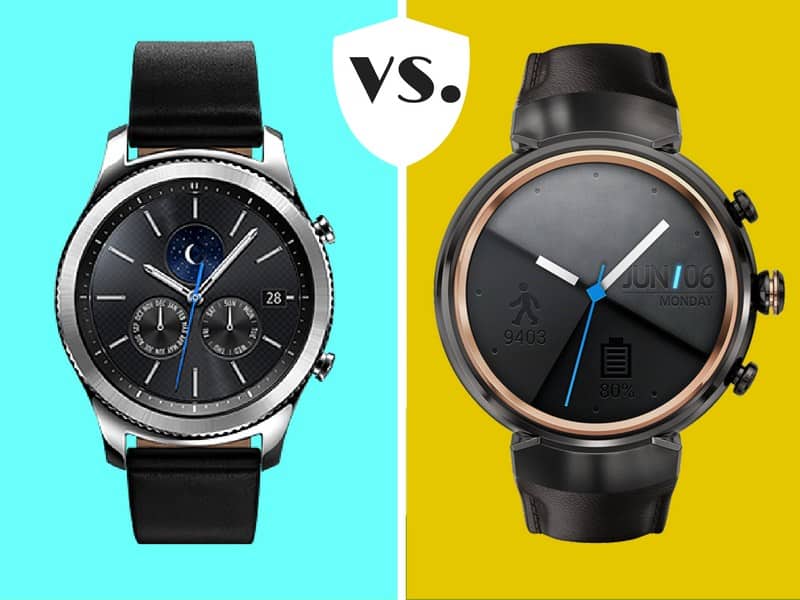 Samsung Gear S3 Classic vs. ASUS ZenWatch 3
As you can see below, I prefer the Samsung Gear S3 Classic watch.
While I like the ZenWatch 3 design, which is definitely more elegant, it's the speed, battery, operating system and user interface of the Gear S3 I like so much.
As a smartwatch (design aside), the Gear S3 is hard to beat. With respect to design, the Gear S3 looks pretty good; it's simple and classic. You can definitely wear it in the office and at formal occasions. However, it's so fabulous that people will be like "dang, I love your watch."
That said, I've not had anyone remark across the room about my ZenWatch 3 either. The only watch I've had people slobber over is my TAG Heuer with blue screen and orange band.
When you do a quick comparison of features and specs, the Gear S3 wins hands-down. We scored it higher than the ZenWatch 3 in every category although design category is debatable.
Here's a quick snapshot of what I like more about the Samsung Gear S3:
Has heart rate monitor and GPS (ZenWatch 3 doesn't);
Faster;
Smoother swipe;
Better app layout in the circular display versus vertical display with ZenWatch 3;
Crisper display; and
Longer battery life per charge.
Here's what I like more about the ZenWatch 3:
Fast charge to 60%: it will charge to 60% in 15 minutes.
Design: this is tough. While I rated Samsung higher in design, there's definitely a more elegant look to the ZenWatch 3.
More apps to choose from: Since ZenWatch uses Android Wear, there are more apps for more functionality.
Google Fit integration: Because Android Wear is a Google product, the excellent Google Fit fitness app works with ZenWatch 3.
While not a wash, each have their benefits.
Video Demos
Samsung Gear S3 Classic
Asus Zenwatch 3
Our ratings