A T-shirt bra lets you hide the fact that you are wearing a bra since it does not show up underneath your clothing. These seamless, one-piece bras provide comfort and lift under any type of top, even thin t-shirts or leotards.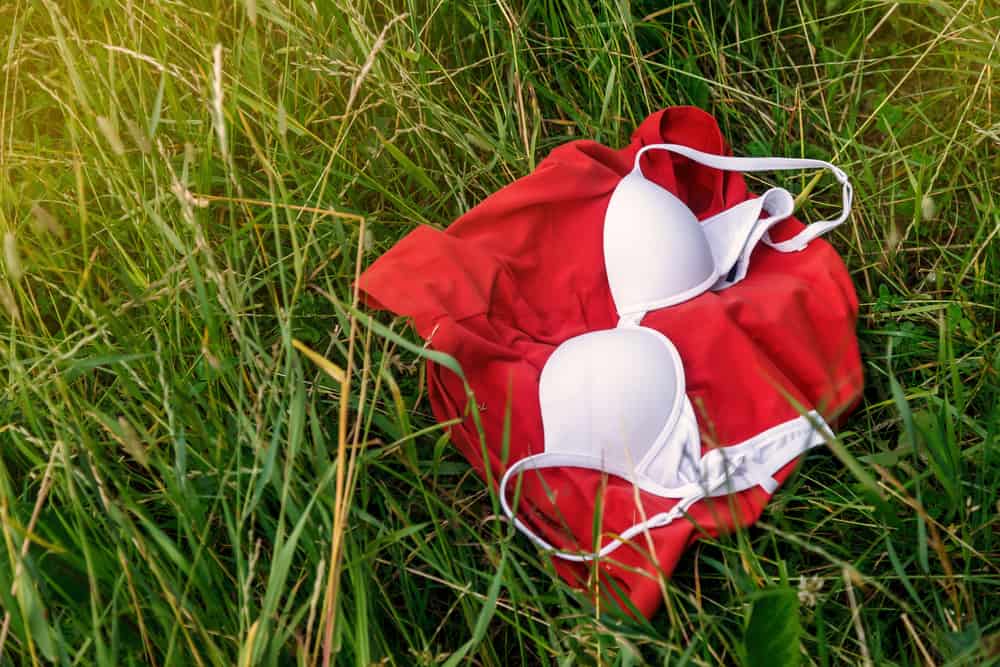 With more than 21 styles of bra on the market today, you might wonder which one to wear. Every bra differs in coverage, straps, cup shape, band, plus materials. Some close in the front, some in the back, and some have no closure. You just pull them on over your head. In fact, you can find variation even with the humble t-shirt bra.
You do not only wear a t-shirt bra, also known as a tee shirt bra, only with t-shirts. It actually works the best of the many bra types for everyday wear, rather like a sturdy athletic bra is a must-have for every active woman.
A t-shirt bra uses a mid- or full-coverage design, no-slip straps, a fitted band, smooth, seamless cups, and a generally comfortable design. T-shirt bras may use an underwire design or no wire. You won't see a t-shirt bra underneath clothes, even thin t-shirts or tank tops, but it provides enough support that you feel comfortable.
This type of bra lets you wear anything and achieve a smooth, no-line silhouette. Think of it as Spanx for your breasts. You will have no visible bra lines wearing this bra. This also gets referred to as a contour bra.
Here's the thing that confuses a lot of people. You can have a T-shirt bra in a balconette bra style or in a demi bra style. You can have a mid-coverage T-shirt bra or a full-coverage T-shirt bra. The thing that makes a T-shirt bra a T-shirt bra hearkens back to its invisibility under a thin top. It can take on any cut of bra, so you could have a push-up T-shirt bra.
This makes things great if you have a scoop neck T-shirt you love and want a great bra to go with it. It also makes it lovely to shop if you have larger breasts and abhor fall out of your bra cups when you bend over because you can buy a T-shirt bra with full coverage, so the material connecting the two bra cups reaches higher.
Table of Contents
A Brief History of the T-shirt Bra
Click image for more info
Although the year blipped past the historians, in the early 2000s, the first T-shirt bras cropped up sometimes referred to as contour bras. It marked the first time bras used a one-piece design with seamless cups.
That's saying a lot since bras evolved from the stróphion worn in ancient Greece and Italy, then the corset in the Middle Ages. The first bra as we know it, or close to it, at least, debuted in 1859 from Henry S. Lesher. His competition, Luman L. Chapman, debuted his design four years later. In 1876, Olivia Flynt produced the first bra made for larger breasted women.
In 1889 French designer Herminie Cadolle improved upon designs by introducing a rubbery thread with give and take called elastic to her bras. In 1893, Marie Tucek patented and introduced to US women what would be the first underwire bra. So, it's saying a lot that no designer used a seamless, one-piece design until the 2000s.
Where to Buy T-Shirt Bras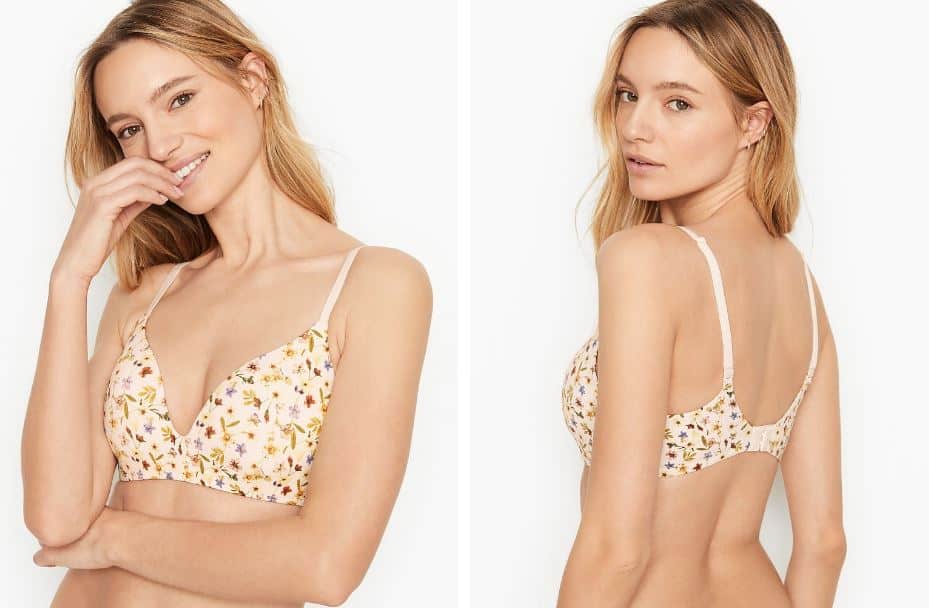 Source: Victoria's Secret
Forget the fancy-schmancy stores like VS until you learn what bras you really need. Once you get fitted properly and you try the different bras out, you can shop the VS sales. Go to your local department store and have a professional bra fitter measure you and calculate your universal size. They can help you learn the 21 types of bras and which would best fit your breasts.
Setting aside a few hours with a few girlfriends to make this a fun shopping day makes it less arduous. You can laugh with each other about all the goofy bras you try on and some will look really silly. You will all find your fit and you should set aside enough money to purchase at least three bras. That means you need to go into the store with about $120 to spend.
A department store selection ensures you can find everything from Playtex to Wonderbra to Vera Wang. You can try different brands and styles and find some bras that fit your breasts, personality, lifestyle, and shoulders. This will save you money in the long run.
Which T-Shirt Bras to Try
A few brands just offer really great T-shirt bras. Calvin Klein and La Perla rank among them. Try Vera Wang and, of course, Wonderbra. Shop by your breast shape. Sure, a balconette might look cool, but it won't be sexy to wear if your breast falls out of it every time you bend over. These options range in cost from about $45 to $150. Try the following out if they would fit your breast shape:
Tess T-Shirt Bra,
Marion Contour Padded Bra,
Matilda Push-Up Bra,
Lynn Y-Back Front Closure Bra,
La Perla Souple Contour Bra,
Cosabella Soire Confidence Demi Bra,
Victoria's Secret Lightly Lined Full-Coverage Convertible Bra,
Only Hearts Second Skins Underwire Bra,
Calvin Klein Perfectly Fit Modern Full Coverage T-Shirt Bra.
Frequently Asked Questions
This massive main category of bras spurs many questions. We'll tackle the most frequently asked ones.
What should you look for in a T-shirt bra?
Since the bra's fit can throw off its seamless, invisible nature under your top or dress, you need a perfectly fitted T-shirt bra. You should only choose a T-shirt bra that exhibits no overflow or cup gape. Look for a manufacturer that also provides half cup size.
Which breast shapes look best in T-shirt bras?
Most breast shapes can easily wear T-shirt bras. The best shapes for wearing a T-shirt bra are the athletic, bell-shaped, and relaxed breasts since this type of bra lifts and shapes the breasts.
What's the difference between a t-shirt bra and a contour bra?
A contour bra is a type of T-shirt bra. A contour bra can have decorations such as lace or eyelet, but a T-shirt bra uses a minimalist design exclusive of these types of decoration. Both bra types use a light lining plus foam padding. Both provide appropriate coverage of the breasts underneath a top so that the lines of the bra do not show.
What does a contour bra do?
A contour bra enhances an individual's breasts but does not add bulk as padded bras do. This type of bra doesn't show under bodycon dresses, leotards, fitted sweaters, sweaterdresses, etc. While an unlined bra can have the same effect, they do not enhance the breasts by creating the illusion of symmetry.
Its light lining also disguises the nipple area, so the individual never appears unseemly. The molded, full padding of a contour cup typically comes as an underwire bra for added support.
Is a T-shirt bra always a contour bra?
A contour bra is a type of T-shirt bra, but not all T-shirt bras are contour bras. A T-shirt bra can come unlined or lined, with underwire or no-wire. A contour bra comes with unremovable, fully padded cups. When you remove a contour bra, it retains the cup shape.
How should a T-shirt bra fit?
The fit of your bra always matters, but it matters most when it comes to T-shirt bras and sports bras. You must have a bra that fits snuggly at the band and that the cups completely hold and contain your breast tissue. You should only be able to fit two fingers between the bra's band and your skin. Do the same test on your straps to ensure proper fit. Any more space than that causes gapping cups.
Should you get a bra fitting appointment?
You can have a perfectly fitted bra! You only need to set an appointment for a bra fitting at a major department store. Now, you might say, Victoria's Secret offers those, but here is why you should skip their fitting and instead, visit Macy's, Foley's, Dillard's, Belk's, Kohl's, etc. A department store uses a universal measuring system to calculate your bra size. It carries multiple designers, so it must use one system that provides a perfect fit regardless of the bra's manufacturer.
When you get fitted at VS or another specialty lingerie store, they fit you for their line. That might not work for other brands. The Internet is chock full of women with complaints about the fittings they received at lingerie stores, then regaling the fit they obtained at the local department store. You just can't beat a fitting from someone with anything to gain from your decision. At a bra fitting, the fitter measures your breasts and torso, including your overbust and underbust.
They use a widely accepted formula to determine your bra size. Finally, they pick out a few bras that you try on to see which manufacturer's fit you best. A proper fit lifts your breasts, shapes them, helps support your upper back, and can lift your shoulders. The bra fitter also discusses your specific needs to help you find the ideal bras of multiple types for your body.
This lets you leave the store with a T-shirt bra, a racerback bra for wearing with tank tops, an athletic bra that keeps your breasts from bouncing when you run or bike, and a strapless or convertible bra that supports you when you wear a sleeveless dress.
What T-shirt bra should you wear with different bra shapes?
Each woman's breast shape differs, as do their situations. You need a bra that fits your breast type and upper torso.
Shallow breasts: Balconette t-shirt bras or demi t-shirt bras make the best choice.
Bottom-heavy breasts: Balconette t-shirt bras or demi t-shirt bras make the best choice.
Large all-over breasts: Full coverage t-shirt bras that completely cover your breasts make the best choice.
Narrow shoulders: Racerback t-shirt bras with a front closure make the best choice.
Limited Mobility: Front closure T-shirt bras make the best choice.
How do you wash a T-shirt bra?
Ideally, bras like being hand washed in cold water. Most modern women haven't time for that hence those nifty mesh bags you see in the grocery stores and pharmacy stores in the laundry aisle. Placing your bras in the mesh bag that zips shut protects them in the washing machine. It keeps the cups from becoming crushed and the hooks and eyes from getting caught on other clothing.
Wash them with mild detergent and no fabric softener. You can dry your bras by laying them flat or hanging them on a hanger from the center gore. Avoid drying them in the dryer when possible since the heat causes the elastic to break down. Tumble dry them if you must.
I just moved out on my own. Why do I care so much about my bras? I can just buy more.
If you just moved out on your own, chances are fairly good that you do not have an accurate idea of what most items cost. The typical woman's bra costs $40 to $50 each. If you wear a hard-to-find size, that can increase to about $100 per bra. If your parents were purchasing them for you, and you are accustomed to wearing a clean bra each day, you can do the math rather easily.
You could spend up to $350 just on bras if you're average size. That's why your mom watches for foundation sales, as they're called. Foundation sales are another name for lingerie sales. Buying cheap, generic bras does not save you money because they typically do not fit. You end up with an ill-fitting bra that hurts to wear, digs into your shoulders, or shows up under your clothes.
If you want matching panties for each bra, prepare to invest another $150 minimum unless you catch a sale. Rather than wasting $500 on underwear every few months, you can buy a mesh bag for $2 and take the time to close each bra by hooking it closed before placing it in the bag. You can spend the $500 on rent!
How do they mold the bra cup?
Manufacturers shape the fabric over a metal breast shape, then apply heat to mold the material to a breast shape without seams. This round shape helps women with asymmetrical breasts achieve a more symmetrical appearance. They can add padding to the smaller breast cup to balance their breasts.
References:
Third Love: So, What Exactly Is a T-Shirt Bra?
Miss Mary: What Difference Between T-shirt Bra, Moulded Cup and Contour Bra?
Parfait Lingerie: What is a T-Shirt Bra?
Clovia: Wondering How's a T-shirt Bra is Different from a Regular Bra? Here's How.
Who What Wear: Which Bras Actually Look Seamless Under a T-Shirt?