Here are 54 of the best online clothing stores for women to satisfy your shopaholic craving at the comfort and safety of your own home and without the hassle of carrying all those shopping bags.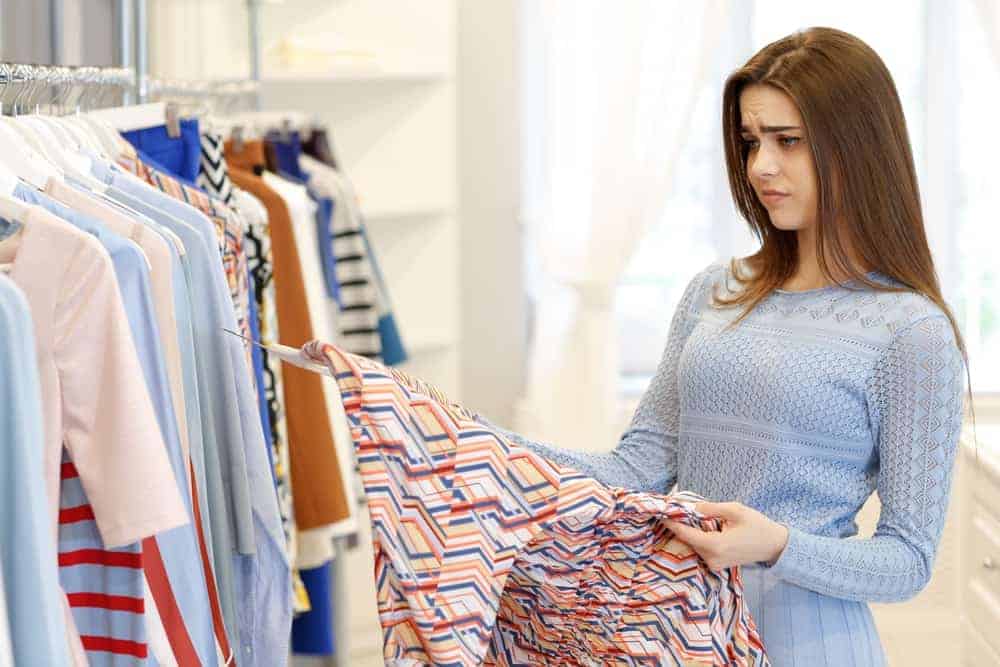 Need clothes? You're in the right place. We've meticulously reviewed and curated this list of womens' clothing websites (online shops) including only those we believe are worth frequenting.  Our list is certainly not exhaustive but it's a darn good start. We include options for all ages, styles, purpose (i.e. formal, casual, athletic, loungewear, etc.) and of course price ranges.
Check out this epic list below.
We put Revolve first because we're big fans even though it's not the cheapest online clothing store out there. What we like about Revolve is that they take great care in the brands and styles they sell.  They curate, if you will so that you can shop there confidently knowing you're going to find some great stuff.
We also love the fact they do offer a lot of clothing and new lines are added frequently.  In other words, for a large online clothing store, Revolve is wicked trendy and is a must-stop store in your pursuit for the perfect wardrobe.
Free People is trendy right now; uber trendy.  While the inventory isn't huge, what they have is cool, stylish, comfortable and high quality.  If you're budget-conscious, check out their sales because you can find some great discounts.  Free People sells apparel from a large variety of fashion designers.  It's a boutique-style site that carefully curates its ever-changing collection.
Anthropologie is also trendy and you can expect quality apparel from them as well.  Hence we list it fairly high up in our list.  We appreciate it's not the cheapest apparel store online (not anywhere close) but it's also not the most expensive (not anywhere close).
Like Free People, Anthropologie veers toward the Bohemian vibe.  One very cool aspect of their website is the photos of their clothing. They put a huge effort into mixing and matching apparel to really show off what they're selling.  It's nearly impossible to go there and not buy an entire outfit or two.
Reformation, aka Ref also has that Bohemian vibe but that's a result of starting out selling vintage clothing in Los Angeles.  Now they design and make their own apparel focusing on cool, comfy and sustainability.  Their factory is in L.A. and is not a sweat factory; they want to provide good working conditions for people while making epic apparel for customers that's not priced beyond the budget of your typical online shopper.  IMO, they've hit their goal very nicely. I love this site.
Ashley Stewart is a plus-sized clothing store that specializes in casual wear to career wear. Their brand is very interactive with customers–they host fashion shows and even sometimes bring on their best customers as models. They carry sizes from 12 to 36. They are one of few retailers who carry sizes this large.
Okay, we're going a bit corporate here with listing Banana Republic but here's the deal with BR… it sells great clothes for the office.  At least I like them and I like the price.  It's good stuff that looks good for good prices. With being a nationwide chain, it's easy to return items locally as well.
Whoa, another corporate listing but again, J.Crew is solid as an apparel retailer, both brick-and-mortar and online.  Sure, it's not cutting edge stuff, but it's nice apparel for a reasonable price.  You can outfit your entire wardrobe at J.Crew if you wanted with their business attire and casual apparel – something for every occasion.
Yes, there is an Eileeen behind the Eileen Fisher brand. Eileen Fisher launched her clothing store in 1984 to solve a style and fit problem she faced.  It wasn't long until she was swamped with orders and was off to the races to what is now 1,100 employees and 65 stores.
Eileen Fisher's focus on sustainable clothing that looks great.  What I love about the clothing is how simple and comfortable it is without being frumpy.  It has an elegant vibe to it but it's pure comfortable and sustainable.  No wonder it's so successful and definitely worth checking out as you hunt for your perfect apparel.
LOFT was launched as an extension of the Ann Taylor brand offering more casual apparel for home and work moderately priced.  Since then, LOFT evolved into its own brand.  You get casual work and everyday clothing for very reasonable prices.
What's the deal with gorman?  It's an Australian company that came to life in 1999 when Lisa Gorman, after sketching her own designs started selling her own collection.  within 4 years Lisa Gorman's apparel as in 55 stores throughout Australia and 15 in Japan.  Since then, Gorman now has its own stores throughout Australia plus, of course, the website from which you can buy the apparel from anywhere.
New York & Company has been around for decades; since 1918 to be exact.  It manufactures and retails its clothing.  It doesn't take long when you visit the site that it sells novel designs having a distinct design to its apparel.  It's colorful for sure and the designs span super casual to more formal for the workplace.  If you want something different, check this apparel site out.
Old Navy has to be included because for the money it's a great clothing store, both locally and online.  If you're on a budget, chances are you shop Old Navy.  The stuff is pretty good for the money.  They have clothing for most occasions including plus-sizes and maternity apparel.
Bebe once upon a time had over 150 physical locations but in 2017 shut them all down and now sells exclusively online.  It doesn't take a genius to know why… the internet has made it very difficult to keep physical stores open.
What type of clothing does Bebe sell?  Well, it's definitely apparel for partying out on the town. If you like form-fitting apparel when you head out, you'll probably like Bebe.  Check out the tops and dresses and it's pretty much all snug apparel.  You can find some things for work but most of it is "going out on the town" apparel.
Mmmmmmhhhhh, I wonder what style Bohemian mama sells?
Bohemian Mama website curates independent bohemian brands that are sustainable.
Curated is not an overstatement.  What I like about this site is that it has very limited options which means it takes great care in what it sells.  I like sites that do that… it helps narrow down options fast.  You either like the style or you don't. If you do, no doubt you'll find something you like.
We have to include Amazon because it sells so much clothing by so many brands.  My beef with Amazon clothing is it's so badly organized.  It's just an endless stream of unorganized clothing. Once in a while I strike gold but usually it's not a great clothing site to seek out some killer apparel.  Heck, if you need white socks, Amazon is your site. If you're looking for great fashion, look elsewhere.
I'm wild about Lululemon, both the website and the stores. I wear a ton of athleisure and loungewear since I work for myself so I can't help but love Lululemon.
Once you buy Lululemon clothing, you will not buy buy athletic wear from anywhere else. For example, for about two years I had a hoodie that was fantastic.  It fit nicely. It looked good.  I wore it all the time.  Then I bought a few Lululemon sweatshirts and hoodies.  The fabric quality alone blew my former fave out of the water. Now I'm spoiled and can barely wear that old hoodie when I can put on the silky smooth, perfectly fitting Lululemon apparel on.
If it's athletic wear you need, Lululemon is the only place to go.
Carbon38 strives to be the ultimate in stylish fashion, yet functional clothing.  Their core is activewear but activewear for everyday life as well as athletics.  Carbon38 has its hand in every online clothing store approach – curate, collaborate and create their own designs. That's cool.  It definitely helps bolster inventory yet stay distinct.
I'm a big fan Dia&Co because they perfectly execute their strategy of selling stylish plus-size clothing.  If you're looking for a great plus-sized apparel website for women, Dia&Co is a must-visit site.  Seriously, the stuff will fit and look great.
Trendy, trendy, trendy.  That's Forever 21's motto. The iconic clothing retailer turns inventory over fast always introducing the latest in fashions for low prices.  If you see something you like, buy it because tomorrow it may be gone.
Did I mention low prices?  Whoa, uber low prices.  For a few hundred you can have bags full of new clothes. That's fun.
Do you know what I love about DKNY?  I love the prices.  DKNY clothing looks great and won't break the bank.  I love how DKNY managed to retain it's stellar reputation as a stylish and trendy fashion brand yet sell at prices that many people can afford.
DKNY's found needs no mention but we'll say it anyway… Donna Karan.  She's well known globally; practically a fashion celebrity.
If you need elegant, comfortable and stylish clothing for work without spending a fortune, DKNY is your site.  But it's not just clothing for the office, there's plenty of casual apparel too.
Timeless fashion is the Talbots mission statement.  It started as a catalog which in many ways is similar to a website… kind of a version 1.0 e-commerce.  The catalog became a sought-after commodity and Talbots became a success.  Now it numbers 500 stores and of course a successful website selling clothes for women for every occasion – work, casual, vacation and more. Lots to choose from. If you like the Talbots style, you're gonna spend some serious time on the site.
Torrid is a great, trendy online clothing store that carries a lot of casual wear and special occasion wear for plus-sized women. They carry from sizes 10 to 30. They also have a good selection of swimwear and licensed character clothing.
Prices are good. Models are real folks. Inventory of clothing is massive – lots to choose from.  Torrid is easily a one-stop-shop for any plus-sized wardrobe.
MANGO sells "Mediterranean" style clothing.
What does that mean?  First, there are a lot of earth colors and tones.  Definitely a Mediterranean color scheme there.
Second, Mediterranean is perhaps another way of saying "bohemian". There's definitely a similarity there.  I mean, check out the dresses as an example.  The overall apparel vibe is on the casual side but it does look good.
Michael Kors is an iconic fashion brand that's gone a smidgen mainstream.  Prices are still up there but not Prada prices.  The apparel for women is definitely on the edgy side.  Style variety is quite good.  Most types of clothing offers something for every occasion.  You either like the style or you don't.  It definitely strives for trendy and edgy which isn't for everyone.
I almost didn't include Zulily because they force you to hand over an email to access the site. I hate that but it's a big brand and a big site in the world of fashion so here you go.
What's the angle? Low prices. That's it. Super low.  It's a huge site. I'm not really a fan but this list needs some budget-friendly online clothing stores so we included it.  In fact, I find the site super annoying to use.
Lane Bryant is a very well-known plus-sized clothing store that specializes in casual wear, activewear, and career wear.  In fact, Lane Bryant is synonymous with "plus-sized" touting itself as the pioneer of plus.  It's probably true since its been around for a whopping 115 years.
They tend to have very high-quality clothing in the size range of 14 to 28. Lane Bryant tends to run really good sales quite often which is handy since their clothing is a bit on the expensive side.
Interesting name for a clothing company, don't you think?
The offerings aren't many. Prices aren't cheap. It's a very street-trendy style. If you like it, you'll love it.  They sell apparel, footwear and accessories.  My favorite offerings by The Kooples are the handbags. They're amazing.
Etsy is an online community of designers and artists that sell handmade items. If you are looking for unique clothing and/or customized clothing, Etsy is a great website. They also have a large selection of vintage clothing. Etsy also happens to be a great source for women's costumes.
Nasty Gal wants to be edgy. Maybe they are edgy.  You decide.  Started by selling eBay, now it carries its own clothing labels with the tagline "for gals who know how to own it, and have the confidence to be themselves."
Nasty Gal is one of the trendiest online clothing stores for women. They have a limited size selection (XXS to XL) but they offer many categories of stylish clothing. They also have a really cool blog called Nasty Galaxy.
If you're rich or have an outrageous clothing budget, FarFetch is your site.  You can spend thousands on one item easily.  For most of us, that's nuts. For a select few, it's just another day at the mall.
FarFetch is a great site to find all of the best fashions from high-end designers. Gucci, Alexander McQueen, Givenchy, Prada, Fendi, Jimmy Choo–they have it all. They even have an app for iPhone users. Their sizes range from XXXS to 3X and they have over 10,000 clothing pieces for sale. That doesn't even include accessories, bags, and shoes.
Hot Topic carries clothing geared towards goth style and punk rock style. They also have a fair amount of pop culture clothing. Their sizes range from XS to 4X.
Garage is an online retailer that sells lots of chic clothing geared toward the younger crowd (based on the models on the site).  It's fun party-wear.  If you're looking for Mom jeans, they offer many.
The clothes they offer are simplistic, but still fashionable. Their size range is limited–they carry juniors sizes XS to XL.
From camo pants for women to formal dresses, Windsor is an eclectic mix of styles of clothing for women.  Overall, prices are pretty reasonable.
Windsor is a clothing company that offers a big selection of prom, evening, and bridal gowns. They also have upscale casual clothing, accessories, and shoes.
Francesca's is a small online boutique clothing store that carries clothing that is soft, feminine, and chic. If their models on the website are anything to go by, they cater to the younger crowd.  While they have a small selection of clothing compared to others on this list, their clothing is trendy and affordable. They carry sizes XS-XL.
Like Old Navy, we'd be remiss if we didn't include the budget-friendly American Eagle clothing store. It's a monster with many stores and no doubt a gazillion in online sales.
American Eagle is an online retailer that sells casual wear that is geared towards a younger crowd. They are an extremely popular company that is known for its high-quality goods.
Pretty Little Thing (PLT) is a party girl apparel site offering catwalk designs for the everyday person at very reasonable prices. That's what they aim to do and IMO, they do a darn good job of it.  It's a fun site too with its own style.
Charlotte Russe is a clothing company that specializes in fashionable casual wear and evening/occasion wear. They have affordable pricing and great quality clothes. Their sizes range from XS to 4X. They also carry great shoes and accessories selections. They also usually have a value-priced section on their website (as if the prices aren't already a value!).
Zaful sells clothing that is designed to appeal to college-age kids. The clothing is simple but stylish, affordable, fun, and flirty. They have a great selection of swimwear and accessories. Their sizes range from S to 5X. They have a 30-day warranty on their products and they offer a student discount.
Fabletics is a company that sells activewear and fitness clothing. Founded by celebrity Kate Hudson, the company's goal was to mix fashion-forward style with work out clothing. They are very popular for their large selection of leggings. Their sizes range from XXS to 3X.
Ulla Popken is a company that aims to target the plus-sized, middle-aged shopper. They have a high-quality selection of contemporary casual, career, and evening wear. One of the standout facts about the company is that they sell clothes up to a size 38, a hard-to-find size. The smallest size they carry is a size 12.
Cato is a very popular women's clothing store that sells upscale-casual and career wear. They also have a great selection of occasion dresses, shoes, and accessories. They have really high-quality clothing that has a superior fit. Their sizes range from 2 to 36W.
Avenue is an online clothing store that sells plus-size clothing. They specialize in sizes 14-32. They are known for the great fit of their clothing for plus-sized women. They carry ready-to-wear, casual, and career outfits and separates. They also have a wide array of outerwear, accessories, and shoes to complete the outfits.
Adorned By Chi is a very unique, feminine, alternative-style clothing line. Think magical creatures meet urban style. They have a very large selection of graphic print tees and sweatshirts. They also have skirts, accessories, and Adorned By Chi comic books.
Venus carries a lot of sexy, feminine, sophisticated clothing for women. It started as a small business run out of a college dorm room and is now a thriving company with hundreds of selections. They specialize in affordable runway looks in the categories of casual wear and career wear, and they carry up to a size 3X.
Fashion Nova is an online women's clothing retailer with a massive selection of clothing. They are geared more towards the younger generation and have multiple categories of clothing from casual to evening wear. In the near future, they will be home to Cardi B's exclusive clothing line. Their clothing ranges from XXS to 3X.
Bluefly specializes in discount luxury clothing and gently used vintage clothing for the family. While the clothing is discounted because they may be from last year's collections, this website still provides a great way to get high-end designer clothing on a budget. They carry sizes XXS to 4X.
Prom Girl, as the name suggests, is a great online source for amazing prom dresses as well as pageant wear. They have a great size selection from XXS to 5X and many color and style choices. They carry some of the most popular evening wear brands like Sherri Hill, Faviana, and Zoey Grey.
Hollister is a casual wear company that focuses on modern young adults. They also have a huge selection of high-quality parkas. Most of their sizing is in juniors, but they carry from size XS to XXL.
Aeropostale is a company that has products that are very similar to American Eagle. Their product offering is just slightly more simplistic but they are also known for high-quality clothing. Their sizes range from XXS to 2X.
Maje Paris is an upscale online boutique that sells high-end, contemporary clothing for women. Fair warning: their clothes are very expensive and they don't usually run too many sales on the good stuff, so if you aren't the type of person who'll spend $300 on a blouse, this may not be the right retailer for you. On the plus side, their clothing quality is amazing and the styles are unique.
Gucci is insanely, stupid expensive.  It's right up there or more than Prada but here's the thing. I don't like Gucci designs much at all.  It's too out there. I know it's trying to justify stratospheric prices with "out-there" one-of-a-kind designs but they're not for me.  If I were to drop $10K on an outfit, my choice is Prada.
I've bought some Prada in my day but not much. I ain't a billionaire.  I have to admit the first time I went into a Prada store even I was surprised how much the stuff cost.   $1,000+ for a shirt is common.  Kinda nuts, right?
But, it is stylish and if you want to be shouting out to the world that you have some bucks, Prada is the brand to buy.  You can buy an entire wardrobe from other lower-priced clothing websites for the price of one Prada shirt.  But if you're earning big bucks or have a bank full of money, why not go all out and buy the most expensive clothes you can.  It's pretty easy to drop $25K on the Prada website if you're not careful.