The future is here with VR. I'm having a lot of fun with VR. Read this in-depth Samsung Gear VR review to learn everything about this VR headset.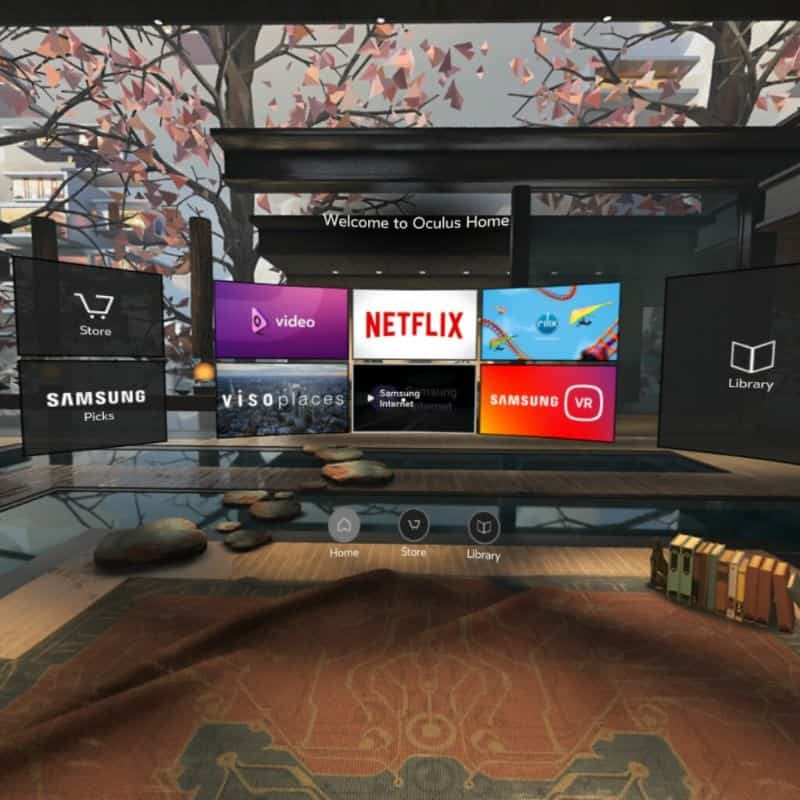 While I'm not a power-gamer and doubt I'll be wearing VR for hours every day, I must say that I'm mightily impressed with VR headsets… the Samsung Gear VR included.
I couldn't wait to get my hands on the Samsung Gear VR.  I'm a Samsung smart products fan, with Galaxy being my first smart phone and a raving fan of the Gear smartwatches.
While Samsung products are largely proprietary (like Apple), this has a big benefit in that their smart products seamlessly integrate well.  This alone of course doesn't make a great experience, but in my view not only is Samsung at the forefront in developing wearable technology, but they put out very good products.
Please keep in mind that the Samsung Gear VR is my first VR headset and so at this point I don't have a great deal to compare it to (but I will as I test more VR).
That said, overall I like the Samsung Gear VR, but it has its problems.  It's not for everyone, but if you're a sound candidate for this product, you'll enjoy it (just be sure to get a bluetooth keyboard and mouse for much more comfortable navigation and/or of course a quality bluetooth gamepad if you're into gaming).
table of contents

Photo Gallery
What you get
It's a simple product.  It comes with the following:
Headset with 2 straps (one for around the back of your head and cross strap over the top)
USB Type-C and Micro USB connectors.
No charger because it runs off your mobile device's battery.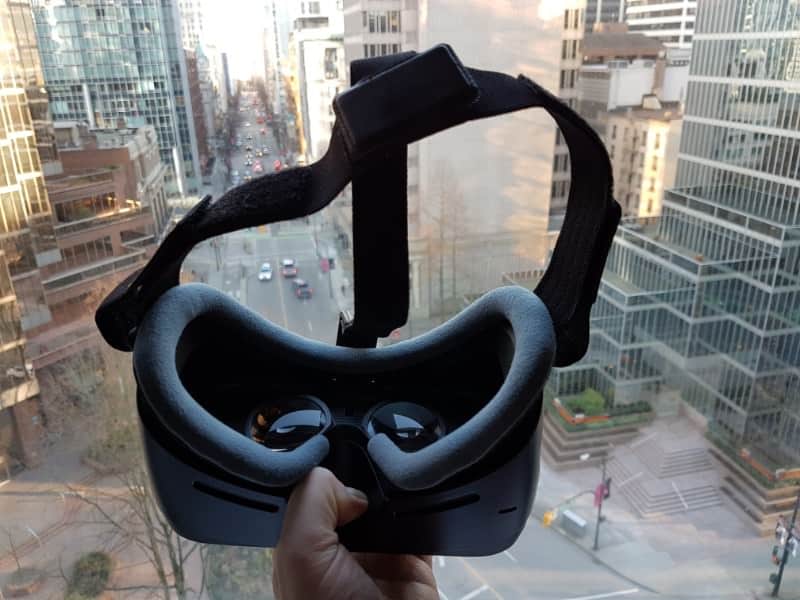 VR Example Video
Here's my screen capture video of the Samsung Gear VR in action:
Setting Up Your Gear VR
Because this was my first VR headset, it took about 30 minutes to figure out how to set it up and get it synced with my Galaxy S7 Edge.  The most confusing part was figuring out that I needed to change the connector to the provided Micro USB device holder.  Out of the box it had the USB Type-C connector.  All it required was to swap the Micro USB with the Type-C connector.
In other words, you only need to use one of the connectors provided.  At first I thought I had to use both somehow.
Check your mobile device to see which you have.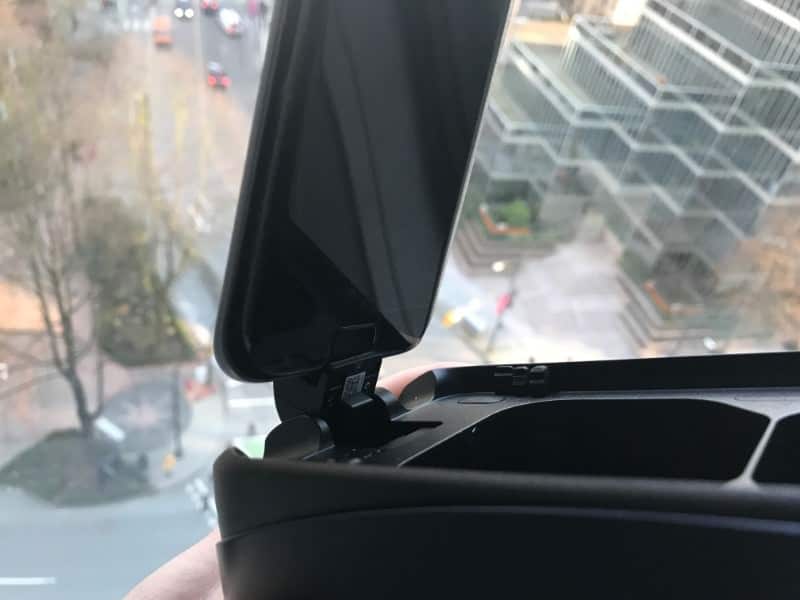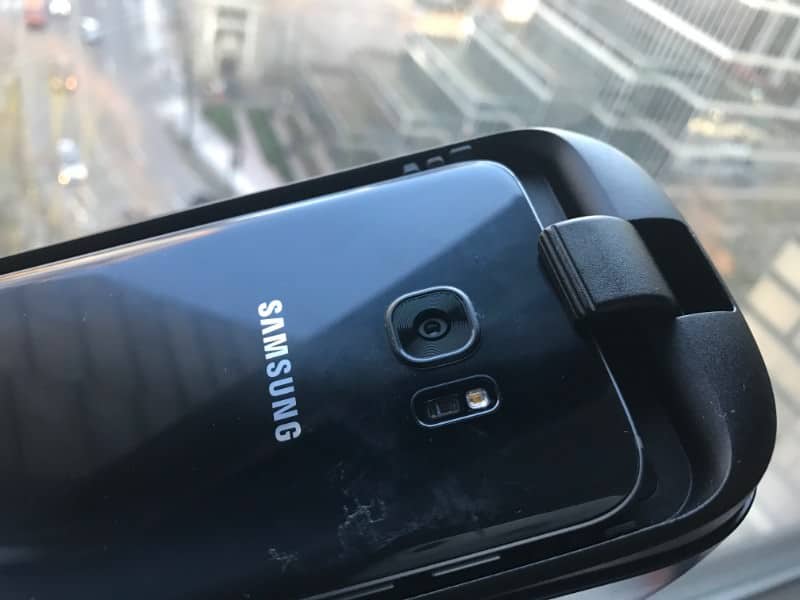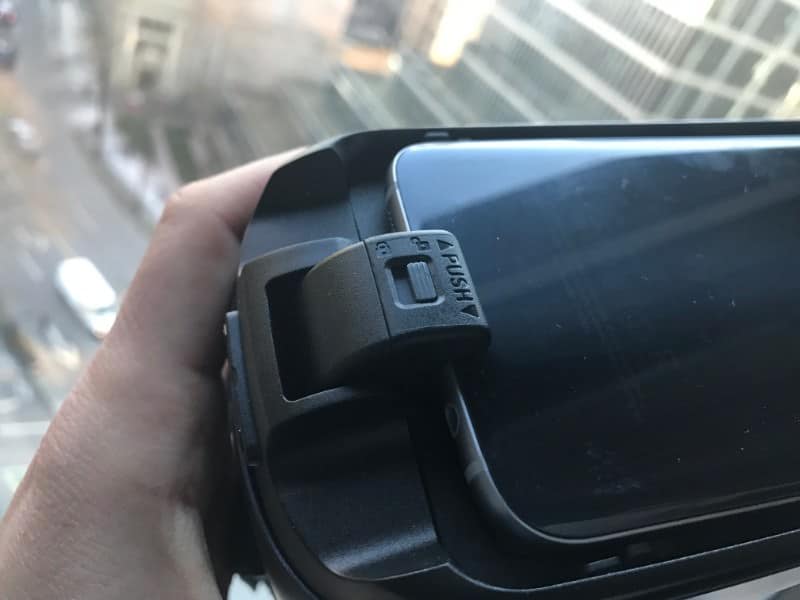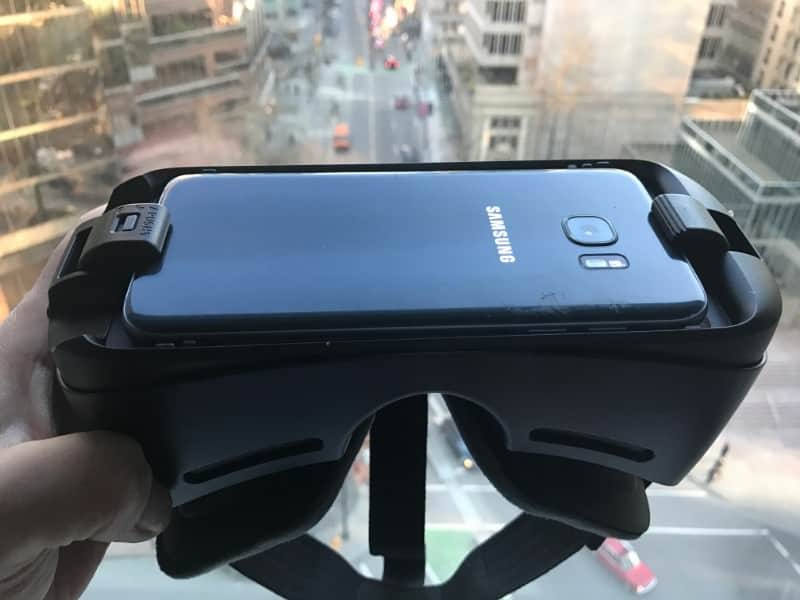 Syncing it to the Mobile Device
Once I had my mobile device properly connected, the syncing process was pretty much automatic.  I already had the Samsung Gear app installed so I just followed the prompts.
If you don't have Samsung Gear app, just install it from Google Play and you'll be good to go.
The Intro Tutorial
I'm too often tempted to skip tutorials, but since I had never used VR before, I hung in there and went through the brief tutorial which stepped me through how to navigate and use the VR.  I'm glad I went through the tutorial because it saved me a lot of trial and error.
The tutorial simply steps you through how to navigate the VR such as your home button, back, swiping sideways and vertical.  It's simple, but it does get tiring if you do a lot of navigating via the headset.  I explain this in more detail under the comfort section below.
Remove your Phone Case
Just so you know, if you have a protective case for your phone, you will need to remove it in order to attach the phone.  I have an otter case which is not the easiest to put on and take off so it's a bit of a hassle.  If I use this VR a lot, I'll invest in a case that's easier to put on and off the phone.
Wireless
One nice feature of Gear VR is that it's wireless.  Your phone plugs into the headset and you're good to go.
However, this is not necessarily better.
If you want VR for gaming via XBox or some other console, you'll want a VR headset that works with that console which likely requires being hard-wired.
I'm not a big gamer preferring watching videos on VR so the wireless aspect of the Gear VR works great for me.
Comfort
There are several aspects to comfort.  They are:
Headset comfort
Arm Comfort
Eye comfort
Stomach comfort
Headset Comfort
I wear glasses and was pleased with how well this headset fit over my glasses.  The only issue I had was taking it off due to the snug fit I prefer.  The bottom of the headset pulls my glasses up… not a huge deal and certainly not a deal breaker.  Otherwise, while using it, I had no problems.
There are 2 straps that are very easy to adjust via velcro.  There's a strap that wraps around the back of your head along with a cross strap that extends over the top of your strap.  The result is a snug, secure fit.
The straps stretch sufficiently to offer decent comfort yet not so stretchy as to be too loose.
The foam that sits on your face is soft and cushy.  It's attached to an according-like hard rubber for additional comfort and a better fit.  That said, if you have a narrow face, this headset may be too large letting in light on the sides.
Arm Comfort
This is my biggest comfort issue, which is easily solved if I buy a bluetooth keyboard and mouse.
While the navigation on the side of the headseat is pretty easy to use, I found my right arm got really tired having to constantly reach up to use the navigation controls on the right side of the headset.
If I use VR often, I will definitely get a bluetooth mouse and keyboard.
DREAM FEATURE:
What I would love to have is the ability to navigate via blinking my eye(s).  The biggest hassle is having to touch the pad every time I want to click into something.  If it could read blinks somehow such as a rapid double blink or one-eyed blink, that would be awesome.
Eye Comfort
Interestingly, my eyes don't get tired using this.  That said, I never used it longer than 40 minutes at a time… which was because I found it impacted my stomach more than anything.
Stomach Effect
Overall, I had no stomach problems using this until I watched a roller coaster video.  This was nuts; it's not scary but it sure did a number to my stomach.  After about 4 minutes, I started having nausea.  I guess the sensation of moving and turning while not actually doing so wreaked havoc on me.
With respect to watching Netflix and using the internet and looking at images, I had no problem whatsoever.
Navigating Virtual Reality
Navigating is pretty easy with this headset.
Here's an image depicting your navigation controls: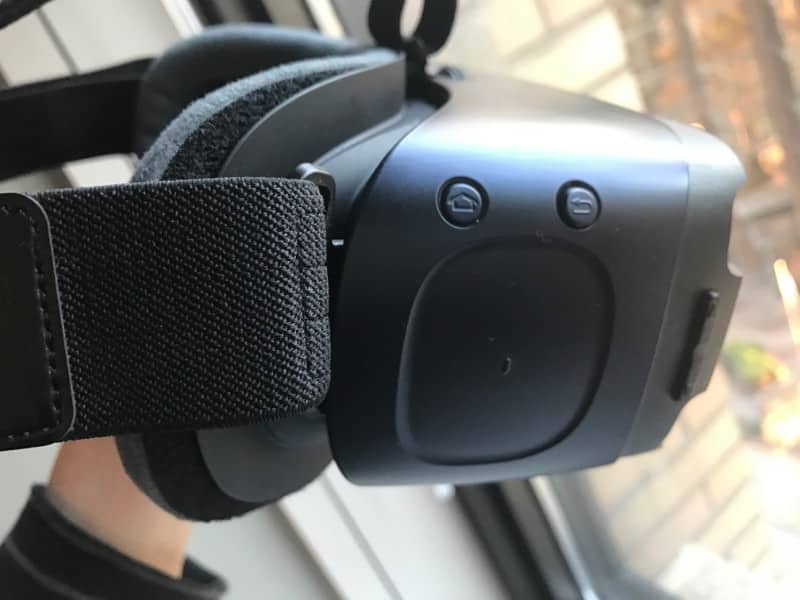 The indented area is the touch pad.  When you tap it, it's like clicking the mouse.  When you swipe, you slide content left/right or up/down.  While plastic, it's pretty sensitive.  I've had no navigation problems.
The biggest issue I had with navigating is my right arm got very tired.  I strongly recommend using a bluetooth mouse and keyboard or of course a gamepad if you primarily play video games.
For instance, inputting text with the headset controls is slow and tedious… while doing so I yearned for a keyboard.
Here are the volume controls:
Navigation Speed
I found the headset controls to be very responsive.  The swipe pad worked very well and is fast.  Clicking an item by tapping the touchpad on the side of the VR was very responsive.  It only required a light touch.
Overall, I have no complaints about the quality of the navigation controls on the headset… it's just a bit cumbersome.
Does the Screen Move When You Do?
Suppose you're watching a video and then you lie down.  You're now looking upward in VR.  The question arises, does your video monitor move with you?
The answer is yes and no.  No, in that it doesn't automatically follow your gaze.
Yes, in that you simply tap the touch pad and the video screen (or internet browser or whatever application you're using/watching) will move into your viewport.
Watching Videos
Watching videos I created with my Samsung phone were amazing.  They were crisp and big.  It was an amazing experience watching short videos of my kids.
Other videos provided by Samsung/Oculus were also amazing.  Crisp and large.
It's like being in a movie theater.
But, watching Netflix wasn't so great.
Watching Netflix on VR
There aren't a ton of apps to install for VR yet, but at least Netflix is available.
The Netflix environment is pretty cool.  It's like being in a movie theater, but, the video quality is less than perfect.  It's too grainy.  The quality is better on the phone and tablet.
However, I'm kinda forgiving when it comes to grainy and can overlook that.  All-in-all I'd rather a bigger picture that's a bit grainy than watching on my phone.
This means VR is a great way to watch Netflix in bed because you don't have to worry about standing up your phone or tablet while horizontal.
Apps and Games
Currently, app and game selection is pretty weak.
The plus side is the Gear VR offers the full Oculus store which gets you access to Oculus offerings.  Nevertheless the options are slim, but I'm sure offerings will expand very, very quickly.
Not only is selection limited, but many apps cost money… $4.99 to $9.99.  When you set up your VR, you have the option to input an Oculus payment method which I think may be dangerous… you can spend a fortune pretty quickly.
If you're a gamer, you will definitely need to get a bluetooth gamepad that works with Gear VR.
App Storage
The apps are massive… much larger than regular mobile apps.  I'm talking 30, 40 or 100+ MB which take a long time to install and will take up a lot of storage space.
I bought a 128 GB SD card which gives me plenty of space, but if you don't have additional storage, VR will max it out quickly.
App Availability
One of a few complaints I have is that I wasn't able to access all the apps on my mobile device.  Specifically, Gmail, Calendar and others.  It would be super cool to access my apps via VR.
However, because Samsung provides a VR internet browser, you can access a great deal of functionality on the internet.  You can log into your Gmail account, calendar, Google docs and whatever cloud apps you use.
Surfing the Web on VR
I must say reading the internet on VR is pretty cool.
Navigating the internet with the headset controls is pretty easy with voice recognition.  However, if you wish to do a lot of typing, you will definitely want to connect a bluetooth keyboard and mouse.  For general surfing, voice recognition works pretty well.
It's easy to create bookmarks so you can quickly visit your favorite websites which speeds up internet surfing considerably.
Your Phone: Can You Chat?
Unfortunately you can't answer or make calls while using VR.
The best you get is a notification of the call, email or text message.  If you wish to answer an incoming call, you must remove your phone from the headset.
Yes, you can turn off all notifications in the Settings menu.
The Settings Menu
To access the settings menu, simply push down the "back" button for about 3 seconds.
Within the Settings menu, you can control the following:
Sound;
Brightness;
Reorient;
Access Utilities where you can choose to see-through, take a screenshot image and/or make a screen capture video.
Control your notifications.
​
Sound
You definitely want to get some decent bluetooth headphones for your mobile device.
What's the point of playing some epic game immersed in virtual reality only to have the sound be terrible from your mobile device phone.
There are many options for decent headphones.  I like Beats Solo 2, but anything, whether bluetooth or hard-wired into your mobile device will dramatically improve the sound quality.
The headset has built in volume control options.  Here's a screenshot of the volume buttons:
Impact on Battery
This is one of the biggest problems with VR.
40 minutes of use drained 30 to 40% of my phone's battery. It's a resource hog.
Just keep this in mind and plan accordingly such as having your phone plugged into its charger while using VR or having time afterward to charge your phone.
Can you do work on VR?
Specifically, can you write, do emails
Yes you can if you have a bluetooth keyboard and mouse.  Forget about it without these 2 must-have tools.
But, assuming you have a bluetooth keyboard and mouse, you can easily use Google documents, email and pretty much anything you can access via the internet because the Samsung browser is available.
I have a hunch that in time, much, much more functionality will be available via VR such as Skype, messaging and more.
The Question is: Do you want to do work on VR?
While it's a cool experience, you won't be more efficient, at least I wasn't.  Therefore, the practicality of working on VR isn't very good.
That said, there may well be a time in the not-so-distant future where VR will be far more efficient than working on a desktop or laptop.
Nevertheless, with bluetooth keyboard and mouse, it's far more efficient to work on VR than your phone.  What this means is that if you only have a phone with you and your VR headset, you are better off working on VR than on your phone.
This actually makes working in a coffee shop or the beach a pretty viable option although you might look like an idiot in the coffee shop.
Pros & Cons
Pros
Fits well (even with spectacles)
Easy to set up
Access to Oculus Store
Better Netflix/Video experience
Easy navigation (but get tired arm)
Fully immersive: well designed and does block out most of the light.  All-in-all a quality VR headset.
Cons
Netflix grainy (this will hopefully be improved in short order… it's a Netflix issue since it's via the Netflix VR app.
Drains your phone battery fast.
VR apps take up a lot of memory space on your phone.
Limited number of apps.  For instance, you can't currently access all apps on your mobile device such as Gmail.
You must remove your phone protector case in order to attach to VR headset.
Get a tired right arm navigating the screens.
Who Should Buy the Samsung Gear VR?
At this early stage, VR isn't for everyone.  Here's who I think can really benefit from it:
Gamers.
People curious to try VR.  This is only $100 or so, which means it's not a mega investment to try something pretty cool.
With bluetooth keyboard and mouse it's far more efficient to do work-related tasks on VR than on a mobile phone.  If you're someone who travels a lot and doesn't want to bring a laptop, this could be a very good solution.  In fact, if all you have is a laptop, you may be more efficient working on VR than the laptop.
Have Netflix but not a TV.  You just might prefer watching Netflix on VR than your mobile phone or tablet.  It's particularly good for watching in bed or lying down anywhere (including sitting on the beach).
Overall Experience
I doubt I'll be a VR power-user, but I totally get its utility and usefulness for specific people.
I'm not a big gamer and I typically restrict my work in my office where I have 2 monitors set up with my laptop.
That said, it's fun and it is very, very cool.  When Netflix display quality improves, I'll definitely use it for watching Netflix movies/TV shows.
Overall, it's easier to use than I expected.
The visual environment is amazing.  I was very, very impressed for the second it kicked into gear.
While I won't be a power user today, I think there's massive potential with VR and it will get to the point where it may well be more efficient to use for work and offer so much and become so comfortable that I'll spend hours per day with my goofy VR headset on.
I just don't think I'm gonna be that guy with VR on in the local coffee shop quite yet.