Tulle skirts are one of those clothes that instantly adds a bit of drama and flair to your outfit of the day, so let us take a close look and learn how to properly wear them including what to wear underneath.
'A tulle skirt is always a good idea,' says Bliss Tulle, a handmade skirt company, and I couldn't agree more. If your look is craving 'a poof,' then the tulle skirt is for you! There are so many ways to style them – what do you wear underneath, and how do you wear it? All the answers to your questions are right here:
You can wear a tulle skirt underneath almost any item of clothing due to its versatility, including different styles of shorts, skirts, pants, dresses, bikinis, or swimsuits. Whatever you choose to wear underneath your tulle skirt depends on the season, the occasion, and the look you want to create.
There is a reason that this skirt has become one of the most popular items on the runway today. Not just for ballerinas, but fashionistas like you and me as well! I Now it's time to bring runway style straight to your closet because here's what you NEED to know about how to the tulle skirt and what to wear underneath them:
Table of Contents
What is a Tulle Skirt?
Tulle skirts, firstly, what is tulle? Tulle (pronounced like the word 'tool') is a lightweight fabric that is sheer and has fine netting. Tulle is typically made from fibers like rayon, silk, nylon, and polyester. The material is an absolute designer's dream which inspired the tulle skirt creation, but we'll look further into this later.
The material itself is so versatile; when you're craving a bit of volume or looking for a new skirt to add that 'POP' to any occasion, a tulle skirt is a perfect fit for you! This skirt's endless options include popular and trending styles like A-line, bubble, mini, maxi, asymmetrical, and tutu. There are so many reasons for you to become a tulle skirt owner!
How Can You Style A Tulle Skirt?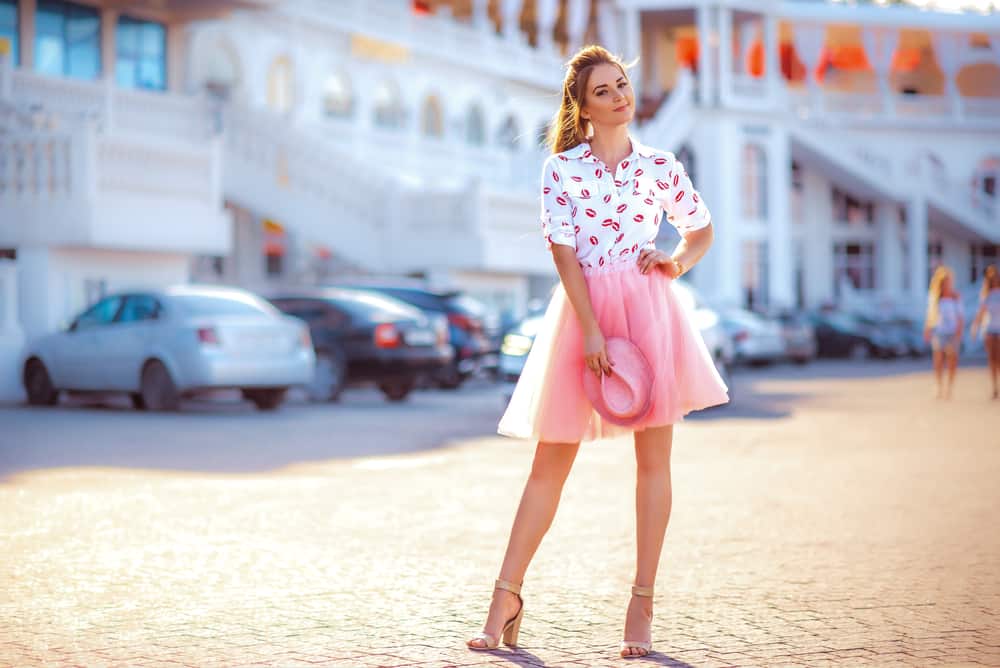 Are you attending a meeting, going on a date, or purchasing groceries at your favorite local market? The tulle skirt has got you covered! In addition to their beautiful look, tulle skirts are also famous for their ability to be worn with anything, on any occasion and at any time. It can be overwhelming to know how to style your tulle skirt and what to wear underneath them because the options are endless. Don't worry, think of this article as your fashion fairy godmother because we have all the answers, so keep reading to discover more about this amazing fashion piece.
So 'biddidi bobbidi boo' these are seven different ways how to style and what to wear under your tulle skirt for you:
If your tulle skirt does not already have an underskirt sown underneath it, this is the perfect look! A color-coordinating silk underskirt or slip skirt to your desired length, paired with a denim blouse tied into a waist-fitting knot and your favorite sneakers, is truly a timeless classic.
We've got festival rocker chic vibes! This summer outfit features a black tulle maxi skirt with denim shorts (in any color you want), sneakers or combat boots, and a baseball cap.
Click image for more info
In today's fashion world, open slit skirts are the hottest item, and when worn with a tulle skirt, you will surely turn heads. The combination of the lace top, high heels, or an open-toe sandal, paired with slicked-back hair and nude makeup, is simple yet stunning!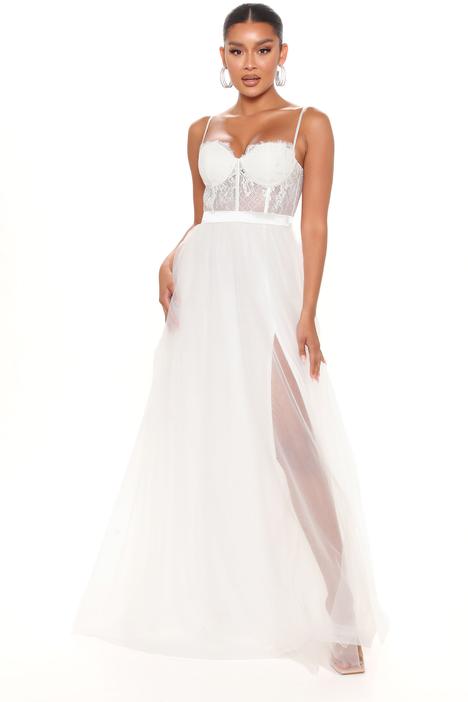 Source: Fashion Nova
The infamous 'little black dress,' I'm sure we've all heard at least once in our lives the golden fashion rule: 'we all need at least one in our closet.' Add a stylish front-open tulle skirt on top and spice it up with a different color for a POP; complete the look with a sleek black heel.
Click image for more info
When you have a tulle skirt with a pattern, add a color-enhancing skirt underneath to make it stand out. Since the netting is so fine, people see that the pattern often gets lost. Do not let this happen to you! The midi skirt does the trick; add a sweater and a pair of boots, and you have a perfect fall look.
Source: Etsy
During the colder months, longer clothes can get boring, but a tulle skirt can make things exciting again! If you put on your favorite pants or tights, a bright tulle skirt, a warm sweater, and closed shoes, you will have a super stylish winter outfit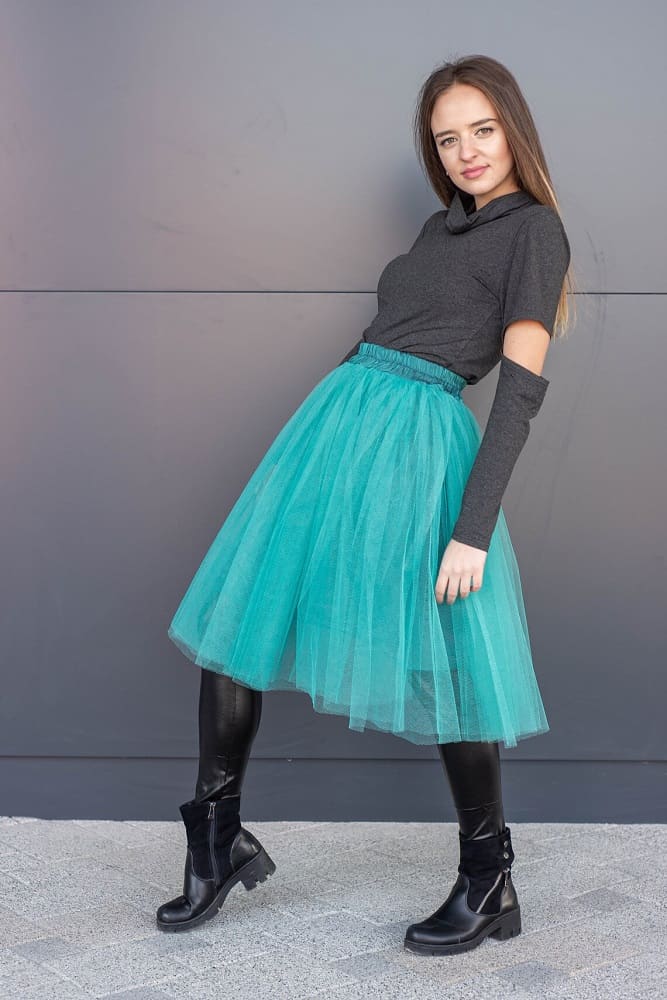 Source: Etsy
Looking for your perfect coverup to wear with your bikini or swimsuit this summer? Look no further than a tulle skirt! It's not just stylish; it's lightweight, easy to carry when you're going from place to place, and keeps you cool during those warm sunny days.
Click image for more info
What Are Pros And Cons Of Tulle Skirts?
Pros:
Tulle skirts do not weigh much which makes them a great option for traveling. No extra baggage fees!
The options to wear underneath tulle skirts are endless.
You can layer your tulle skirts up with any fashion items you like.
They are one of the few fashion items that do not crease. No ironing is need, YAY!
Tulle skirts add a VA VA VOOM to any outfit.
Tulle can easily be dyed into any of your desired colors.
If you wear tulle skirts, you know just how comfortable they are.
Cons:
The material is delicate, so you need to be extra careful with it, so if you're running late, you might want to rethink throwing this quickly on.
Tulle material picks up hair, string, and lint, which is a nightmare to find and remove, especially if the skirt has many layers and you are an owner to a pet with hair.
If your tulle skirt accidentally catches on something like a chair or door, it can rip very easily.
They can be difficult to clean, especially if you have a long white skirt that touches the floor when you walk.
Tulle Skirts: The History Behind Them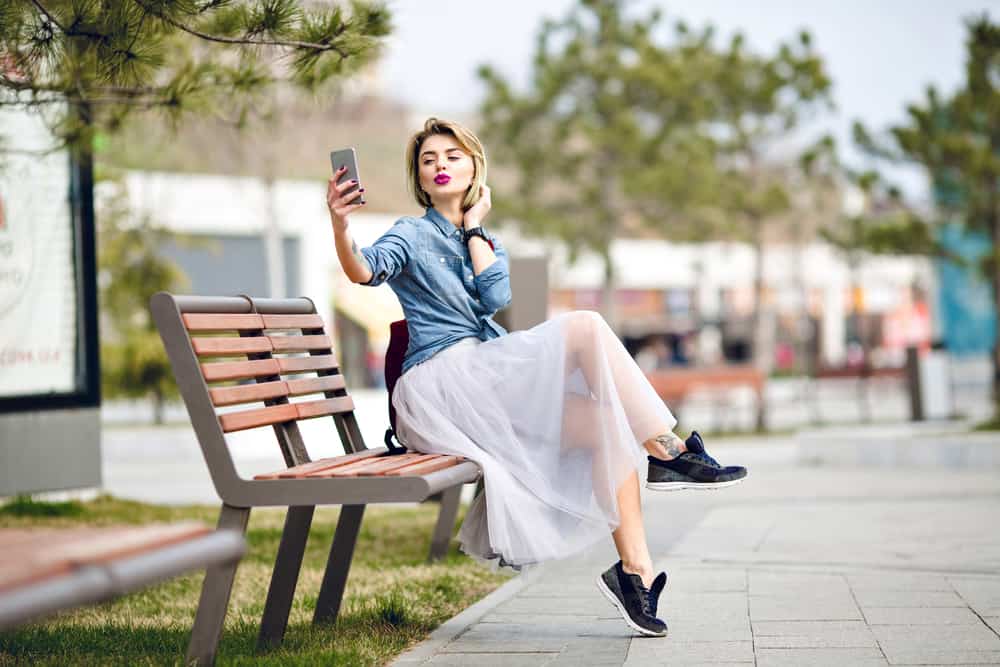 Did you know that tulle is a town in France? Tulle is the birthplace of the fabric, and that explains how its name was formed—dating back to France in the 1700s. So, 'merci' to the French for giving us the great tulle skirt!
As early as the 1800s, tulle started to appear in wedding and evening gowns worldwide. Till this very day, tulle is a staple of weddings everywhere. Swedish Italian dancer Marie Taglioni captivated people to the tulle skirt when she was seen wearing the first-ever tutu created by designer Eugène Lami in 1832, and now the rest is history.
In 1954 Grace Kelly rocked an amazing voluminous tulle skirt in the movie 'Rear Window.' She showed the mainstream culture how it could give a woman the illusion of a small waist and large bust area. Tulle skirts became a staple throughout the 1900s, and different variations started appearing everywhere. I also can't forget the 1980s tulle skirt worn by Madonna in the 'Like a Virgin' music video or the 'Who's That Girl' movie iconic tutu and polka dot tights look!
The 21st century has taken tulle and made it their very own; from Kendall Jenner's high fashion looks to local street style, you can't seem to miss it! There are constantly new variations and ways to style them. The tulle skirt gets bigger (in size and popularity) every season, so keep rocking the look in new ways!
FAQs
What can I wear underneath my tulle skirt to look less childish?
The beauty of the tulle skirt is that it is loved by all generations, which makes it not just for children. It is all about what you wear underneath the tulle skirt that compliments and radiates mature energy. You can wear a tulle skirt with black-colored pantyhose, fishnet stocking, denim skirt, or leather pants.
What can I wear underneath my tulle skirt to a wedding?
One of every woman's worst nightmares as a wedding guest is to look like the bride. Luckily, this isn't the case with tulle skirts if they have been styled correctly. If you plan to wear a tulle skirt, avoid looking similar to a bride-style silhouette; also, a good idea would be to wear darker pants or tights because you should NEVER wear white! Wedding bells are ringing, and tulle skirts are appearing.
Are separate clothing items underneath my tulle skirt necessary?
If your slip skirt is not see-through or already has another clothing item sewn into it, then no. However, it is necessary because your underclothing items add that extra bit of style!
Where can I find tulle skirts and underneath clothing items to match?
Here are places to get tulle skirts and underneath clothing items to pair with, all at different price points and online for your convenience.
Amazon
Etsy
Walmart
Posh Mark (where you can even find the brand Bliss Tulle)
Alexander Mcqueen
Boohoo
Fashion Nova
Dior
Fellow fashion lovers, it's time to go and get styling your tulle skirts!