Fashion is a fluid and ever-changing entity and trends come and go but some are classic with just the right pairing like jean skirts so examine with us if jean skirts are now out of style.
The iconic jean skirt (also known as a denim skirt), I'm sure we have all owned at least one in our lifetime! Some of us still maybe even have some hiding at the back of our closets. Whatever is the case, I'm sure you're wondering, is it worth bringing them back out this season, or are they just something we remember from the past?
Jean skirts are undoubtedly in style and are a mainstay of mainstream culture. They have been popular every decade since their invention in 1970. Today, their legacy lives on as various creations continue to be made by the top designers; from celebrities to fashion articles, they are everywhere.
It is also evident on social media and present-day runways that we are currently experiencing a 1970s revival. Designers have been inspired to go with the trend and put their special touch on this 70s invention by creating new modern-day looks. Get ready because this article is about to get groovy!
Perfect for any season, occasion, and outfit, my fellow fashionistas will have no problem relating to how versatile they are. I suggest you continue reading and scrolling on because jean skirts are all the rage. You do not want to miss out; here's everything you NEED to know:
Table of Contents
What is the history behind the jean skirt?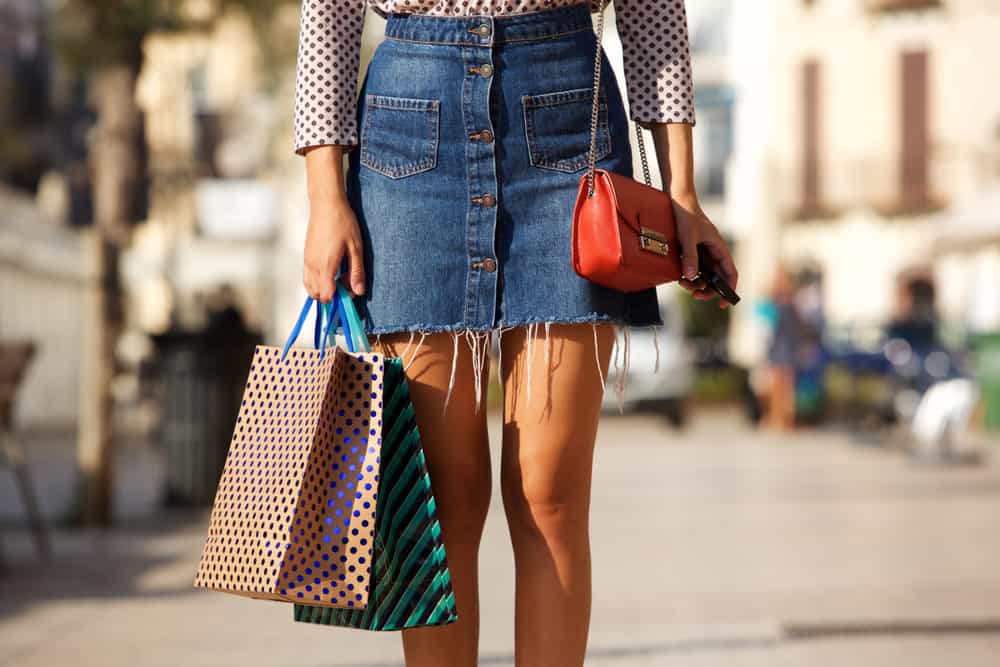 Thank you, hippies! They gave us these 'radical' creations of long patchwork jean skirts by repurposing their old denim jeans. 1970 was a huge year for a fashion evolution with jean skirts; they hit it off and became all over mainstream culture from there, history was made, and different styles were coming out left, right, and center. Getting rid of used denim jeans is so overrated!
Big hair, acid wash jean mini-skirts, oversized denim jackets, and leg warmers, it's amazing to see how the 1980s made the 70s jean skirt trend their own. The hemline got shorter and different variations were making a splash in the fashion scene. From bubble jean skirts to high-waisted styles, they were seen everywhere.
The popularity continued into the 90s, with jean skirts being seen on high fashion runways to the red carpets and even over pants; at this point, if you had never heard of them, you surely were living under a rock! The 2000s saw more variations than ever before; maxi skirt, front slit, embellishments, pairing UGGs, and overalls versions were just a few of the trends of the jean skirt mentioned that made a BOOM in pop culture.
Jean skirts have had their moment in every decade since they started. Has this continued, you may ask? The answer is yes, yes, and more yes! They are one of the very few items in the fashion world that have accomplished this. From 2010 until today, they are still a staple that we cannot live without in our closets. Beyonce, Kylie Jenner, and Kim Kardashian are some of the A-listers sporting the look.
At this point, I feel like jean skirts deserve their award for standing the test of time; long live the jean skirt!
What Are The Different Types Of Jean Skirts?
Short, long, colorful oh it may seem that the options are endless! With every decade introducing a new variation of the jean skirt, you may wonder which styles are still relevant today? We have five styles that are extremely popular today, from one jean skirt lover to another:
A-line
Click image for more info
Pencil skirt
Click image for more info
Button front skirt
Click image for more info
Overall Skirt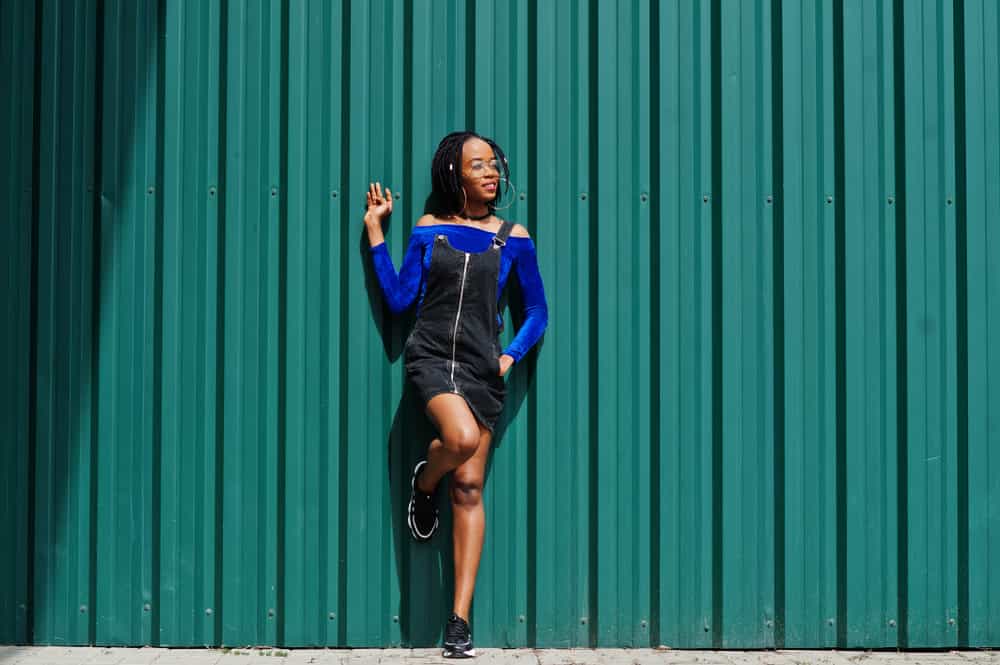 Midi Skirt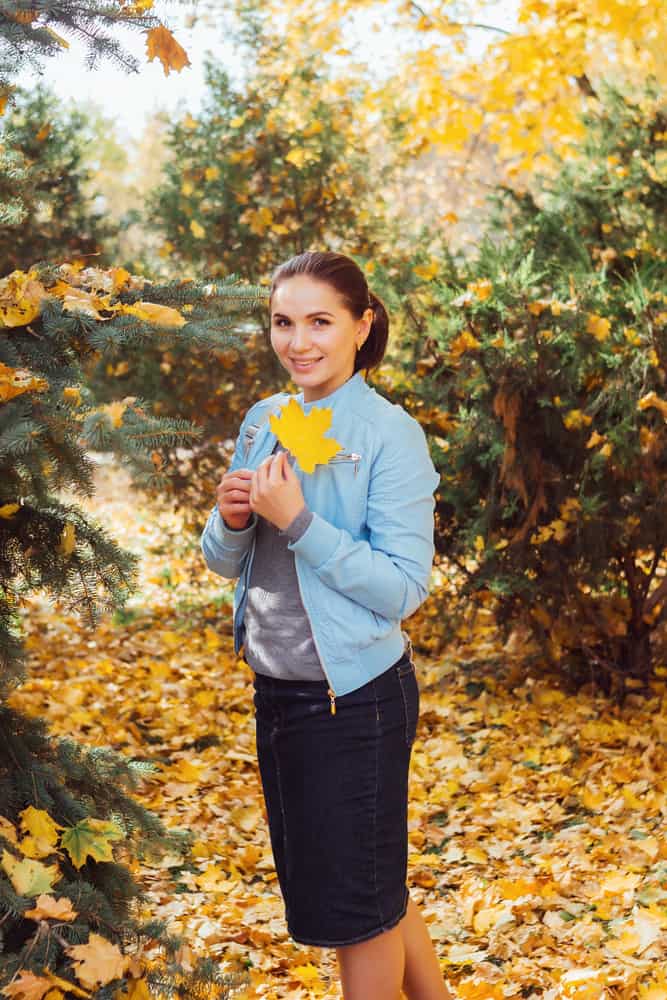 How Can You Style A Jean Skirt?
In light of knowing what types of denim skirts are popular today, here is your guide on wearing them. Its versatility is the beauty of the jean skirt, so feel free to adjust it to your perfect style. Get styling because here are fives ways for you to wear your denim skirt:
Denim mini skirt, leather belt, and jacket add a bit of rock-chic classic to your look. This outfit can be adjusted to fall or winter by adding leggings or tights, but it is perfect for springtime, so you don't have to worry about getting too hot from the leather.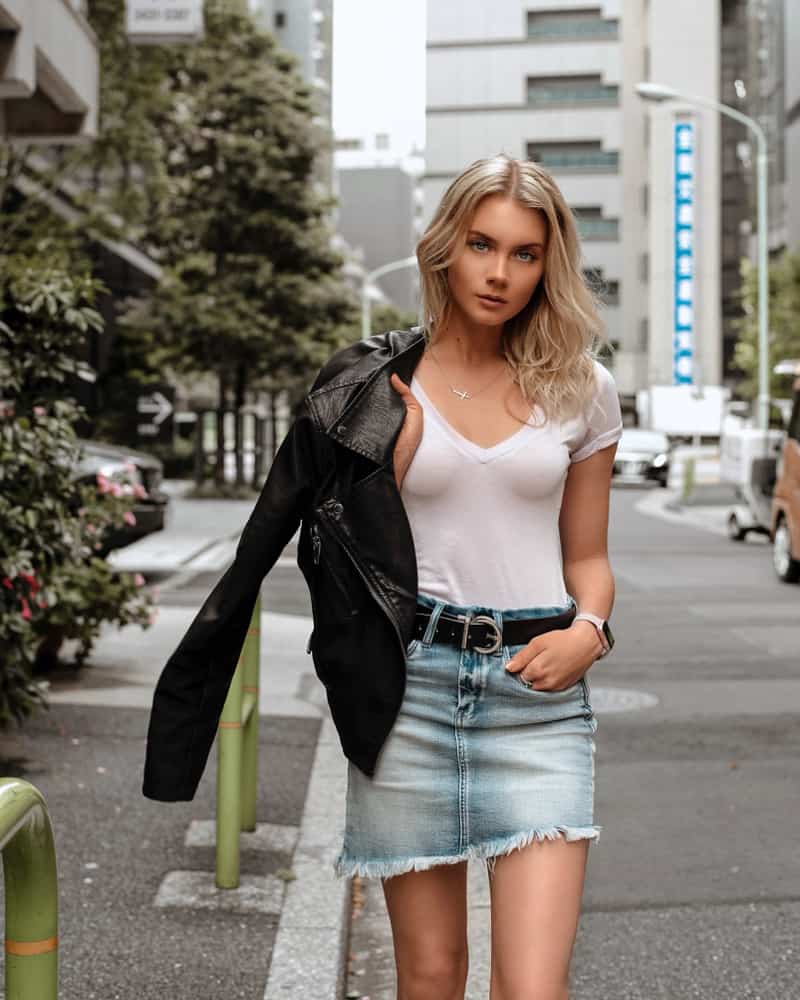 Going shopping or need to attend that important meeting? A simple high neck white laced top paired with an A-line jean skirt and heels of your choice is the way to go.
Click image for more info
A high-waisted solid button-up skirt (your choice of how many buttons you want done), a classic white blouse with your favorite color-coordinating shoes, and a handbag simple yet classy, this look will surely turn heads.
Click image for more info
Denim on denim; who doesn't just go crazy for this look? The different colored acid wash styles can be paired with white cowboy boots or heels, and don't forget your favorite accessories.
The crisp air of fall needs you in this look! Any hat of your choice, light/black torn jean mini-skirt, mesh long-sleeved floral top, and boots are the perfect way of spicing the season up.
What Are The Pros and Cons of Jean Skirts?
Pros:
Denim skirts can be adjusted to fit any season or occasion perfectly.
They have an endless variety of colors and styles to suit your desired look.
Jean skirts are one of the few items in your closet that can match just about anything.
Can be highly affordable (depending on the shop/brand)
They are known for how comfortable they are (make sure you choose the right fit, keep scrolling for tips!)
Cons:
Jean skirts can be unflattering on some body types.
Mature ladies often believe that it is not age-appropriate.
Overtime denim is known to fade.
Jean Skirts: Frequently Asked Questions (FAQs)
How can I prevent my denim skirt from fading?
Is there a magic fix? Unfortunately, not.
But shhh… We have a little cheat for you. Wash them less! Yes, you read that right; not only will you have less laundry to worry about, but they fade less too. What's not to love about jean skirts? Experts suggest washing them every four to five times that you wear them. Hanging them up and airing them out is recommended between washes. Skip the dryer and wash your skirt in cold water rather than hot, now go ahead and outlive your jean skirt expiration date.
How can I wear a jean skirt at an older age, and will it be appropriate?
As the saying goes, age is just a number! The ways to style a jean skirt that we mentioned above are a great way to guide you to style yours. So, a jean mini-skirt might not be your favorite for a corporate event or a day out; whatever the case is, there are various styles to choose from there is no reason for you not to be wearing one. Now go and rock your jean skirt!
Will jean skirts suit my body type?
Just like the jean skirt, we all come in different shapes and sizes. Some areas we love to accentuate on our bodies and others not so much. For you to find the perfect jean skirt based on your body type, you should follow this checklist:
Can I bend over without worrying that anything I don't want to see will show?
Does the tone match my desired look?
Am I happy with where the skirt sits on my waist? Is it too high or too low for me?
Is the denim too heavy for me?
Where can I buy a jean skirt?
Here is a range of stores for you to choose from, all at different price points to suit your budget. May your carts be full of denim skirts, happy shopping!
Boden
Amazon
Fashion Nova
Nobody Denim
American Apparel
Good American
Zara
Forever 21
Alexander Wang
Lulus
How much do denim skirts cost?
Generally, jean skirts cost anywhere from $4,50 – $1300. Make sure you choose and buy your skirt from a place and brand that meet your budget requirements.
Is it difficult to walk in long denim skirts?
I think we've all been there, where we buy the most beautiful long skirt, and then we can barely even move in them; it is almost like our legs and bodies are dying to break free. To avoid this, try to go for a material that has stretch and maybe even a slit.
Many ladies say they suffer the most with the mermaid fit, but their suggestion is to take smaller steps, even if it means you need to look like you're in a movie, put a book on your head, and walk around your room. Practice is key!
The jean skirt is here to stay and to take your breath away!