If you are ever thinking of wearing your cute skirt to a job interview, here's a close look at the categories to consider like length, style, fabric, color and embellishments.
Just entering the business world and wondering what counts as a business casual dress code? Or perhaps you've just been working from home for over a year and have forgotten what is appropriate in the office anymore! Particularly when it comes to skirts, length and fit can play such an essential role in whether they are deemed appropriate in the workplace, so we've got all your questions and concerns around this covered.
There is no black or white answer as to whether skirts are business casual or not. They can be if they are of a certain appropriate length, fit, and style, and they can also not be. Pencil skirts that are knee-length or split at the knee or below and in which you can comfortably sit in public are generally deemed business casual and appropriate for the workplace.
This, like fashion in general, can leave a lot open to interpretation, personal style, and individual preferences. We'll guide you in navigating this to help you avoid any fashion faux pas with your colleagues.
Table of Contents
Are skirts business casual?
Yes, they can be. The more pertinent question to ask is which skirts are business casual? This is more complicated to answer. There are a number of elements to the skirt that need to be right in order for it to pass as business casual. We'll have a look at each of these individually.
Length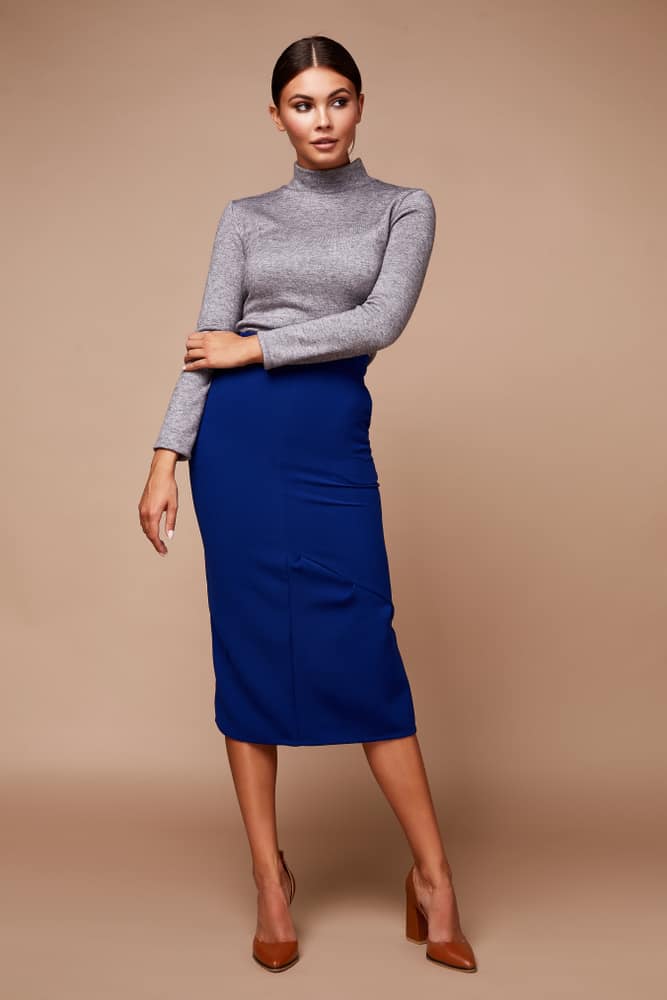 As a general rule, the first requirement of a skirt to be business casual is its length, and anything too short is immediately considered inappropriate, regardless of its style or fabric. The length of the skirt is thus the key determinant in its business casualness! Anything on or below the knee or with a slit starting at the knee is considered appropriate.
Sitting down, anything that is above the knee standing will be too far up the thigh to be considered suitable for work.
Style
Pencil skirts are a safe and traditional bet when it comes to skirt styles at work. However, this is not the only acceptable style for business casual. A-line or flared, pleated or flowy, the style of the skirt does not matter too much, if it fits properly and if the other elements are appropriate.
As long as the skirt fits you well (i.e., it is not too tight or too loose), it should be okay. Something close-fitting but not too tight is an excellent idea to keep your look slick and professional.
Fabric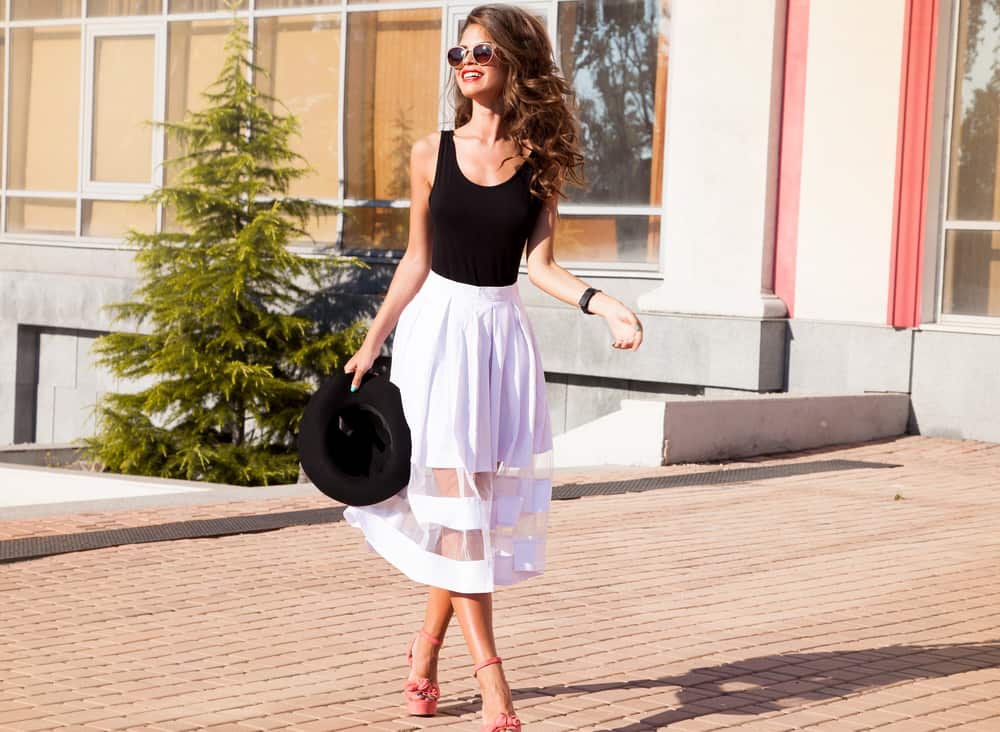 While fashion trends come and go, and satin can be for the bedroom one year and streetwear the next, there are some general rules about what is considered work appropriate. Satin, for example, as a general rule, is not business casual. Other no-gos include denim, tulle, anything sheer, spandex, or anything very shiny.
Generally, a woven fabric or wool in a medium to heavyweight is a good bet. Anything light, see-through or clingy should be avoided.
There are, as always, some grey areas that will depend very much on the type of corporate culture you have. If you're at a startup, a very young company, or somewhere that is perhaps generally casual but requires business casual for client meetings, then a metallic pleated midi skirt paired with a collar and appropriate shoes could definitely be considered business casual. If you take the same outfit to a bank or a financial or legal institution, metallic is likely not to be considered appropriate.
The same goes for a below-the-knee-length leather pencil skirt, which may look perfectly acceptable as business casual if paired with a crisp white shirt in some office environments, but not in others.
In general, bright, bold patterns and anything that draws attention to you has traditionally not been favored as part of a business-appropriate wardrobe. There is some room to play here with a business casual style, but if you're in doubt, stick to more neutral colors where the skirt has an even tone or is two-tone throughout. Black, brown, caramel, navy, dark green, burgundy, or grey are easy go-to's if you want to play it safe.
Embellishments
These include chains, sequins, sewn or ironed on patches, jewels, or other attachments to your skirt. While the sentiment of trying to make a 'boring' skirt more individual is appreciated, it won't cut the business part of casual.
If your skirt has passed all of the above checks, then it's safe to say it can be considered business casual, and you can wear it to the office without fear of it not being deemed appropriate. This is, of course, if your workplace has a business casual policy and it is in keeping with the general office culture.
These are general guidelines, but only you know your company and have a sense of what might be acceptable or not. It might take some time figuring it out at the beginning, during which time it's best to play it safe and observe what others are wearing.
Five basic rules to stick to for business casual skirts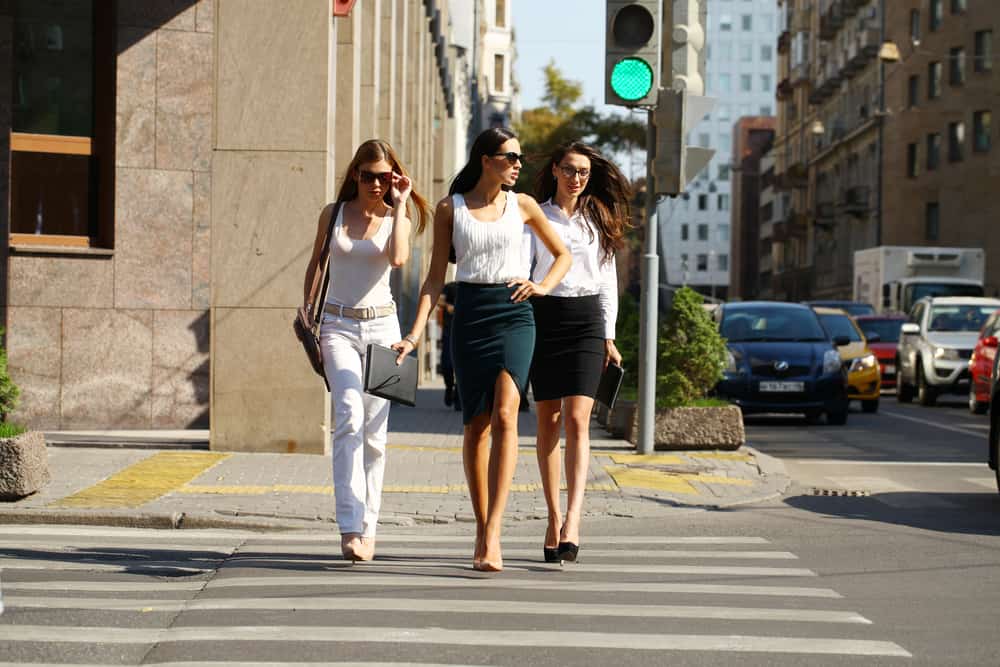 Length is key. Keep it knee-length or below.
Nothing too shiny, sparkly, or attention-grabbing is a good idea.
Building on point two, stick to neutral, block colors or simple patterns if you're unsure.
Nothing too tight or too loose and flowy is acceptable. Skirts should be well-fitted, and a rule of thumb to measure whether a skirt is too tight is whether you can pinch the fabric between your thumb and index finger around your hips. If you can't do this, the skirt is too tight!
If you are unsure and want to compromise on any of the elements above, make sure that it is only one element and that ALL the others are very safe. For example, if you want to wear a really bright colored pattern or print, make sure that it is a below the knee pencil skirt. Or, if you want to wear a more casual style, make sure that it is the correct length and in a plain block color so that there aren't multiple aspects of the skirt pushing boundaries at the same time! Until you know your audience, test the waters gently.
The evolution of skirts and business casual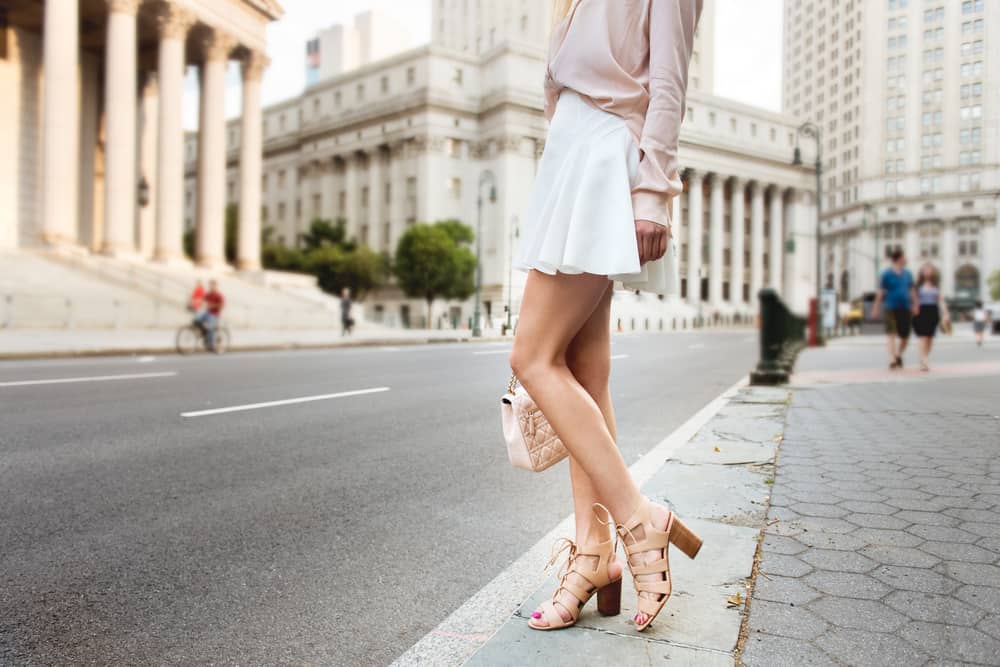 While skirts and skirt suits have long been worn by women both in and out of the workplace, business casual as a style has only developed in recent years and even become the new norm in some cities or industries. What started as casual Friday in many companies, giving employees the opportunity to dress down, which primarily meant men not having to wear suits, has gradually become a more permanent, more everyday habit in some places.
Where skirts would previously be worn with a blazer or jacket as a formal business outfit, this has evolved into a situation where formal skirts can be dressed down, paired with a t-shirt or sneakers, and informal skirts can be dressed up with heels or a collared shirt. This flexibility in the dress code for women has also allowed some fluidity in our personal wardrobes, pairing smart with casual and removing the requirement for two totally separate weekday and weekend wardrobes.
Skirts don't have to be the business part of your business casual outfit. You could easily opt for a more relaxed style of skirt, in which case length is the most critical indicator of appropriateness, and make your top and shoes more formal. Or you could pick a longer pencil skirt and then dress it down a bit with the rest of your outfit. This flexibility means that there is quite a lot of variety in what is acceptable or not in a business casual outfit.
While getting the balance of business casual is hard enough in some companies when you're trying to figure out far more important things than the dress code, getting it right with skirts is even trickier, as length and fit can play such an important role in determining the level of casual that you can go with. When in doubt, observe others and do as they do!